Ulster Bank Invoice Finance User Reviews
Review Summary
0.0 out of 5 stars (based on 0 reviews)
Recent Reviews
There are no reviews yet. Be the first one to write one.
Submit a Review
Ulster Bank is one of the Big Four Irish banks who is owned by NatWest. They offer banking and financial products to personal and business customers. They are based in Belfast and have 174 branches across Ireland and Northern Ireland. Their business products include bank accounts, savings, credit cards, loans, overdrafts, invoice finance, asset finance and trade finance.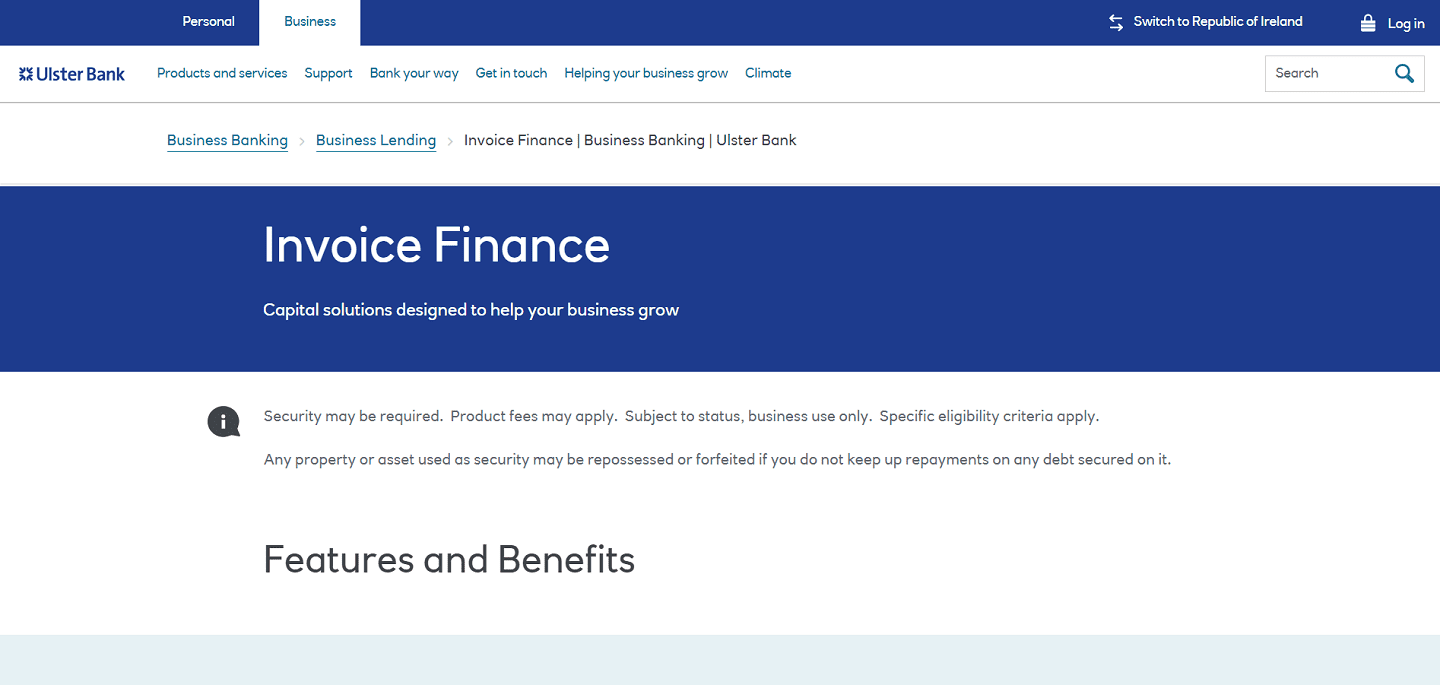 Ulster Bank Invoice Finance Options
Ulster Bank offers an invoice finance facility that allows businesses to release the funds tied up in unpaid invoices and repay the funds when their customer pays the invoice. This service includes:
Releasing up to 90% of invoice values
Confidential facility
Retain responsibility for your sales ledger, credit control and payment collection (invoice discounting solution)
Online FacFlow system to manage your account
A facility that grows with your sales
A dedicated relationship management team
Ulster Bank Invoice Finance Eligibility
Ulster Bank's invoice finance is available to SME businesses that have a minimum turnover of £500,000.
Ulster Bank Invoice Finance Rates
Ulster Bank doesn't disclose its invoice finance rates.
Ulster Bank Invoice Finance Calculator
Ulster Bank doesn't have an invoice finance calculator.
Ulster Bank Invoice Finance Reviews
There are only a small number of reviews available on a couple of customer review sites that provide mixed feedback on Ulster Bank.
Trustpilot reviews are more negative with 75% of reviews rating Ulster Bank as bad. The comments include issues with accounts being locked and internet banking problems, poor branch service, branch closures, and poor customer service.
Smart Money People reviews are much more positive with comments including good customer service, friendly and knowledgeable staff, great app, easy to open an account and great benefits.
Trustpilot – 2.1/5 (based on 28 reviews)
Google Reviews – no reviews
Reviews.co.uk – no reviews
Review Centre – no reviews
Smart Money People – 4.35/5 (based on 37 reviews)
How To Apply For A Ulster Bank Invoice Finance?
If you want to apply for invoice finance from Ulster Bank and are a new customer you can call them on 07786 174422. Existing customers can talk to their Relationship Manager.
Pros
Offers a confidential solution
Provides a dedicated Relationship Manager
Cons
Only offers an invoice discounting service
No rate information is available
Reviews are very mixed
Website: Ulster Bank Invoice Finance