Close Brothers Invoice Finance User Reviews
Review Summary
0.0 out of 5 stars (based on 0 reviews)
Recent Reviews
There are no reviews yet. Be the first one to write one.
Submit a Review
Close Brothers is a merchant banking group that is based in the UK and provides a variety of products to individuals and businesses. They offer lending, deposit taking, wealth management services and securities trading. Their business financial products include invoice finance, asset finance, asset-based lending and property finance products such as development finance, commercial investments and bridging loans.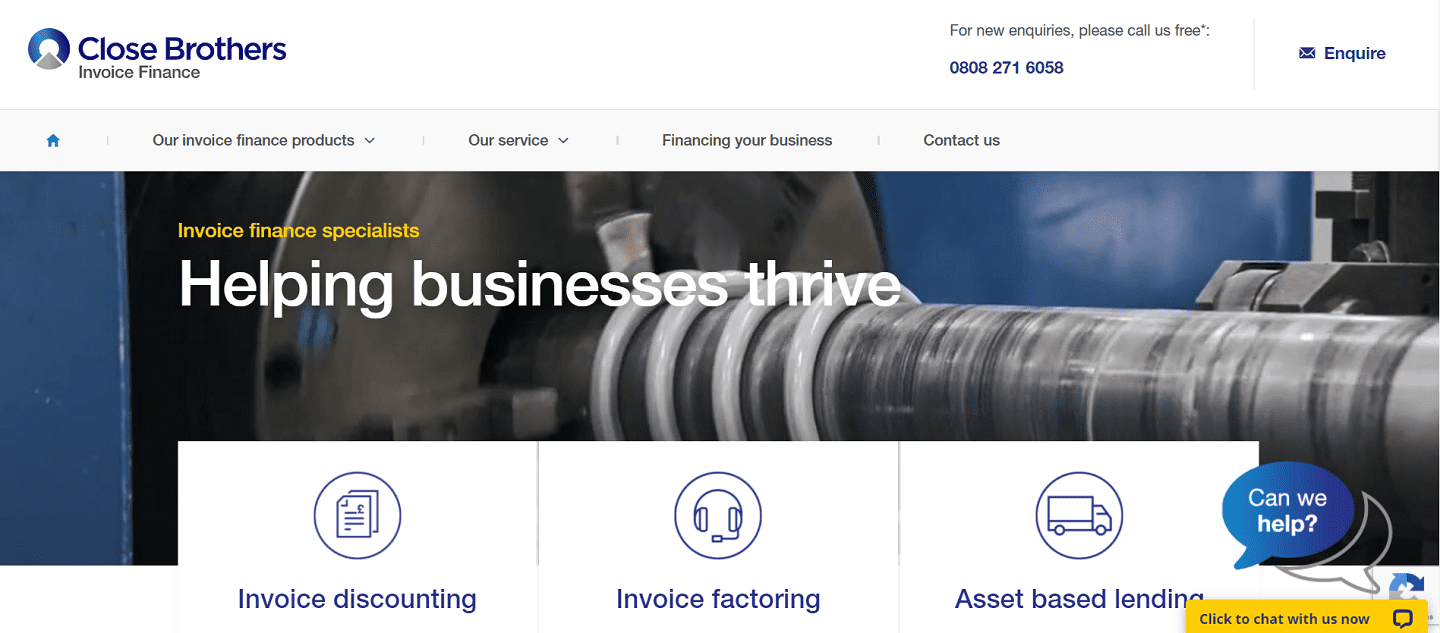 Close Brothers Invoice Finance Options
Close Brothers offers a choice of invoice financing products that enable businesses to release funds from their unpaid invoices quickly and repay the funds once the customer pays the invoice. The facility is linked to your sales ledger so it can grow with your business. Key features:
Release up to 90% of invoice values
Funds are released instantly
Their software integrates with your accounting system to automatically reconcile payments
Online access to view your account
Support from client managers or dedicated relationship manager
Funding isn't impacted by late payments by customers
Invoice Discounting
Invoice discounting is a type of invoice finance that allows businesses to maintain control over the collection of payments and customer relationships. As you retain control of your payments, the customer is not aware of the service, and it is confidential.
Invoice Factoring
Invoice factoring is an alternative type of invoice finance that as well as releasing funds it also provides an expert credit management team to collect invoice payments for you. It suits businesses that do not have their own credit control function. They provide a dedicated relationship manager and a discrete credit management team to collect payments.
Close Brothers Invoice Finance Eligibility
Invoice finance is available to businesses that produce invoices to other businesses and have a minimum turnover of £500,000 per year.
Close Brothers Invoice Finance Rates
Close Brothers tailors their solutions to meet the needs of each business so their invoice finance products are individually priced and bespoke quotes are available on request.
Close Brothers Invoice Finance Calculator
Close Brothers offers an invoice finance calculator that helps you to get an indication of the funds you can release.
Close Brothers Invoice Finance Reviews
Close Brothers feature on several review sites with mixed reviews. The reviews on these sites however are for all their products and appear to be impacted by a lot of negative reviews about their vehicle finance products.
The largest number of reviews are on Trustpilot where they were rated excellent by 74% of reviewers. Most recent reviews are impacted by negative reviews about car finance or issues resolving problems, difficulties setting up accounts or accessing online services, and general poor customer service. Positive customer feedback includes helpful staff, easy to contact, simple to set up, straightforward and easy to use services.
The reviews on Reviews.co.uk are largely negative with some review comments about their car finance products and other comments are similar to those on Trustpilot. The reviews on Smart Money People are more positive but largely unrelated as they are predominantly for car finance which are negative and investments which are positive.
Trustpilot – 3.7/5 (based on 4,075 reviews)
Google Reviews – no reviews
Reviews.co.uk – 2.0/5 (based on 8 reviews)
Review Centre – no reviews
Smart Money People – 3.8/5 (based on 86 reviews)
How To Apply For A Close Brothers Invoice Finance?
You can get a bespoke quote for a tailored solution by calling Close Brothers on 0808 159 6191 for invoice discounting or 0808 231 9228 for invoice factoring, alternatively, you can complete their online enquiry form and they will contact you.
Pros
Offers a choice of invoice factoring and discounting
Provides a tailored service with bespoke pricing
Release up to 90% of invoice values
Reviews are fairly positive
Cons
No rates are available
Only cater for larger businesses with a turnover above £500,000
Some very negative comments on reviews
Website: Close Brothers Invoice Finance