Close Brothers Group is a leading UK-based merchant finance provider. Close Brothers is a FTSE250 company, employing over 3,000 people, and listed on the London Stock Exchange. A range of lending options are available, including asset-based lending, invoice finance and asset finance. Finance is also available to specific industries, including aviation, breweries, marine, and brokers.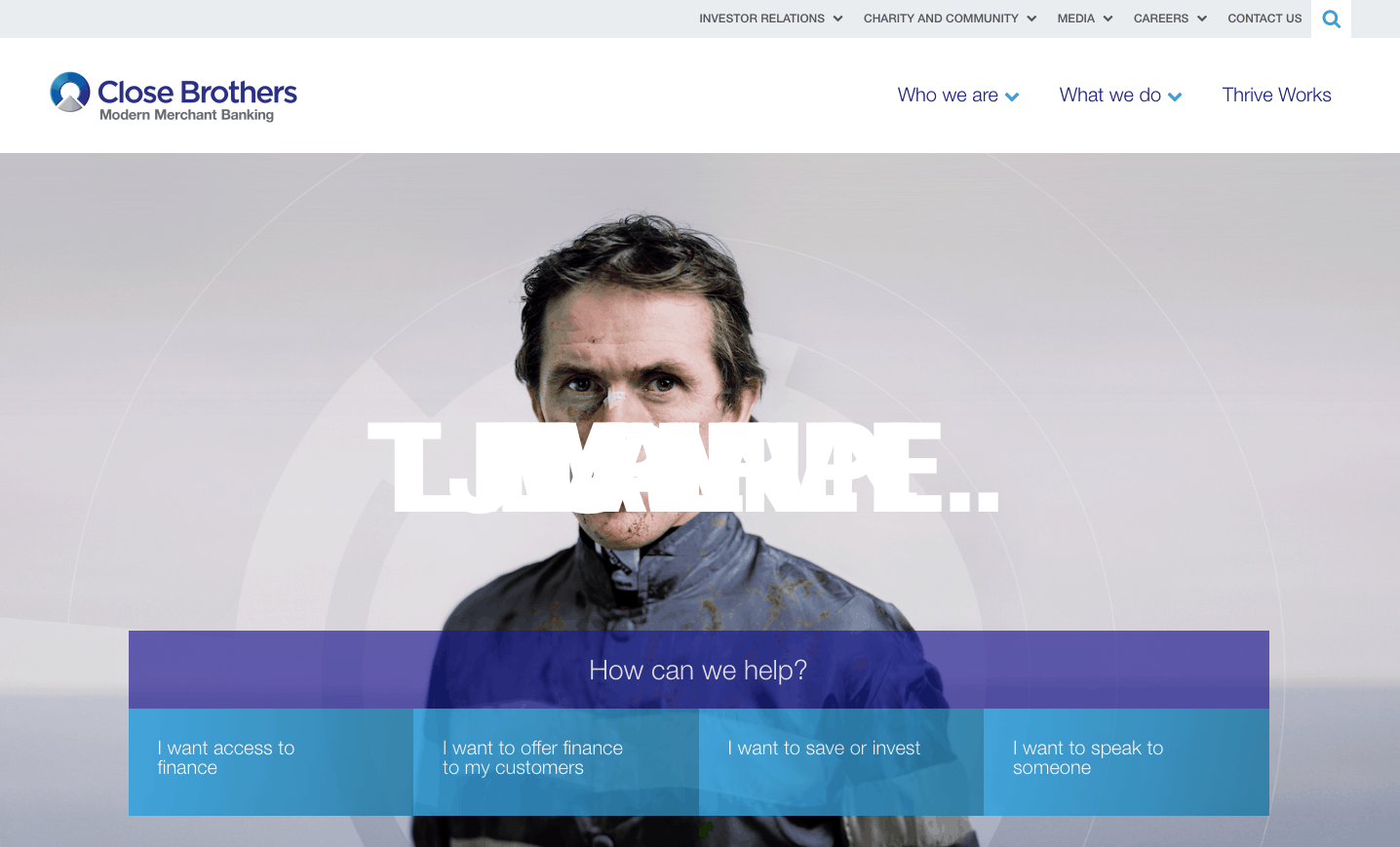 Close Brothers Business Loans & Finance
Asset-based Lending
They offer a range of asset-based lending products which include hire purchase, refinance/capital release, finance lease and operating lease. Hire purchase allows you to spread the cost of the asset over a fixed period and is suitable for vehicles, machinery and equipment. Refinance/capital release can be used to release funds from assets on your balance sheet through Sale and HP back which is suitable for sole traders and large scale businesses. Finance lease allows you to use equipment without the responsibility of owning it and at the end of the lease you have the option of continuing to rent the asset, sell it or return it. Operating lease is a rental agreement where a third-party owns the asset and it is returned to them at the end of the term.
Invoice Finance
Receive up to 90% of the value of your invoices as soon as they're raised. They offer invoice discounting giving businesses the freedom to take care of credit control themselves so that the arrangement is confidential.
Asset-based lending
This form of lending is designed to enable larger businesses to raise higher levels of funding than their other finance products. It can blend invoice finance with asset-based finance of up to 90% using assets that are on your balance sheet such as property, plant, machinery or stock. This type of finance is suitable for a management buy-out, merger or acquisition.
Close Brothers Reviews and Ratings
Online reviews can cover all Close Brothers products and services, which includes business and consumer.
Trustpilot reviews are very positive with 74% of reviews rating them as excellent and complimentary on the whole, with lots of customers saying their experience was simple and they were well-informed. There are fewer reviews on Smart Money People and the ratings are more mixed, with some saying they're very happy and another claiming interest rates are high.
Close Brothers Invoice Finance won Best Factoring & Invoice Discounting Provider at Business Moneyfacts 2014-2017.
In January 2020, Close Brothers Asset Finance responded to reports saying business lending had slowed down: "It is determined to play its part to reverse the trend and ensure the health of the SME sector, which accounts for 60% of employment in the UK.
Trustpilot – 3.2/5 (based on 3,827 reviews)
Google Reviews – no reviews
Reviews.co.uk – 2.60/5 (based on 5 reviews)
Smart Money People – 3.81/5 (based on 83 reviews)

Pros
Very large lender with a range of products for different purposes.
Products for specific industries available.
Great online reviews.
Cons
Might not be suitable for smaller businesses.
Some reviewers say interest rates are high.
Website: Close Brothers Business Finance