Aldermore Invoice Finance User Reviews
Review Summary
0.0 out of 5 stars (based on 0 reviews)
Recent Reviews
There are no reviews yet. Be the first one to write one.
Submit a Review
Aldermore is a banking provider that offers a variety of personal and business products in the UK. They provide a range of business products that cater for small businesses and SMEs which includes savings accounts, invoice finance, asset finance, mortgages and property development finance.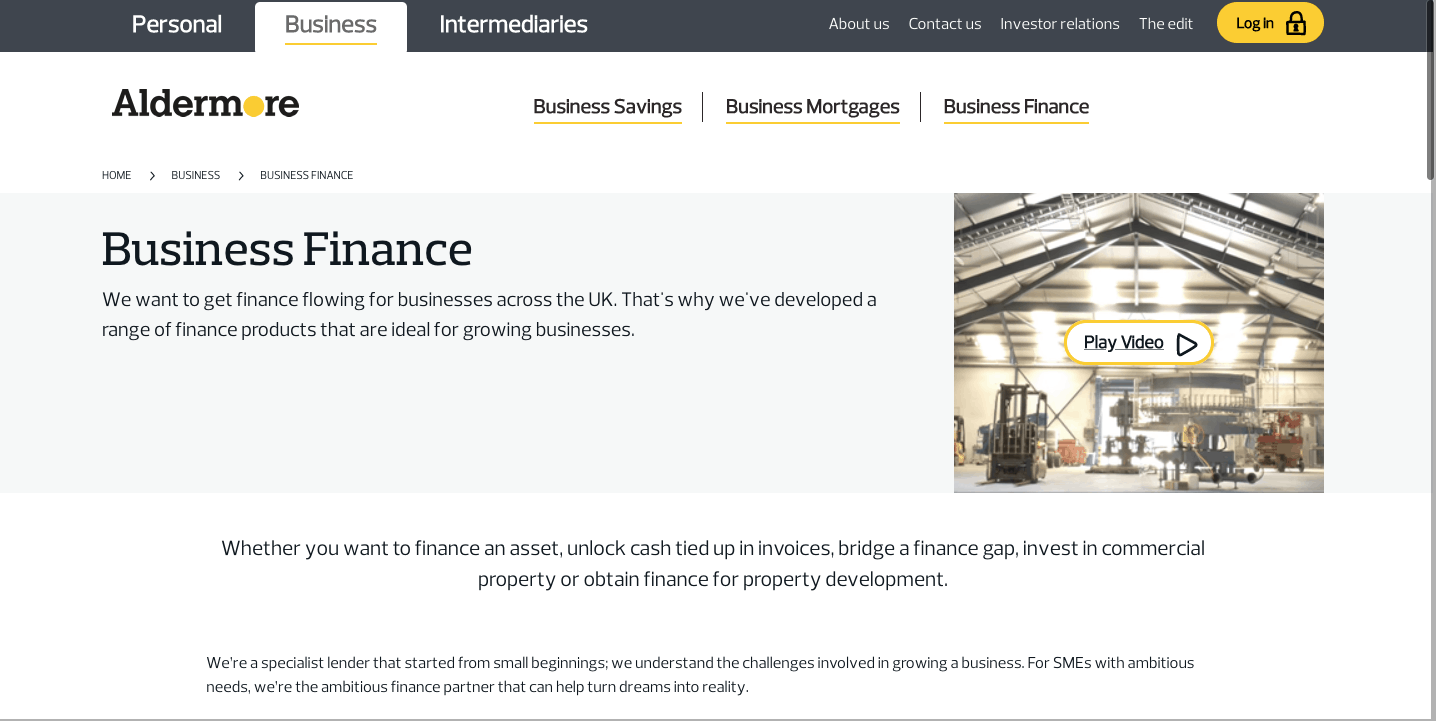 Aldermore Invoice Finance Options
Aldermore offers a choice of invoice finance products that enable businesses to release cash into their business from unpaid invoices or contractual billing. Their invoice finance features:
Advance up to 90% of invoice values
Receive funding within 24 hours
The loan is repaid when the customer pays the invoice
The fee is taken from the customer payment before releasing the remaining funds to you
Online access to manage your facility and upload invoice
Finance that can grow with your business
No need for security
Can add Bad Debt Protection
Invoice Factoring
Invoice factoring provides invoice finance services but also includes credit control services where they will take care of your debt collection for you. They provide a personal service with a dedicated Relationship Manager who will provide support.
Invoice Discounting
Invoice discounting is an invoice finance facility that is a confidential service that allows you to retain control of your invoice collections and customer relationships.
Aldermore Invoice Finance Eligibility
Aldermore's invoice finance is open to a wide range of businesses that generate invoices with payment terms over 30 days and have an annual turnover above £250,000. Invoice discounting is suitable for those with an established credit control department.
Aldermore Invoice Finance Rates
Aldermore does not disclose their rates on their website but claims that their charges are competitive and transparent. Arrangement fees will normally apply.
Aldermore Invoice Finance Calculator
Aldermore doesn't offer an invoice finance calculator.
Aldermore Invoice Finance Reviews
There is a range of varying reviews across several review sites for Aldermore, but they are overall positive. The reviews on these sites however cover a variety of products for both personal and business products and may not reflect business services and invoice finance.
Trustpilot has the greatest number of reviews and is largely positive with 81% of reviewers rating them as excellent. The feedback given includes easy to use and efficient service, provides good rates, personal service with good customer care.
Reviews.co.uk and Review Centre are both less positive with lower scorings and comments being more negative. Comments include issues regarding the speed of response, bad experiences of processes and poor customer service.
The reviews on Smart Money People are more mixed but low in volume and not particularly related to business products and invoice finance.
Trustpilot – 4.7/5 (based on 1,942 reviews)
Google Reviews – no reviews
Reviews.co.uk – 1.3/5 (based on 43 reviews)
Review Centre – 2/5 (based on 70 reviews)
Smart Money People – 3.91/5 (based on 11 reviews)
How To Apply For Aldermore Invoice Finance?
If you want to apply for invoice finance from Aldermore you can contact them by phone on 0333 920 2653 or you can request a call back.
Pros
Offers a choice of invoice factoring and discounting
Provides additional services
Positively rated overall on customer reviews
Cons
Rates are not disclosed
Some poor rating and feedback on some customer review sites
Website: Aldermore Invoice Finance