Please note: Acorn has been owned by Equals Group PLC since 2017. In order to better serve our customers, and provide the best experience possible, your Acorn account is moving to the Card One Money platform, another member of the Equals Group. Your login and account details will remain the same and you can continue to use your card as normal.
Acorn Account is an Authorised Payment Institute (API) not a bank, but it is still regulated by the Financial Conduct Authority. Acorn Account is the trading name of Spectrum Card Services. They offer current accounts to individuals and small businesses as well as a corporate prepaid Mastercard. They offer an online service and utilise Barclays branches for counter transactions. They have over 600,000 customers and 8,000 businesses banking with them.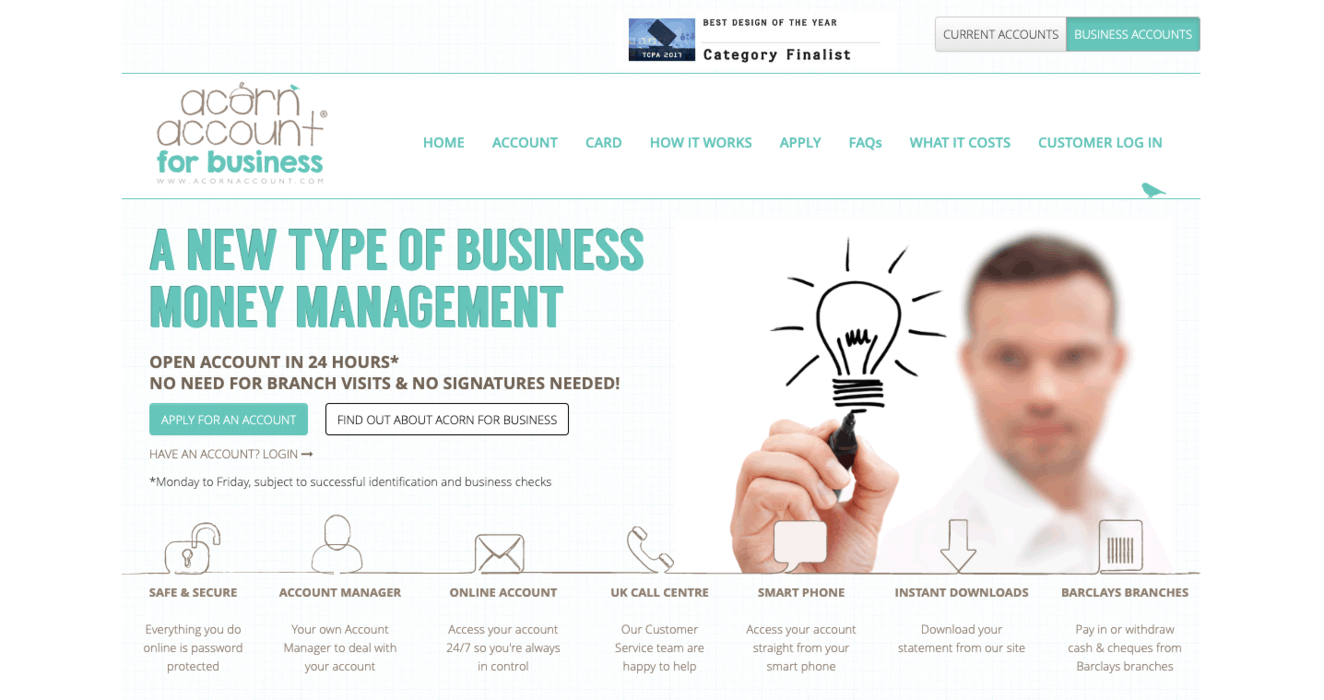 Acorn Account Expense Card Options
Acorn Account offers a Prepaid Corporate Mastercard that provides greater flexibility than a cash card and the convenience of a debit card without allowing you to go overdrawn. The card is provided as part of the business current account and is not available on its own. The features of the card include:
Pay for goods and services in person, online and over the phone
Accepted at over 35 million locations worldwide
Withdraw cash from ATMs worldwide (£1.50 per withdraw in the UK, £3 outside the UK plus 2.75% transaction value)
No charges for UK retail transactions
The card is issued free of charge
Additional cards are charged at £5 per month
The maximum number of cards allowed is 5
Cards are valid for 12 months
Balance enquiries by SMS available at a cost of 15p
Acorn Account Expense Card Eligibility
Acorn Account's business current account is available to sole traders, partnerships and limited companies with a turnover of up to £2 million per annum. They do not undertake credit checks and they offer accounts regardless of your credit history.
Acorn Account Expense Card Rates
They provide one card with the business current account as part of the account fee and it is issued at no cost. Additional cards are charged at £5 each per month. Other charges are:
£1.50 for ATM cash withdrawals in the UK
£3 for ATM cash withdrawals abroad plus 2.75% transaction charge
£5 cash advance charge in the UK and abroad
15p charge for SMS balance enquiry
The business current account has a monthly minimum charge of £12.50 and an activation fee of £60. Other account transaction charges apply.
Acorn Account Expense Card Calculator
Acorn Account doesn't have a calculator for their expense cards or bank account.
Acorn Account Expense Card Reviews
There are only a small number of reviews on Acorn Account on the leading customer review sites. There are 18 reviews on Trustpilot which are fairly negative with 89% of reviewers rating them as bad and comments included accounts being blocked, expensive charges, payments taking too long to clear and issues managing their account over the weekend. There are only 2 reviews on Smart Money People with similar ratings and feedback to Trustpilot reviews.
Trustpilot – 1.9/5 (based on 18 reviews)
Google Reviews – no reviews
Reviews.co.uk – no reviews
Review Centre – no reviews
Smart Money People – 1/5 (based on 2 reviews)
How To Apply For An Acorn Account Expense Card?
You can apply for an Acorn Account business account with a prepaid card by completing their online application form or calling them on 0844 846 5130.
Pros
Offers a Mastercard that is widely accepted
Can be used abroad
Ensures you only spend the money you have
Cons
Must have their business account
Only offers a prepaid card and no debit or credit cards
A low number of reviews and poorly rated on customer review sites
Website: Acorn Account Prepaid Card