Please note: Acorn has been owned by Equals Group PLC since 2017. In order to better serve our customers, and provide the best experience possible, your Acorn account is moving to the Card One Money platform, another member of the Equals Group. Your login and account details will remain the same and you can continue to use your card as normal.
Acorn Account is the trading name of Spectrum Card Services. Acorn is an Authorised Payment Institute (API) rather than a bank, and is regulated by the Financial Conduct Authority.
Businesses can open an online business current account in 24 hours (weekdays only). There are no Acorn branches, instead, you can use Barclays branches, manage your account online 24/7, or call Acorn's UK advisors. So far, they have over 600,000 registered consumer customers and 8,000 business customers.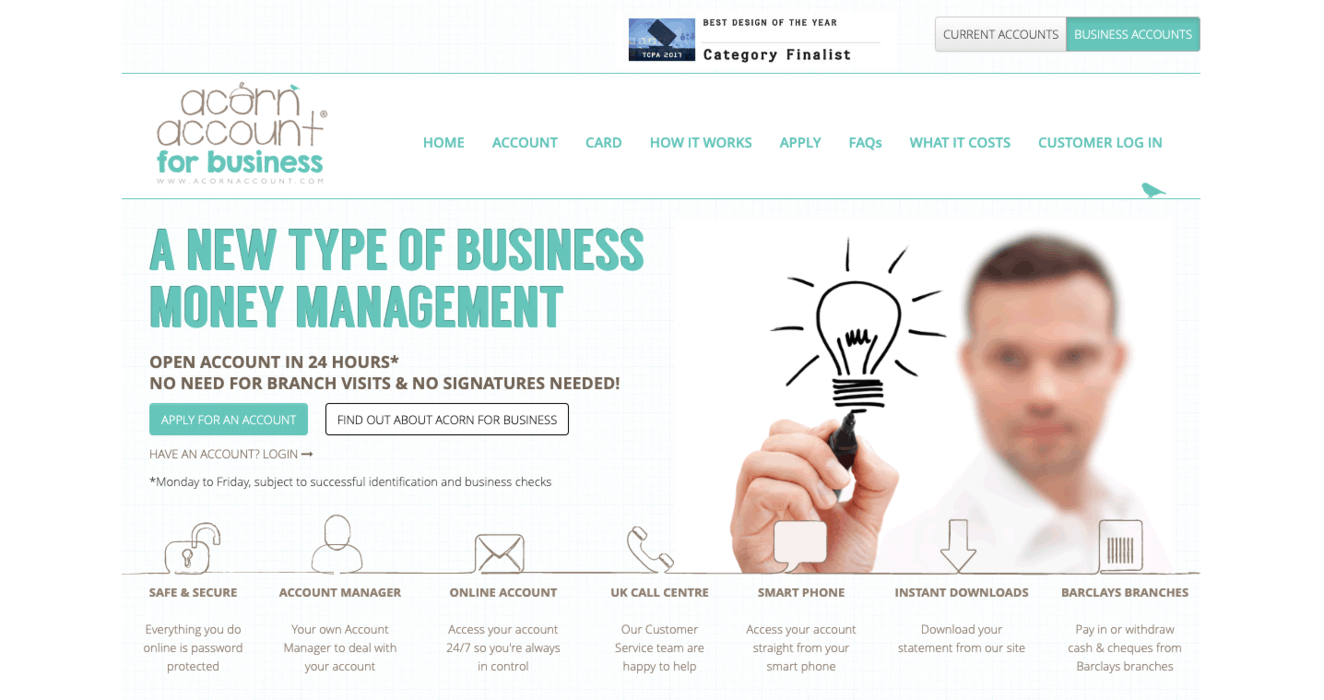 Acorn Account Business Banking Services
Current Accounts
Current accounts are available to limited companies and sole traders with an annual turnover of less than £2 million.
Your Acorn Account will include a Mastercard debit card, an online platform and app to manage your account. If you need to pay in or withdraw physical cash, you can go to your local Barclays branch. If you need to speak to a real person, there's a UK-based call centre.
There's an account activation fee of £60, as well as a monthly minimum charge of £12.50. There are also charges for many other routine account transactions and processes, including faster payments, withdrawing from ATMs, and foreign currency.
The account also includes a Prepaid Mastercard with the first card include as part of the account fee, additional cards are charged at £5 per month per card.
Savings account
Not available.
Overdrafts
Not available.
Business finance and loans
Not available.
Acorn Account Reviews and Ratings
There are only 16 reviews on Trustpilot, and two on Smart Money People, and the majority of them are 1/5 ratings. Some comment on having their account closed or blocked with no warning, and others say the business account is way too expensive to manage. A few reviewers also say it takes ages to clear payments, and it's difficult to manage your account over the weekend. Overall, the comments are very critical.
There are no live reviews on Reviews.co.uk. Acorn Account isn't included in the Which? list of 'Best & Worst Banks'.
Trustpilot –  2.0/5 (based on 16 reviews)
Reviews.co.uk – not included
Smart Money People – 1/5 (based on 2 reviews)
Which? – not included
Pros
Open an account quickly in 24 hours. No credit check either!
Includes all the essentials you'd expect from a business current account.
Cons
Bad reviews across the board. Acorn doesn't sound easy to deal with.
Lots of extra charges for everyday banking features. Not competitive at all.
Website: Acorn Account Business Banking