Wondering what the differences are between BACS, CHAPS And Faster Payments? Or which one is right for your business? Then this guide should help.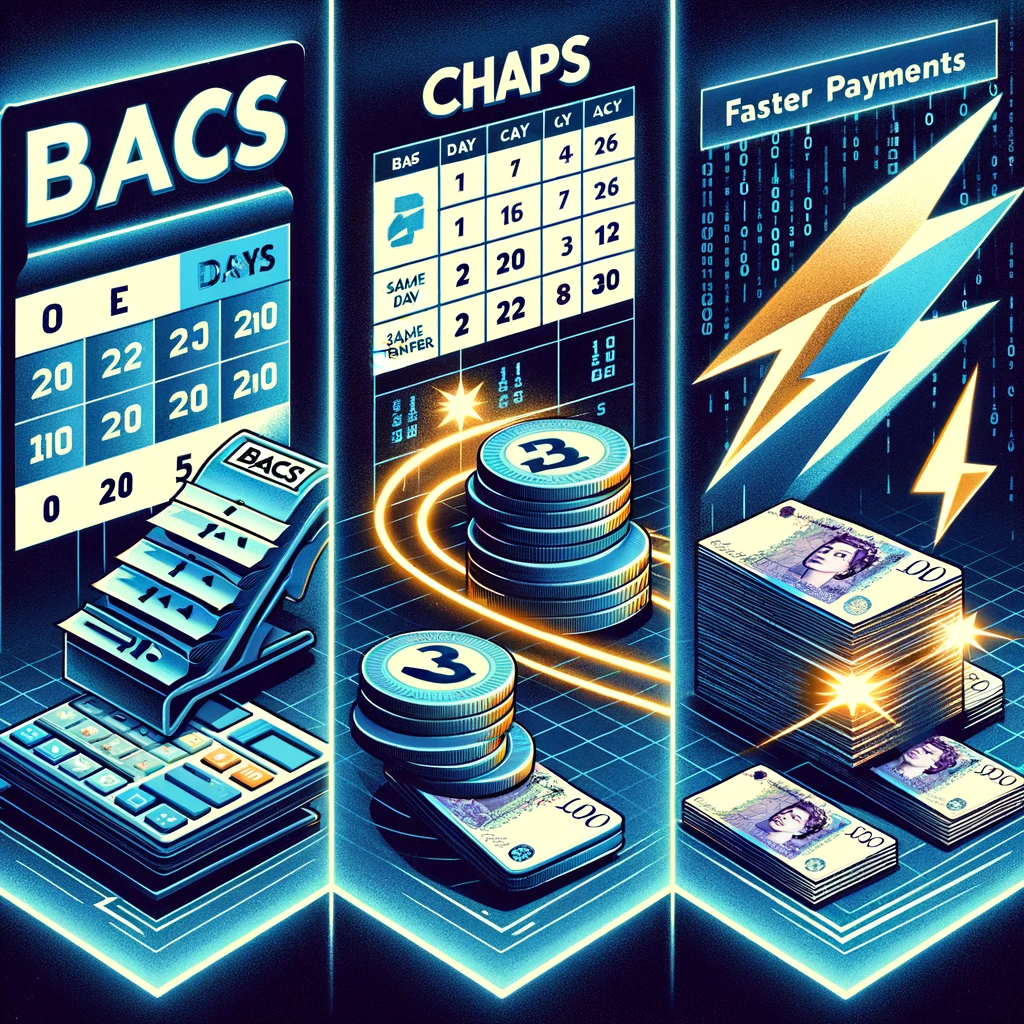 BACS Payment Schemes
Formerly known as the Banker's Automated Clearing Services, BACS Payment Schemes was founded decades ago and has reliably served UK banks, credit unions, and other payment service companies. This method of clearing payments uses both direct debit and direct credit to execute transactions.
Direct debit payments are settled with the amount in your bank account to the intended recipient, and BACS direct credit makes use of funds from a third party as per a credit agreement. The BACS payment system automates transactions for a future-dated arrangement making it the perfect system for facilitating recurring payments.
BACS direct credit and direct debit payments are one of the most common for business-to-business transactions. In 2022, close to 5 million transactions were processed using BACS direct debit, and almost 2 million transactions were processed using a BACS direct credit bank transfer.
These bank transfers are made using an electronic payment system between banks that are on the BACS Payment Scheme network.
Examples of BACS payment transactions
One of the core values of the BACS system is automated payments transferred directly into the recipient's bank account. Therefore, BACS payments are more popular among business-to-business customers, service providers, and other types of payments that are for the day-to-day running of the business.
Some of the more popular transactions processed using BACS payments include employee payroll and supplier payments. These transactions tend to pretty much be in the same range every month and that makes their automation the most effective choice.
Transactions such as paying financial service providers for loans, insurance, and so forth can also be processed as BACS payments, either as direct debit transactions or otherwise. Here are other transactions you might deem suitable to make a BACS payment for:
Internet Bill
Mortgage or rent payments
Pension contributions
Any recurring expenses can get handled using the BACS Payment Scheme system using direct debit or direct credit.
Clearing House Automated Payment System
The Clearing House Automated Payment System (CHAPS) differs greatly from the BACS Payments Scheme. Although both these payment systems facilitate bank-to-bank transfers, CHAPS payments offer more advanced functionality than BACS payments. As such, CHAPS is used for higher-value transactions that might be time-sensitive and require heightened security measures.
All payments made using this system are irrevocable and with no settlement risk attached due to the expediency offered by the CHAPS system. This system guarantees same-day payment, provided the recipient's bank accounts are with financial institutions that are compatible with CHAPS.
Most UK banks, credit unions, and building societies are CHAPS compatible but all of these financial institutions might have different policies regarding payments facilitated using the system, such as different cut-off times. The same-day payment guarantee applies to transactions made before the cut-off time which is usually during business hours.
When this system was created it had transaction limits, such as a minimum payment limit of £10,000. Over time, these limits became less of a requirement, and now CHAPS payments have no limits whatsoever. Be that as it may, most transactions being made using this payment system exceed £10,000 in value.
Examples of CHAPS payment transactions
Transactions performed on the CHAPS system are secure and fast which makes it convenient to use. Despite the lack of minimum payment limits on this payment system, it is mostly used for high-value transactions. Countless scenarios make CHAPS payments practical, including large purchases or once-off payments that are time-sensitive.
One good example of a transaction that is typically facilitated by the system is paying a deposit for property purchases. Such payments are generally time-sensitive and require the additional settlement risk-free factor provided by the CHAPS system.
Other asset purchases like buying company equipment or vehicles might also necessitate the use of CHAPS. The characteristics of this system make it versatile to use in a wide variety of transactions. Here is a list of other transactions that can be executed using the system:
High-value payments to suppliers
Exchanging currency
Legal fees and expenses
Companies can use CHAPS payments regardless of the type of transaction they are executing. There are no limitations, and each transaction is at your discretion.
Faster Payments Service
Faster Payments Service is the most expedient payment system by comparison to BACS payments and CHAPS payments combined. Several factors make Faster Payments the best solution for low-value direct debit payments; one of the core factors is that this system has no daily cut-off time.
Transactions get processed around the clock, and each transaction is treated as a priority to ensure it gets deposited into the intended bank accounts. This system was launched back in 2008, and over the years, the number of transactions processed using Faster Payments has increased exponentially.
In 2021 alone, this system processed 3.4 billion transactions to the tune of £2.6 trillion, which is a huge increase from the previous year. Undoubtedly, Faster Payments has become one of the preferred direct debit payment methods used in the UK.
Faster Payments Service uses a similar transaction processing method to the one used by SWIFT, but it gets used for sterling transactions.
Examples of Faster payment transactions
Although Faster Payments is widely used and has more expedient processing periods, not all transactions can get facilitated using this payment system. Most businesses use Faster Payments to process time-sensitive low-value payments due to the limits imposed. No more than £1 million can get cleared using this system.
On the other hand, payments requiring higher security might not be best handled using Faster Payments due to some minor security flaws caused by the expedient nature of the Faster Payments System. Once a transaction has been triggered, it can't be reversed as it can on other payment types, such as the BACS payments system.
Businesses can use Faster Payments to handle fast payments directed to suppliers, employees, or other parties. The beauty of the Faster Payments system is that the types of transactions that can get carried out are unlimited. Therefore, the versatility of this system makes it the prime method that can be used for day-to-day running costs.
However, organisations using this system can set their own limits on amount of money transferred.
Faster Payments can be used to pay for the stock, rent, mortgage instalments, and other miscellaneous expenses that might be incurred during or after work hours.
Choosing the Best Method to Transfer Money
When running a business, understanding each payment method is crucial for the security of funds, cost savings, and efficiency. The different payment methods could streamline business processes for small, mid-sized, and large corporations alike.
Elements such as the value, transaction limits, and compatibility with recipient bank accounts are some of the more important factors that determine how each transaction should be processed.
Here's how you can determine the best payment method for your business's transactions:
Expediency
First and foremost, when choosing a system to use for payments, the expediency of the transaction method has to be taken into consideration. Typically, BACS payments can take up to three days to be processed. Naturally, this payment system won't be used for time-sensitive payments. Instead, BACS payments are perfect for future-dated transactions that are not supposed to reflect instantly.
On the other hand, the CHAPS system is quite expedient with the guarantee of same-day clearance. Despite the same-day guarantee, CHAPS can only be used within the parameters stipulated by your bank. Once the cut-off time has lapsed, the transaction will only be processed the following day. Payments that are done within business hours can be processed using this system.
Faster Payments have a unique edge over all these payment systems since the transaction can be processed within minutes to a few hours. The payment does not have to be done during working hours for it to be processed. Faster Payments are perfect for various payments that are either incurred during or after business hours.
Bank compatibility
Most banks accept BACS direct debits, and this system is also compatible with several other credit unions and financial institutions. The same applies to CHAPS transactions since most banks in the UK can facilitate these transactions. One of the main problems that business owners might face is the bank compatibility of service providers and suppliers outside of the UK.
Although some banks out of the UK are compatible with these payment methods, not all of them are. It is paramount for businesses to ascertain this information before making financial obligations whilst relying on these systems.
In terms of the Faster Payments transfer system, there are less than 0.1% of banks in the UK that do not accept this payment system. Similarly to BACS and CHAPS transactions, it might be best to ensure that any non-UK bank accounts do facilitate this type of payment method.
Transaction value
The transaction value does dictate the payment method that can be used in each particular scenario. However, this does not apply to CHAPS and BACS payments since these methods do not have a limit imposed on them. Faster Payments do have a limit, and any electronic payments done using this system must not exceed the limit.
If a payment exceeds the limit, it is best to opt for an alternative. A CHAPS payment could be a great substitute for Faster Payments since it is the closest in consideration of expediency.
FAQs
Is CHAPS the same as SWIFT?
There are similarities between CHAPS and SWIFT payments. The major difference between these payment methods is that the former transfers funds only in sterling pounds. As a result, CHAPS payments are best for bank transfers within the UK, and SWIFT caters mostly to international transactions.
Therefore, international bank-to-bank payments get carried out using the SWIFT payment system which has regulations that are different from the CHAPS system.
What is the difference between RTGS and CHAPS?
CHAPS payments use the RTGS infrastructure which facilitates the bank transfer between payment service operators. The RTGS infrastructure gets used by different countries around the world and offers safe payments for high-value transactions. In essence, the RTGS infrastructure is a critical underlying component of CHAPS payments which provides a real-time response to all banks using this infrastructure.
What is the disadvantage of CHAPS payment?
The disadvantage of CHAPS payments is that they can only get executed during working hours. Any payments made after business hours will only get cleared on the following business day. These payments also tend to carry higher transaction fees when compared with other payment methods. Additionally, these payments might not be convenient for monthly running expenses when compared to BACS payments.
What is the minimum amount for CHAPS payment?
There is currently no minimum payment limit for CHAPS payments like before, when there was a £10,000 minimum limit. Be that as it may, this system is typically used for high-value transactions, for example business transactions or buying large assets for personal use.
Does BACS work internationally?
BACS payments can be used for international payments and function as they do for domestic transactions. Companies with personnel from abroad can use this payment method without having to alter their payroll system. Businesses can also make a BACS payment from their bank account to settle invoices from international suppliers and service providers.
Is the Faster Payments Service safe?
Unlike BACS and CHAPS, the Faster Payment Service requires extra vigilance since fraudsters can leverage expediency in executing transactions to their advantage. At the same time, Faster Payments require less information and multi-step confirmation, which might be prone to error. These factors make this payment system a little less safe than the other payment methods.
Additional Sources:
https://www.wearepay.uk/what-we-do/payment-systems/faster-payment-system/
https://gocardless.com/guides/posts/what-is-a-chaps-payment/
https://www.hsbc.co.uk/current-accounts/what-is-a-bacs-payment/.