Royal Bank of Scotland is part of the newly named NatWest Group and has a long history in Scotland as it was founded in Edinburgh in 1727. They serve 3.3 million customers and provide mobile branches in Scottish communities to serve rural areas. They provide banking and financial services to personal and business customers with business products including bank accounts, credit cards, loans, mortgages, invoice finance, asset finance and trade finance.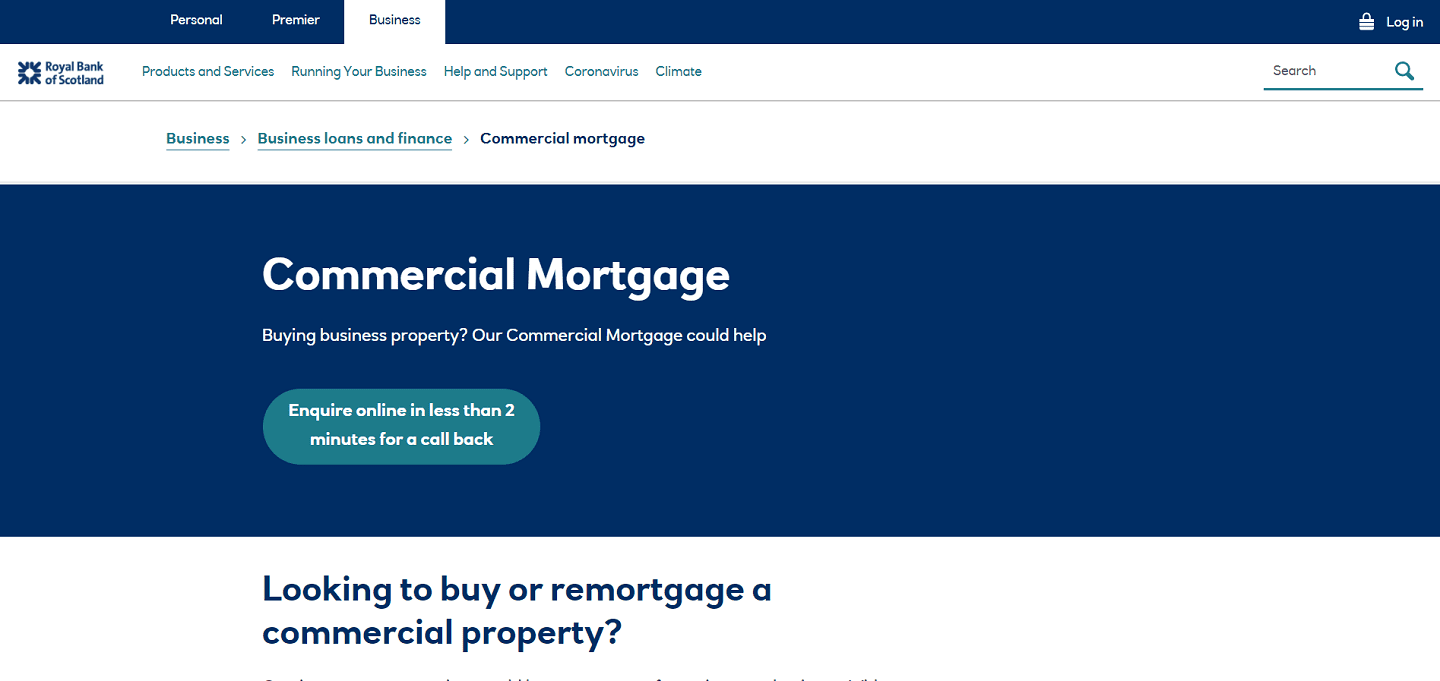 Royal Bank of Scotland Commercial Mortgage Options
Commercial Mortgage
Loans from £25,001
Choice of fixed or variable interest rate
Maximum loan of £10m on fixed interest rate mortgages (no limit on the variable rate)
Terms up to 25 years
No early repayment charges
Repayment holidays are available
Choice of Capital and Interest or Straight Line repayment profiles
Arrangement and security fees may apply
Residential Property Development Loan
Loans from £50,000
Terms up to 3 years on an interest-only basis
Variable interest rate
Tranche drawdowns are available
Suitable for new builds for either residential or commercial purposes
No early redemption charges
Professional valuation may be required
Residential Property Investment Loan
Residential property investment loans are designed for those investing in rental properties.
Loans from £50,000
Fixed or variable interest rates are available
Terms up to 20 years
Offers a choice of repayment profiles
No early redemption charges
Professional valuation may be required
Royal Bank of Scotland Commercial Mortgage Eligibility
Royal Bank of Scotland's commercial mortgages are open to new businesses, and they will be subject to the same checks and credit rating as all applicants. Commercial mortgages are only available to business owners that are over 18 and are subject to status.
Royal Bank of Scotland Commercial Mortgage Rates
Royal Bank of Scotland doesn't disclose its commercial mortgage, property development or investment rates.
Royal Bank of Scotland Commercial Mortgage Calculator
Royal Bank of Scotland has a commercial mortgage calculator on the commercial mortgage page.
Royal Bank of Scotland Commercial Mortgage Reviews
Royal Bank of Scotland features on most of the leading customer review sites with mixed ratings although there was a greater number of negative reviews overall.
Trustpilot has the highest number of reviews and has one of the lowest ratings with 88% rating them as bad. Negative comments included issues with the app and online banking, bank closures, unresponsive and unprofessional, poor communication and customer service.
Review Centre reviews have the same score and similar feedback as Trustpilot and only 11% of reviewers would recommend Royal Bank of Scotland.
Review.co.uk and Smart Money People reviews are more positive with comments including helpful and friendly staff, good in-branch service, easy to use the app, ease of taking out new products, and generally positive about their customer service.
In a Which? customer survey on banking providers Royal Bank of Scotland came at the bottom with a score of 56%. They were scored out 5 for their services which they got 3 out of 5 for customer service, communication, handling of complaints, online banking, mobile app and benefits. They received 2 out of 5 for transparency of charges and service in-branch.
Trustpilot – 1.4/5 (based on 576 reviews)
Google Reviews – no reviews
Reviews.co.uk – 3.0/5 (based on 4 reviews)
Review Centre – 1.4/5 (based on 159 reviews)
Smart Money People – 4.03/5 (based on 432 reviews)
Which? 56% Which? Customer score
How To Apply For A Royal Bank of Scotland Commercial Mortgage?
If you want to apply for a commercial mortgage from the Royal Bank of Scotland you can enquire on their website, contact your Relationship Manager if you have one or call them on 0345 600 2230.
Pros
Offers a range of commercial mortgages and property loans
Choice of terms and interest rate options available
No early repayment charges
Cons
Doesn't disclose their mortgage and loan rates
Reviews are largely negative
Lowest rated bank on a Which? survey