Cashplus is a 24/7 online account with a fast application (4 minutes!) and easy account management. It pitches itself as an alternative to the conventional high street banks. Over 1.9 million cards have been issued to customers so far, processing £10 billion in payments. Cashplus offers a current account, pre-paid debit card, and a credit card too.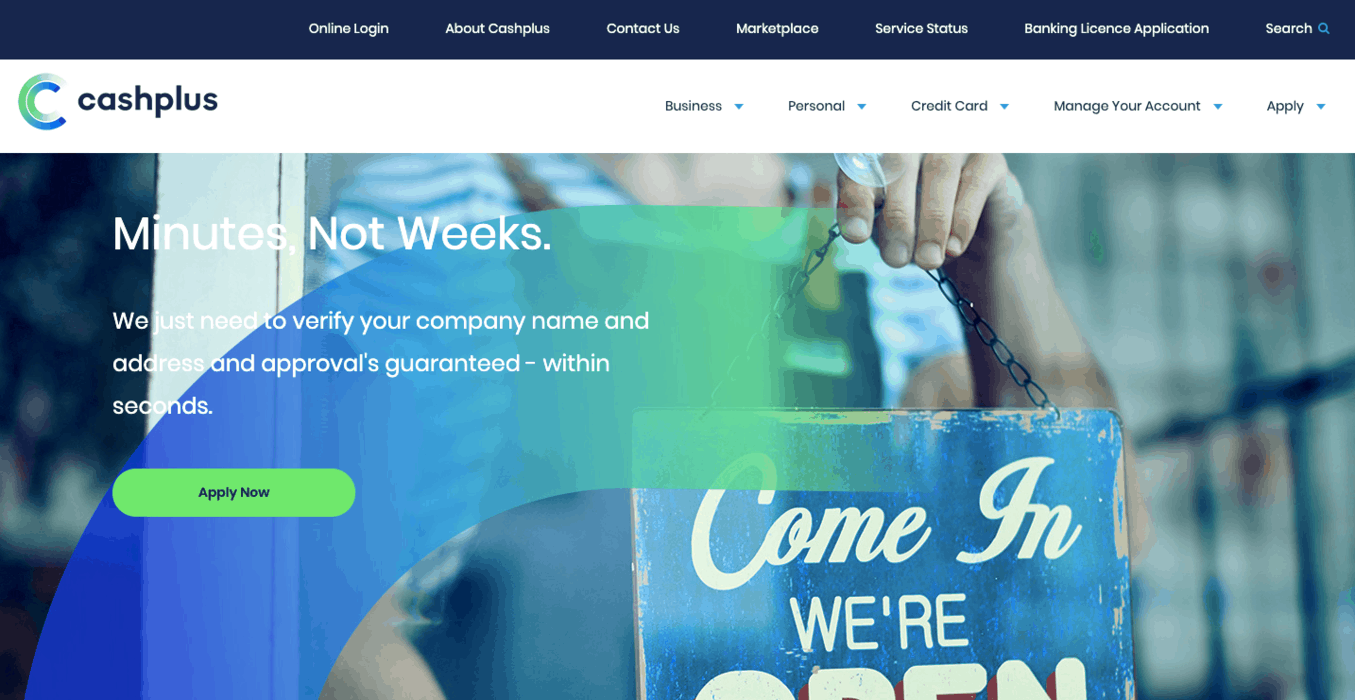 Cashplus Business Banking Services
Current Accounts
A Cashplus account is managed online and on the app 24/7. You can set your account up online in 4 minutes with no credit check – you'll get a sort code and account number instantly so you'll be ready to accept payments. Their customer service team is UK-based and contactable online and by phone.
You'll receive a debit MasterCard within 3-5 days of opening your account. Up to 20 additional cards can be added to your account for other users, as well as Euro and USD cards. You can also send and receive Faster Payments, pay in and withdraw at the Post Office, and integrate with your accounting software.
A Cashplus account costs £69, paid annually. There are extra fees for paying cash in at the Post Office and ATM withdrawals. The first 3 electronic payments and transfers of each month are free, but any more are charged at £0.99 each.
Savings account
Not available.
Overdrafts
An overdraft of up to £2,000 is available in the form of the Cashplus iDraft. Interest rates are representative 30% APR with a £1.50 per day flat usage fee.
Business finance and loans
A Business Cash Advance is available through business finance company Liberis, who partner with Cashplus. You can raise from £2,500 to £300,000. To qualify, you'll need to process payments with a card terminal and process a minimum of £580 per month. Repayments will be a small percentage of each card payment processed through your business.
A business credit card with a £3,000 credit limit is also available, representative APR 29.9% (variable). There are no annual fees.
Cashplus Reviews and Ratings
Trustpilot reviews are very mixed, with 47% rating Cashplus 5/5 and 34% having a bad enough experience to rate them 1/5. Many recent reviews are critical, with customers complaining of missing payments, blocked accounts, and technical problems. They also say it's hard to get help on the phone. The positive reviewers think Cashplus is a 'no nonsense' business account with handy features.
There are far fewer Smart Money People reviews, but they're mainly positive. Reviews.co.uk comments are mainly negative, with similar complaints to Trustpilot.
The account isn't included in the Which? list of 'Best & Worst Banks'.
Cashplus was named as Paybefore's 'Top Challenger Bank 2017.
Cashplus recently revealed "plans to lend £400m to small businesses over five years", when the business is granted a full banking licence.
Trustpilot –  3.4/5 (based on 3,313 reviews)
Reviews.co.uk – 2.67/5 (based on 3 reviews)
Smart Money People – 3.9/5 (based on 10 reviews)
Which? – not included
Pros
The oldest UK challenger bank.
Includes credit products.
Clever, intuitive features.
Cons
Extra fees on top of annual fee, even for very routine, basic account features.
Credit products have a higher APR compared to other banks.
Very critical recent reviews. They seem to have had some technical issues.
Website: Cashplus Business Banking