With a plethora of choices and even more technical jargon to get your head around, it can be challenging to know where to begin with business policies.
We have devised a handy guide on the types of business insurance available in the UK to hopefully give you a better overview of what types of coverage your company could benefit from – as well as your legal obligations.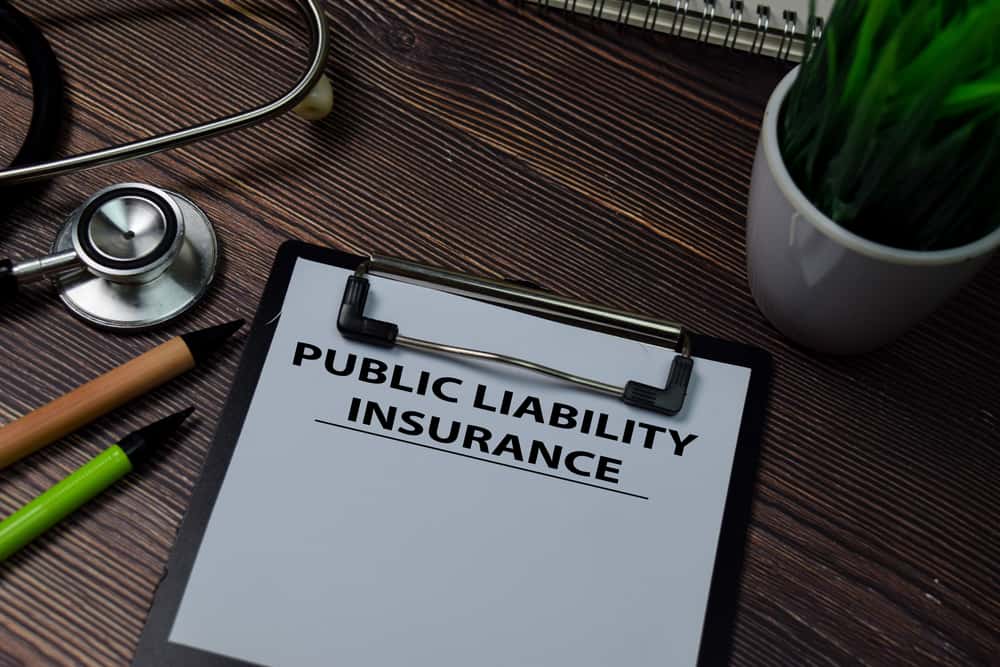 Types of Business Insurance Options
There are quite a variety of policies available for businesses. The main types of business insurance are as follows:
Public liability insurance
Anyone can make a claim against you if they have been injured or had property damaged that they feel is your fault. Even when you weren't at fault, public liability insurance acts as a barrier to protect your finances in case of threat or bodily harm. And if it turns out you were at fault, all compensation and legal fees will be covered.
Which businesses need it:
It's strongly recommended that regardless of what type of company you own, you are covered by this professional liability insurance for if and when an accident happens. Your business property, employees and operations all have the potential to cause injury or damage, no matter how careful you are.
Employers' liability insurance
While the health and wellbeing of your employees should be of the utmost importance, it's vital to plan for unforeseen circumstances. One way to do this is through Employers' Liability insurance.
Employers' liability insurance allows you to stay protected if an employee suffers a bodily injury or becomes ill while they are at their job. It protects a company from both legal and compensation costs resulting from these work-related incidents.
Which businesses need it:
Most UK companies are legally obligated to have employers' liability insurance, even if they employ just one other individual, have bank staff or recruit volunteers. Failure to obtain this type of cover could result in a hefty fine.
Professional indemnity insurance
Professional indemnity insurance provides protection against unexpected mishaps or mistakes. For example, if a customer claims there is a fault with the service you provide.
Professional indemnity insurance will mean that you can carry on with your business as usual while being protected from any compensation claims and legal fees. For example, if your work or advice causes clients to feel they warrant a case against you.
Which businesses need it:
This type of cover is valuable for any company that provides a professional service. If your business offers advice or a form of personal service, you should consider taking out a professional indemnity insurance policy right away.
Product liability insurance
Coupled with public liability insurance, product liability insurance adds an extra safety layer. If a product that your company is responsible for causes damage or injury to a client, you could be liable for the fallout. That's where this time of insurance comes in very handy.
Which businesses need it:
Product liability insurance is best suited to businesses that supply, design or manufacture products to sell.
Business equipment and office contents insurance
Recuperating lost or even stolen computers and other equipment could make the day-to-day running of your business extremely difficult, if not impossible. Business contents insurance means that you have a safety net, where if the dreaded were to happen, all your equipment would be quickly replaced.
Which businesses need it:
Business contents insurance is helpful for any company, protecting all the vital bits of kit that you need in order to run your company successfully. No matter the size of your company, business contents insurance is beneficial. It protects all the vital instruments you require for the day-to-day operation of your business.
Business interruption insurance
Losing income is a daunting prospect and any company owner's worst nightmare. Many factors out of an owner's control can mean a loss of cash flow, so it's crucial that you plan for any worst-case scenario. Examples of when business interruption insurance is needed include material damage such as fire or flooding.
Not only will a business income insurance policy cover your loss of income, but it will also pay out any costs incurred.
Which businesses need it:
Anyone who owns a business should consider this type of cover, including not-for-profit organisations and those running at a loss. If a company is losing money and therefore does not have profit to insure, there will still be expenses incurred.
Personal accident insurance
Personal accident insurance protects a business financially if either you (the owner) or a member of your staff cannot work due to an injury or severe illness. This insurance will allow the owner to limit the negative impact of the absence who cannot work for at least two weeks running.
Which businesses need it:
Many sole traders use this type of insurance to limit the financial damage to their company if they are unable to work due to injury. However, it may be something to think about if you employ other people.
Commercial vehicle insurance
Commercial vehicle insurance is a policy that will cover any physical damage and liabilities that are not covered by a personal policy. This business insurance policy will cover a range of commercial vehicles that are used for business purposes, such as company cars, truck fleets, etc.
Which businesses need it:
If your business relies on any type of vehicle, this form of business insurance coverage is a must-have. Any large and small companies should ensure that they are covered by a policy of this type to limit any financial damage caused by an accident.
Commercial property insurance
In the event of a flood or fire, a business property will be fully covered with commercial property insurance. It's worth noting, however, this type of business insurance only protects the building itself. Anything else, such as business equipment, will need to be covered by office contents insurance.
Which businesses need it:
Those business owners who also own the property from which they conduct their business should have a policy of this type. Owners can benefit from the peace of mind that the property is protected if it were to become damaged.
Legal costs insurance
Also known as business legal expenses cover, legal costs insurance links you with expert legal advice if the worst were to happen to your company.
The cover is provided in the case of a lawsuit or any form of investigation, even when any claims put to you are unfounded or unjustified. Similarly, the costs of professional advice are covered should you wish to pursue action against other persons or another business.
Which businesses need it:
Any company could benefit from having this type of business policy. Still, SMEs are usually more vulnerable to the financial repercussions of legal action against them and, therefore more likely to require cover of this type.
IT and cyber security insurance
IT and cyber insurance cover loss of information as a result of damaged IT systems and networks.
Business insurance cover of this type will provide help with managing the incident itself, which is important for a company when faced with the prospect of reputational damage or regulatory enforcement. It will also cover business interruption and any income loss and repair, and reputational damage will usually be covered.
Which businesses need it:
To a certain degree, almost all businesses will rely on IT to some extent. Cover like IT and cyber insurance is invaluable when things go wrong and should be considered a priority for any business owner that uses information technology infrastructure as part of their business.
Directors and officers insurance
Also known as management liability insurance, directors and officers liability insurance protects the individuals, and by extension, the company, if claims are made against you as a company director. For example, it protects against any claims made directly against the director in cases of negligence or health and safety matters.
Which businesses need it:
Any company with a board of directors could benefit from this type of insurance. Without this insurance policy, both company and personal assets could be at risk if there was to be a claim made.
Is Business Insurance Required Legally?
There is only one form of business insurance that is mandatory under UK law, and that is employers' liability cover. This insurance is legally required for almost any business in the country that employs staff, even if this is on a relief or casual basis.
However, some regulators require particular types of business insurance in order to allow those businesses to operate. For example, some healthcare professionals will require professional indemnity insurance as standard.
If there isn't mandatory insurance within your particular field, it is worth considering an insurance policy regardless. Be protected against theft, accidents, human error, property or stock damage, fire and any other unexpected event. After all, everyday risks are part and parcel of running a business and always should be factored in.
Final Thoughts
While many types of business insurance are not a legal requirement, that doesn't mean that you can't be hit with a lot of trouble if something does go wrong and you are not insured. Foresight and common sense can only go so far.
Business owners pour their blood, sweat, and tears (not to mention money) into their business ventures, so it's always important to have the appropriate cover to save any potentially hazardous risks to their business.
FAQs
Can I get business insurance before registering my business?
You don't have to register your business prior to purchasing business insurance.
However, your insurer will want to know your business name, address, projected turnover and possibly your business structure.
Therefore, while it may be possible to get business insurance before registering your business, it may be easier to do so once you have.
 
Can I get business insurance for my home-based business?
Your home-based business may require business insurance, so it's important to check if this will apply to you.
Thankfully, many insurance companies provide business insurance for home-based companies offering a range of options to suit you.
Many business owners who have been turning to move their businesses to their home during Covid-19 have made the mistake of assuming that home insurance will cover them, but this is incorrect.
For example, if you have customers visiting your home, you will not be fully protected if a mishap were to occur.
How do I choose which type of business insurance I need?
After you purchase the insurance that your business needs legally, you can begin to look for policies for any other type of risk. If you wouldn't be able to pay for it yourself, then you should insure it, is the general rule of thumb.
By thoroughly researching, speaking to other business owners, and approaching insurance agents and brokers, you can easily compare cover and find the best policies – at the best price – for you.
 
How much does business insurance cost?
Business insurance costs can vary wildly, but it's always good to get the very best deal.
There are a lot of factors that will affect the types of business insurance that you will need, such as which kind of insurance your business needs, as well as its size and your particular coverage needs.
It's always a good idea to shop around and remember that not every insurance broker will be advertised on price comparison websites.