Santander is one of the largest European banks and they have around 800 branches across the UK. They offer personal and business banking and financial products. Their business product range includes current and savings accounts, overdrafts, credit cards and loans.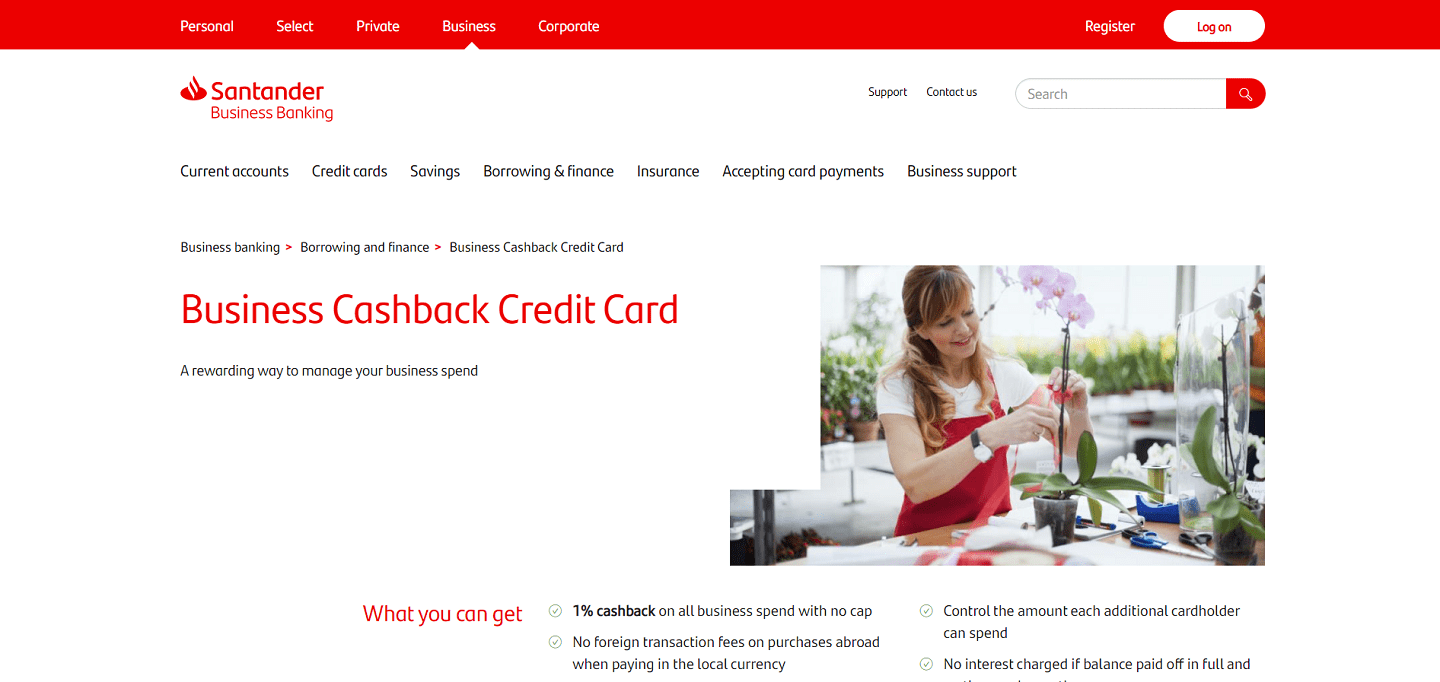 Santander Credit Card Options
Santander offers a business cashback credit card that includes:
Annual £30 account fee not per card fee
Offers 1% cashback on spending with no cap
Credit limit will be confirmed when you are accepted for the card
No foreign transaction fees when paying in the local currency
No cost for additional cards
Control the spend on additional cards
Santander Credit Card Eligibility
Available to sole traders, partnerships, limited liability partnerships or private limited companies that have no more than 2 partners, members or directors who have a business account with them and are over 18 years old. The business also has to be based in the UK. All applications are subject to status and credit checks.
Santander Credit Card Rates
The business cashback credit card has a purchase rate of 18.9% p.a. (variable) with an annual fee of £30 per account. The representative APR is 23.7% (variable) based on a £1,200 credit limit.
Santander Credit Card Calculator
Santander doesn't have a credit card calculator.
Santander Credit Card Reviews
There are a large number of customer reviews for Santander and these are mainly negative on most of the review sites. The largest number of reviews for Santander is on Trustpilot and these are very negative with 84% of reviewers scoring them as bad. Reviews.co.uk and Review Centre also have similar low ratings with only 8% of Review Centre reviewers willing to recommend Santander.
Negative comments across the 3 review sites included branch closures, difficulties contacting them through phone banking and wait times, issues with online banking, accounts being blocked and problems with transfers.
The reviews on Smart Money People are more positive and of a significant number. Only 58 of the reviews were for business accounts though and the score was lower at 2.78. Some of the positive review comments include helpful and friendly branch staff, easy to use app and online banking, good account rewards, efficient service and hassle-free.
In a Which? customer survey on banking services Santander scored a 66% customer rating. When scored out of 5 for their service Santander received 4 out of 5 for customer service, communication, transparency of charges, handling of complaints, telephone banking, online banking and benefits. They received 3 out of 5 for service in-branch and mobile app.
Trustpilot – 1.4/5 (based on 4,016 reviews)
Google Reviews – no reviews
Reviews.co.uk – 1.56/5 (based on 236 reviews)
Review Centre – 1.3/5 (based on 480 reviews)
Smart Money People – 3.94/5 (based on 1,659 reviews)
Which? – 66% Which? customer score
How To Apply For A Santander Credit Card?
Santander only offers their business credit card to its existing business current account customers and they can apply for a credit card online.
Pros
Offers a credit card with cash back with no limit
Single account fee with no card fee
No foreign transaction fees
Cons
Customer reviews are largely negative
Branch reductions have caused issues for some customers
Website: Santander Credit Card