Anna (which stands for Absolutely No-Nonsense Admin) is a mobile business current account for freelancers and small businesses. You can open an account in 10 minutes with your ID, and track all your transactions and payments on the app. It also includes financial admin tools like invoice management and automatic tax reminders.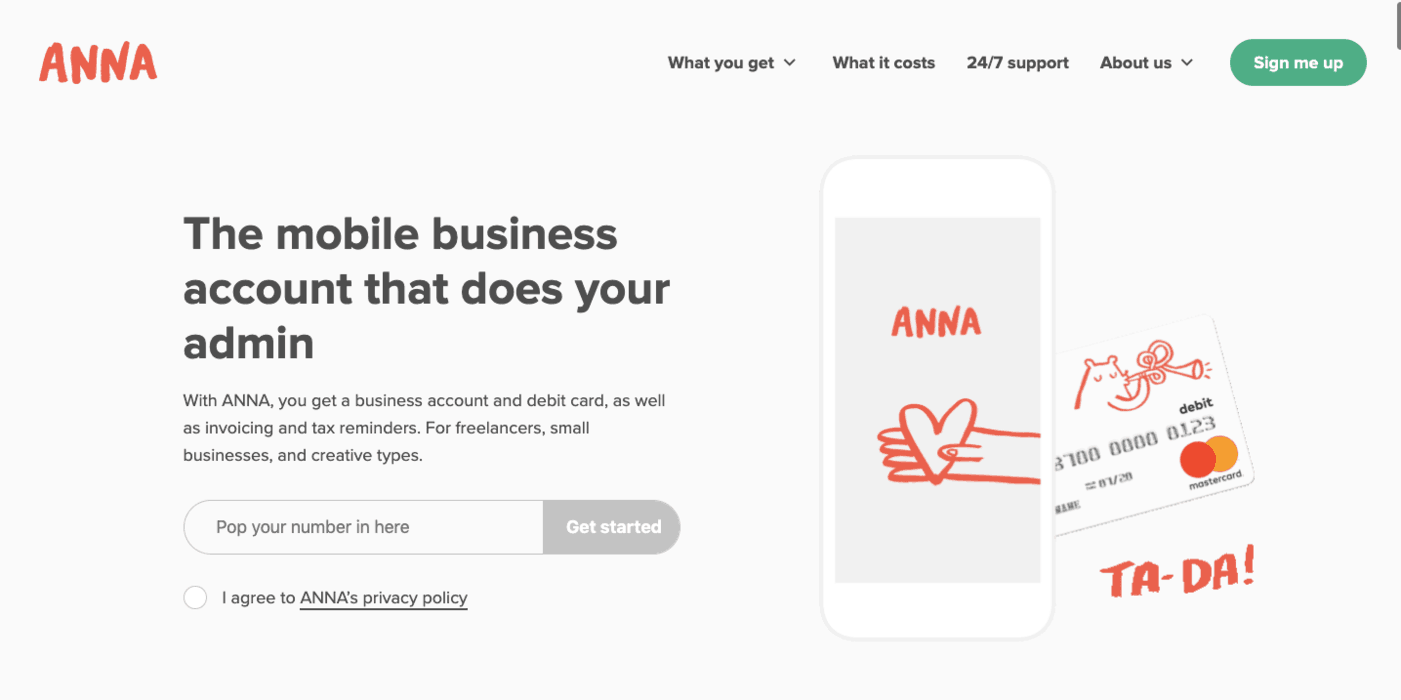 Anna Business Banking Services
Current Accounts
An Anna account combines most of the banking features you'd expect, with some extra accounting tools. Businesses can open an account in minutes, which includes a MasterCard debit card.
Anna also includes an invoicing tool, which automates late payment reminders, and automatic tax calculations.
Monthly fees vary depending on monthly turnover and business type. If your monthly income is below £500 there is no monthly charge, between £500 and £2,000 you pay £4.90 a month, between £2,000 and £20,000 you pay from £9.90 per month. If you process over £20,000 a month, you'll pay the maximum monthly fee of £19.90.
Account support is available online 24/7. If the team can't get back to you within 10 minutes, you'll receive a full refund on your monthly fee.
Savings account
Not available.
Overdrafts
Not available.
Business finance and loans
Not available.
Anna Reviews and Ratings
There are reviews available on Trustpilot and Smart Money People which are both very positive. 84% of Trustpilot reviewers rate Anna 'Excellent' overall, with many people complimenting the fast, helpful customer service. They also think the app is easy to use and very convenient for modern businesses.
There are no public reviews on Reviews.co.uk and Anna isn't included in the Which? list of 'Best & Worst Banks'.
Anna successfully raised £3 million in equity crowdfunding in October 2019. This investment will reportedly help to fund more detailed tax calculations, an expense processing service, and AI capabilities.
Trustpilot –  4.7/5 (based on 1,364 reviews)
Reviews.co.uk – not included
Smart Money People – 4.96/5 (based on 27 reviews)
Which? – not included
Pros
Low monthly fees and low transaction fees.
Pricing structure based on your monthly income.
Very good reviews on Trustpilot and Smart Money People.
Cons
Still a relatively new app – potentially less stability than a conventional bank.
Fewer features than other online bank accounts.
Can be expensive for businesses with a higher monthly turnover.
Website: Anna Business Banking