The 5 accountants listed below are the top-rated accounting firms in Scunthorpe based on Google reviews. Firms had to have at least 3 reviews and a score above 4.8 to be included.
Please note that these listings are in no particular order and are based on user reviews only. We can't guarantee the quality of any of the services directly. 
1. Jackson Stapleton Accountants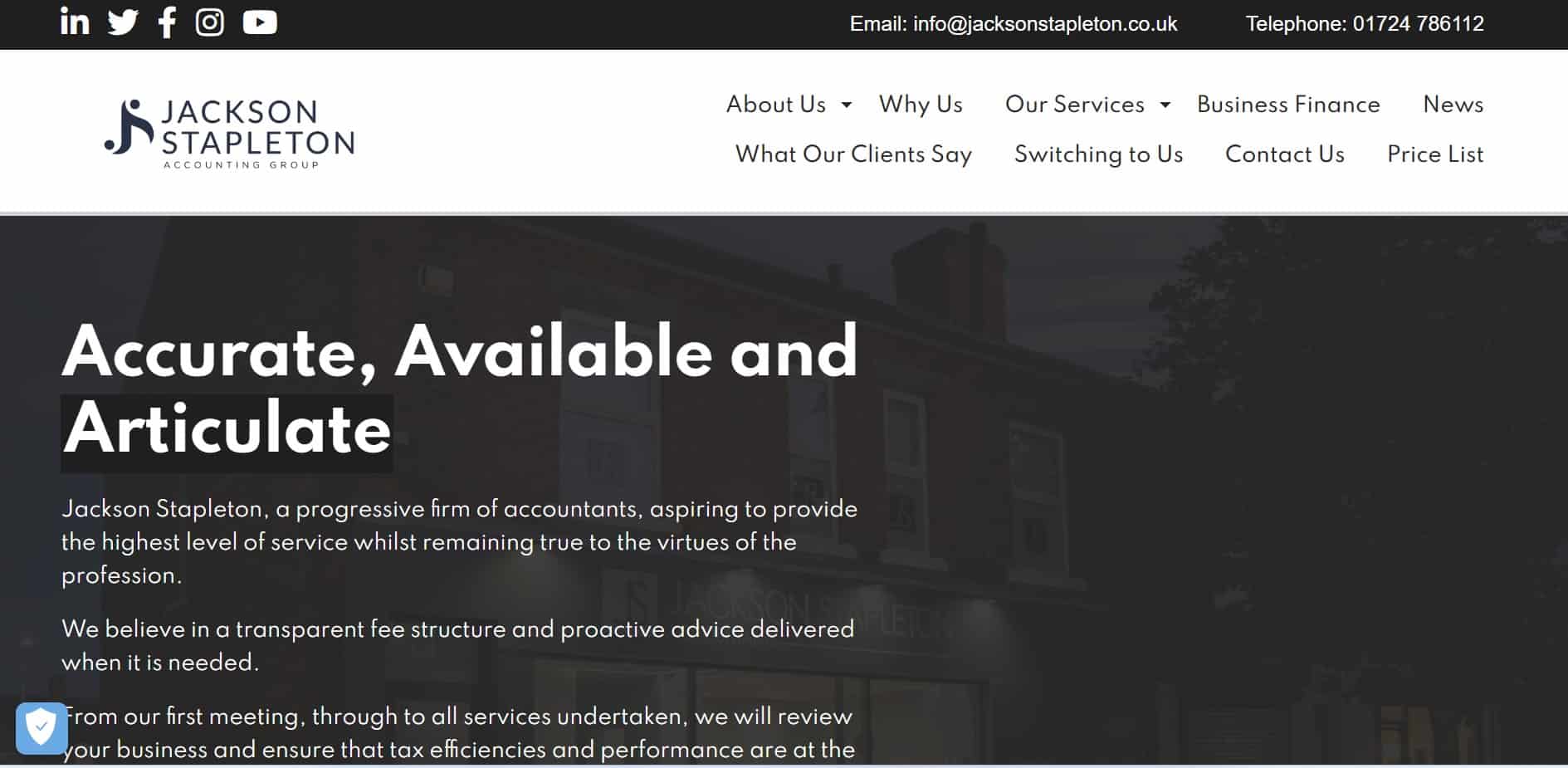 Sample Services:
Capital Gains Tax (CGT)

Cloud Accounting

Fee Protection

Inheritance Tax

Limited Company Accounts

Limited Company Formation

Management Accounts

Opening of Bank Accounts

Payroll & PAYE

Pensions
AAT licensed: Yes 
ACCA licensed: Yes 
Member of the Institute of Chartered Accountants: No
Sample Reviews: 
"I'm a company owner at our family-run care company, Goodwin Healthcare Services Ltd, based in North Lincolnshire, and we have used Jackson Stapleton Accountants for over 5 years now. Mark and his team offer excellent service. they are everything you would want in an accountancy company: professional, trustworthy, flexible, and I have found they always go above and beyond. Highly recommended." — Matt David (MGooders)
"If you want the best advice, service and much much more, then please give them a call.  Jackson Stapleton has been advising and servicing my company for several years now, and you simply could not ask for more at exceptional rates.  I personally highly recommend them." — Paddy Micklefield
Address:
1-3 Laneham St, 
Scunthorpe 
DN15 6LJ
Website: 
http://www.jacksonstapleton.co.uk/ 
2. S Smith & Co Accountants
Sample Services:
Management Accounts 

Annual Accounts

Workplace Pension

Bookkeeping Services

Business Advice

VAT and Tax Compliance

Self-Assessment

Accounting Software

New Business Start-Up
AAT licensed: Yes 
ACCA licensed: No
Member of the Institute of Chartered Accountants: No
Sample Reviews: 
"We have been with S Smith & Co almost from the beginning. We went there in the early days after a friend recommended her. We have always felt very well looked after, and the personal service we get is very important. I really think they care. They are very professional and always get back to me quickly if we have a query. I also consider we get good value for money. I would highly recommend them." — Helen Marshall
"Contacted S Smith & Co with a very big problem. Thanks to the team, especially Steph,  it has all been sorted, much to my relief.  Very helpful with every enquiry I made during the process.
I'm a very happy client." — Sue Leaning 
Address:
4 Ashby Rd, 
Scunthorpe 
DN16 1NR
Website:
http://www.ssmith-accountants.co.uk/ 
3. Forrester Boyd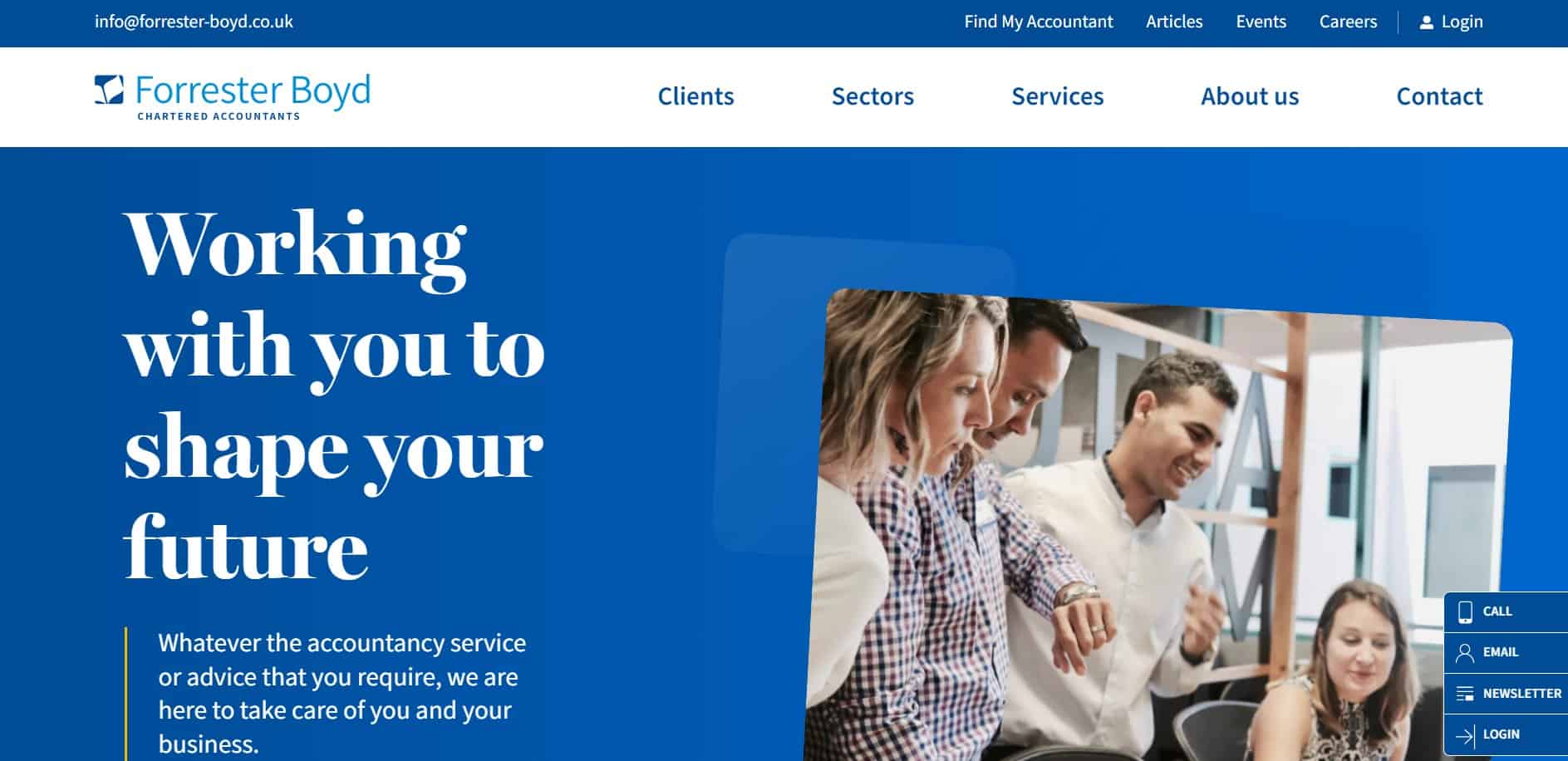 Sample Services:
Audit Services

Accountancy Services

Business Advice

Corporate Finance

Bookkeeping Services

Payroll Services

Tax Returns 

Tax Avice

Wealth Management

Outsourced Solutions
AAT licensed: No
ACCA licensed: No
Member of the Institute of Chartered Accountants: Yes
Sample Reviews: 
"In all our dealings with Forrester Boyd, they've explained and given good tax planning advice. We highly recommend them. Royal and Sam have given us outstanding ongoing customer service and professional advice. It's good to know they are with us." — Rod Allen
"Forrester Boyd provides a great service. I have been liaising with Connor Finnigan on multiple subjects, and he is always willing to help with such a quick response. Connor is very efficient in his work and professional manner. nothing was too big a problem to solve. Numerous days I have rang Connor multiple times, and it was always 5-star customer service." — Jonathan Monopoli
Address:
66-68 Oswald Rd,
Scunthorpe 
DN15 7PG
Website: 
http://www.forrester-boyd.co.uk/ 
4. Andrew Thomas Accountancy Limited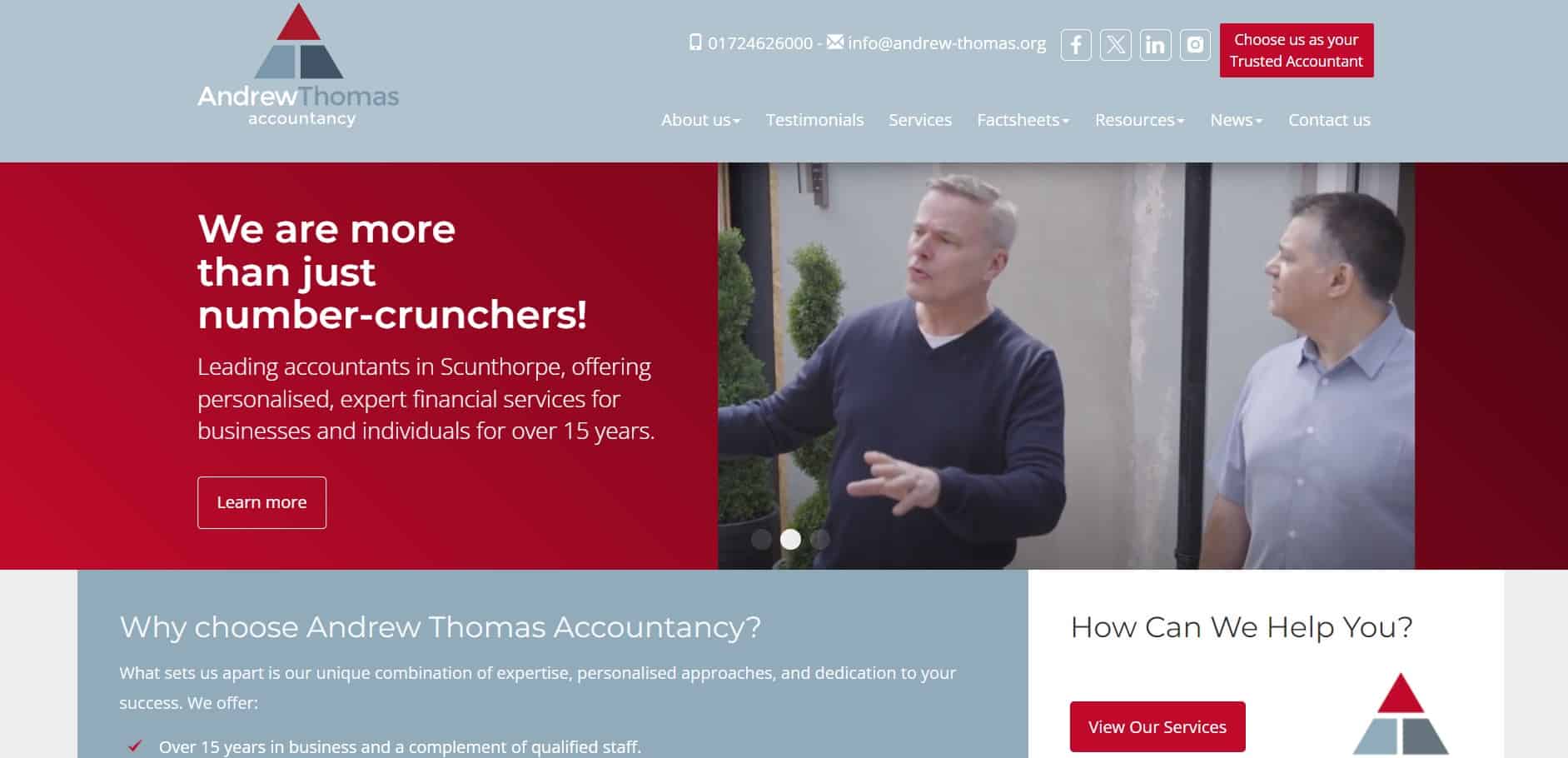 Sample Services:
Business Start-Up

Management Accounts and Information

VAT Returns

Corporation Tax Services

Payroll Services

Bookkeeping Services

Self-Assessment

HMRC Investigations and Enquires

Personal Tax Services

Tax Protection
AAT licensed: No
ACCA licensed: Yes
Member of the Institute of Chartered Accountants: No
Sample Reviews: 
"Andrew and his team have been looking after us over the last 2 years, and we can't thank the team enough for providing an excellent service. A very professional and friendly group of people. Always happy to explain any queries we have and always stay patient and professional, with great communication and prompt responses. Thank you, Andrew and all your team, for all you do." — Highspec Admin
"We've used Andrew Thomas for just over 18 months, and they've all been extremely supportive of our business needs. Several members of the team contact us regarding various needs, and it's usually us that it takes forever to get back to them! Truly brilliant service and great people." — Jarek Szenher 
Address:
82 Oswald Rd, 
Scunthorpe 
DN15 7PA
Website: 
5. OCG Legal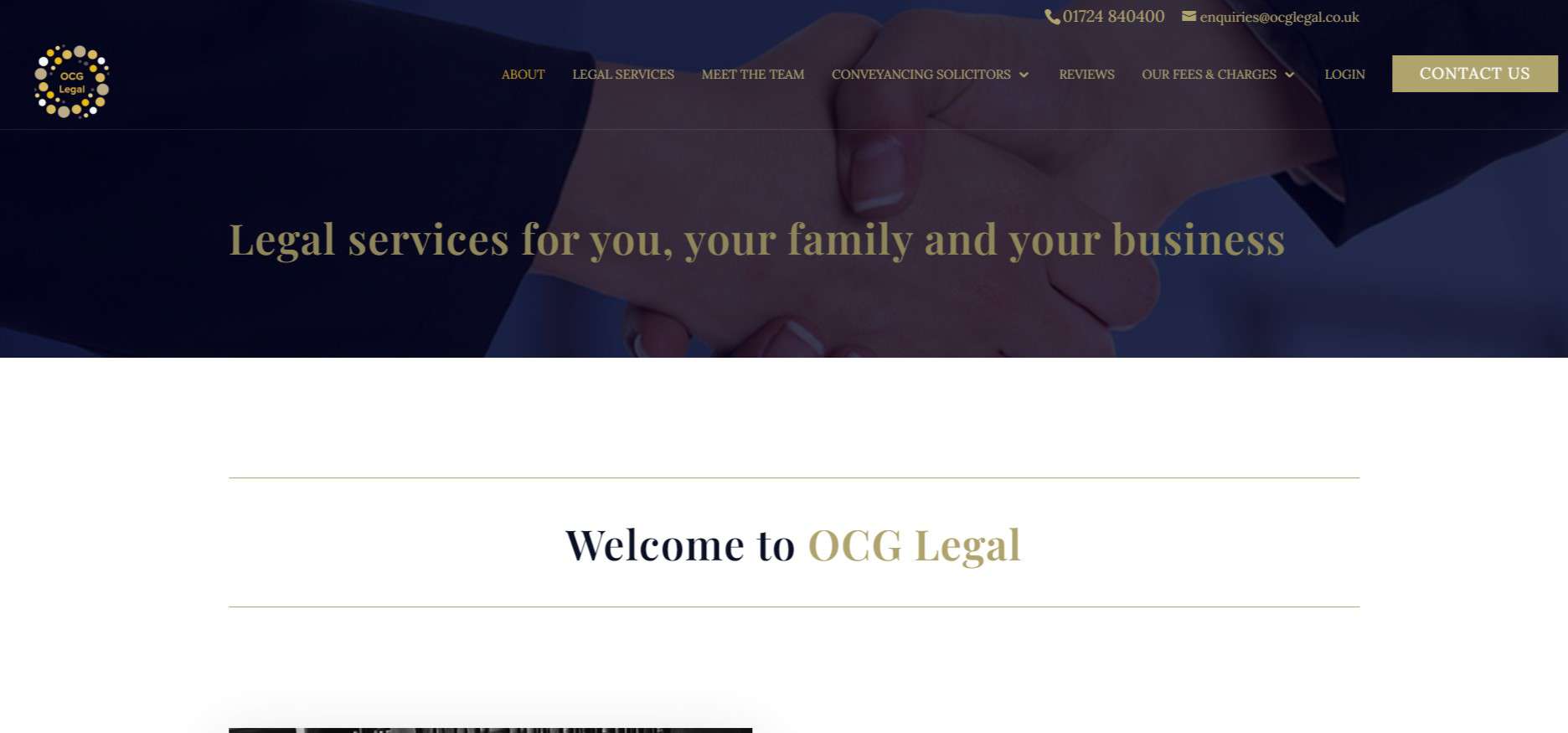 Sample Services:
Commercial Conveyancing

Business Purchases

Business Sales

House Purchase

House Sales

Wills 

Estate Planning

Lasting Powers of Attorney

Probate

Litigation
AAT licensed: No
ACCA licensed: No
Member of the Institute of Chartered Accountants: No
Sample Reviews: 
"We used OGC Legal to purchase a house following a glowing review from a friend, and we were not disappointed. We received excellent communication and support throughout the process. Pricing was fair and was the cheapest out of the three for us. A quick sale, great support and a kind and lovely service from Laura – thank you!" — Chloe Rouse
"I needed to set up a Deed of Trust relating to my investment properties, and Roxana Nedelcu dealt with my case.  She was extremely helpful and professional, and her communication was excellent throughout. I am very happy with the service given to me, and I would definitely use their services again. Thank you." — TwinTube
Address:
Suite 8, 
Normanby Gateway, 
Lysaghts Way, 
Scunthorpe 
DN15 9YG
Website: 
How did you pick the "best" Scunthorpe accountants?
We used Google local business data and selected firms with at least 3 reviews, scored 4.8 or higher, and that had a website.
Our dataset included only the 43 closest accounting firms to Scunthorpe city centre.
Moreover, we did not take into account ratings from other review sites. Feel free to get in touch if you think a particular deserving accountant has been overlooked.
How much does an accountant in Scunthorpe cost? 
According to our list of best accounting firms in Scunthorpe, accounting services start at £35/month without VAT for individual entrepreneurs and rise in accordance with the scope of your needs. 
In general, you should first arrange a consultation with the local accountancy expert of the accounting firm to get a quote. During the meeting, the firm will provide you with a proposal covering the fees they charge for the services you are interested in. Some of the firms, for instance, will arrange a tailored fixed fee after they assess your accounting needs.
How can I save money on a Scunthorpe accountant?
If hiring a dedicated accountant is too expensive, you might look into accounting software.
Here are the starting prices for various popular choices in the UK (all prices exclude VAT):
– Quickbooks: £10/month
– Freshbooks: £12/month
– Sage: £12/month
– Zoho: £12/month
– Xero: £14/month
Disclaimer: Businessfinancing.co.uk is a business finance and lending research and information website publisher. We are not a lender, bank, broker and/or other financial institution, and as such, we are not authorised or regulated by the FCA to offer financial advice. We can't recommend any of the products and/or services featured on the site. Companies are ranked in no particular order, and a higher ranking does not imply one company is better than another. We work with FCA-authorised and regulated firms who may pay us a commission for referring you to them, but this has no impact on our content and helps keep this website free to use.