The 3 accountants listed below are the top-rated accounting firms in Hartlepool based on Google reviews. Firms had to have at least 3 reviews and a score above 4.2 to be included.
Please note that these listings are in no particular order and are based on user reviews only. We can't guarantee the quality of any of the services directly. 
1. AMA Business Services Ltd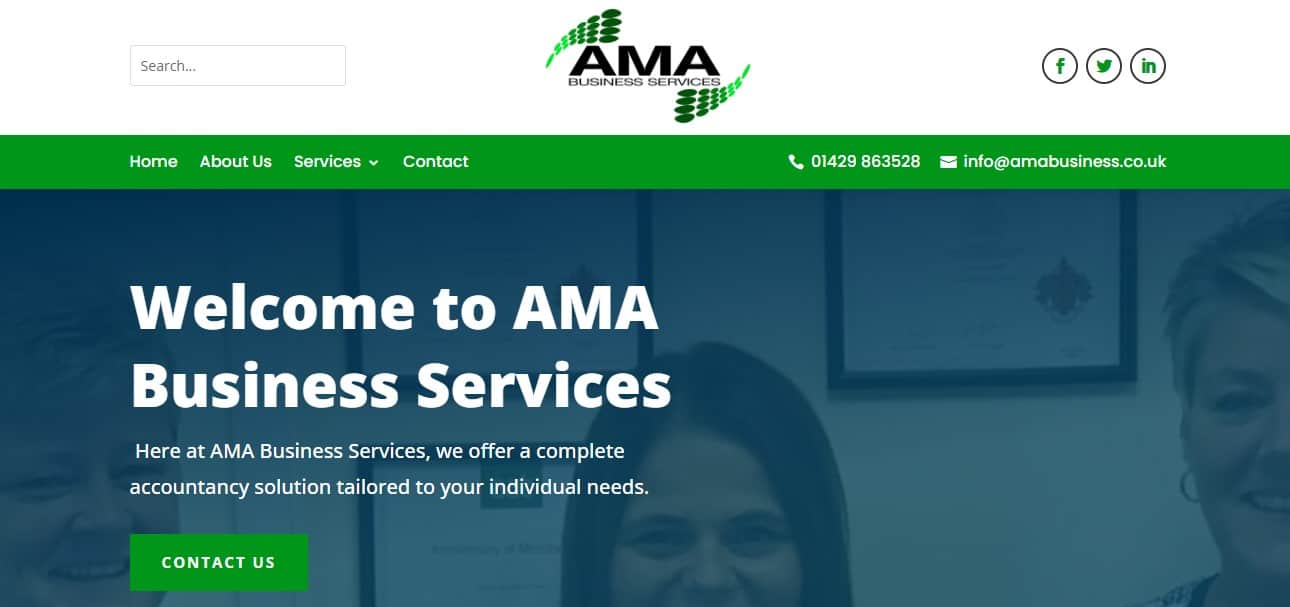 Sample Services:
Helping you decide on the most suitable structure for your business – sole trader, partnership, or a limited company

Establishing a good working relationship with your bank

Completing any registration procedures with Companies House and HMRC

Dealing with company secretarial issues

Staying on top of bookkeeping, VAT, payroll and other accounting requirements

Helping with all aspects of business compliance and administration

Speaking to the HMRC on your behalf to deal with any issues you are unsure about

Providing you assistance with tax investigations

Helping you with personal tax returns and giving you advice
AAT licensed: Yes 
ACCA licensed: No
Member of the Institute of Chartered Accountants: No
Sample Reviews: 
"Great company to work with, very professional, they explain everything in easy-to-understand terms, and the price is very affordable even for small businesses." — Michael Wilkins
"I use this company every year for my accounts, and they are super helpful and ready good an explaining everything. I would highly recommend them!" — Micala Sansom
Address:
Unit 45, 
Enerprise Centre, 
Brougham Terrace, 
Hartlepool 
TS24 8EY
Website: 
2. QuickRebates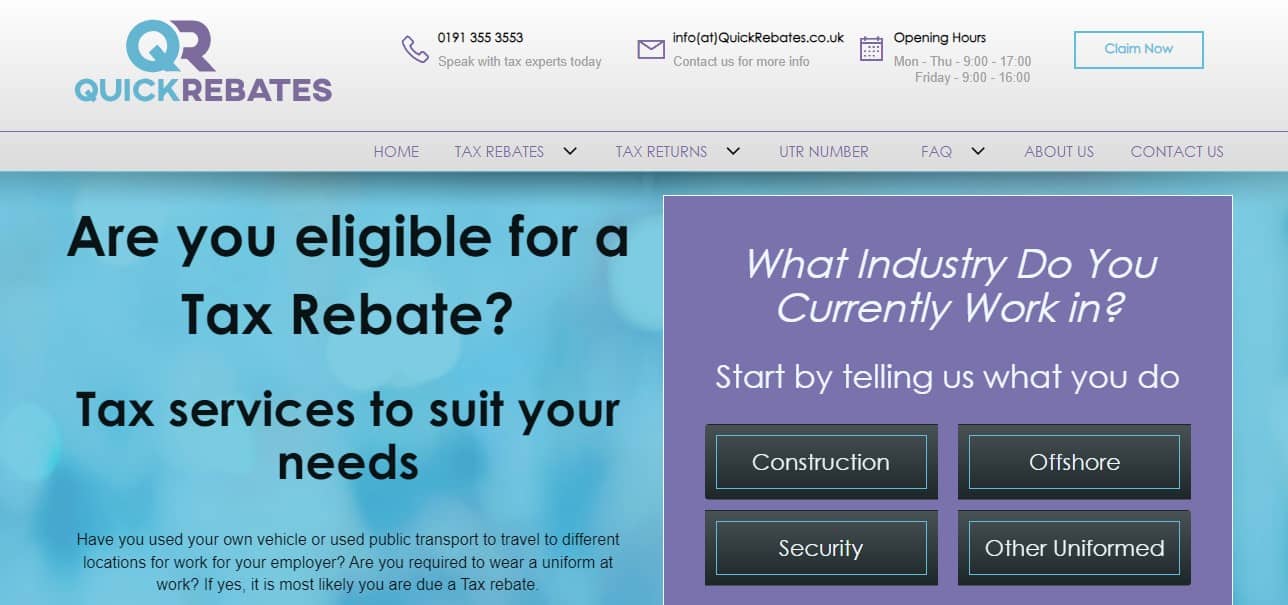 Sample Services:
Tax Rebate Calculation

Tax Rebate Claims

Tax Refund Application

Tax Refunds for Musicians

Opening Year Loss Relief

HMRC Support

CIS Support

Business Start-Ups Support

Self-Assessment Tax Returns

Personal tax Return
AAT licensed: No
ACCA licensed: No
Member of the Institute of Chartered Accountants: No
Sample Reviews: 
"I have used this company for a few years now. They work hard and keep in contact throughout the process. Ellen Drewent is an asset to the company and represents very well. She kept in touch constantly throughout the process, was friendly and knowledgable and made the whole process easy to understand, I would highly recommend quick rebates." — Graham Nicholson
"This was my first year using QuickRebates. From the very first phone call, I felt very assured with all the staff and that I had chosen the correct company.  My advisor, Luke, has been great in explaining the whole process from start to finish, calling back when he said he would. I would recommend QuickRebates and Luke. Well done, guys and thank you." — Nicholas Weymouth
Address:
Room 22, 
The Old Brewery, 
Castle Eden, 
Hartlepool 
TS27 4SU
Website: 
https://www.quickrebates.co.uk/ 
3. Flannagans Chartered Certified Accountants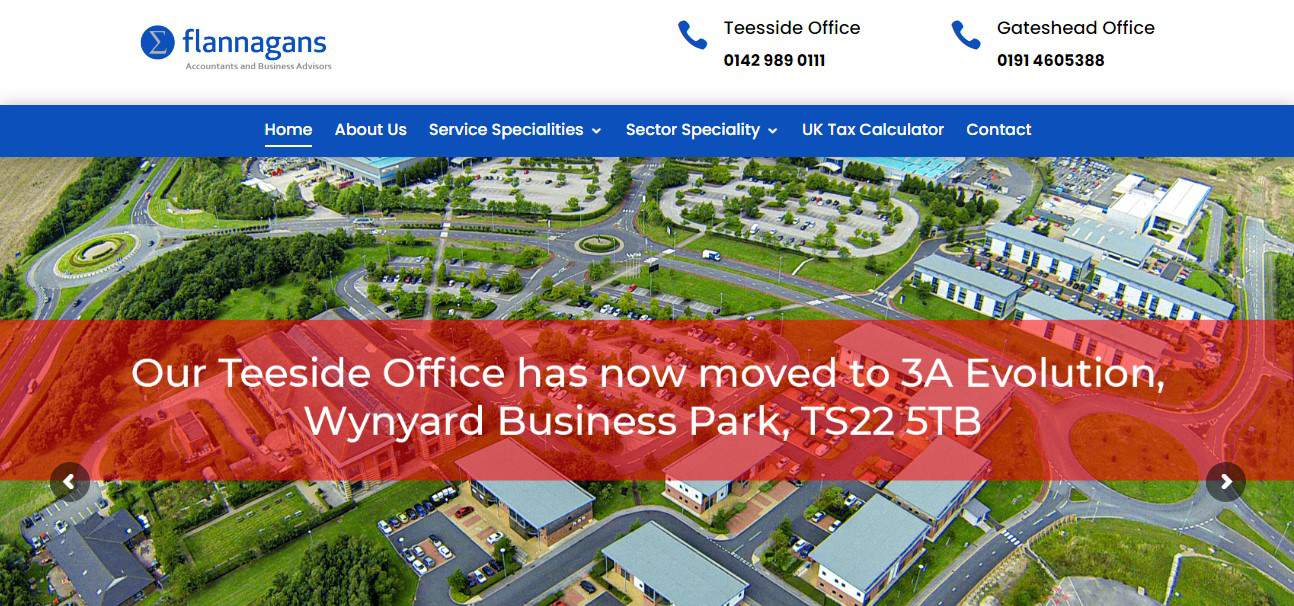 Sample Services:
Bookkeeping Services

Forensic

Taxation

Business Support

Sole Traders Support

Corporate Businesses

Partnership Enterprises

Personal Tax Returns
AAT licensed: No
ACCA licensed: No
Member of the Institute of Chartered Accountants: Yes 
Sample Reviews: 
"They always provide the best advice and sort all my tax issues out. They have done my accounts for 15 years. Never had an issue with them." — Richard Brackstone
"Great service, very understanding, I never had any troubles. Will be using them again." — Dylan Laughton
Address:
3A Evolution,
Wynyard Business Park 
TS22 5TB
Website: 
How did you pick the "best" Hartlepool accountants?
We used Google local business data and selected firms with at least 3 reviews, scored 4.2 or higher, and that had a website.
Our dataset included only the 21 closest accounting firms to Hartlepool city centre.
Moreover, we did not take into account ratings from other review sites. Feel free to get in touch if you think a particular deserving accountant has been overlooked.
How much does an accountant in Hartlepool cost? 
According to our list of best accounting firms in Hartlepool, accounting services start at £35/month without VAT for individual entrepreneurs and rise in accordance with the scope of your needs. 
In general, you should first arrange a consultation with the local accountancy expert of the accounting firm to get a quote. During the meeting, the firm will provide you with a proposal covering the fees they charge for the services you are interested in. Some of the firms, for instance, will arrange a tailored fixed fee after they assess your accounting needs.
How can I save money on a Hartlepool accountant?
If hiring a dedicated accountant is too expensive, you might look into accounting software.
Here are the starting prices for various popular choices in the UK (all prices exclude VAT):
– Quickbooks: £10/month
– Freshbooks: £12/month
– Sage: £12/month
– Zoho: £12/month
– Xero: £14/month
Disclaimer: Businessfinancing.co.uk is a business finance and lending research and information website publisher. We are not a lender, bank, broker and/or other financial institution, and as such, we are not authorised or regulated by the FCA to offer financial advice. We can't recommend any of the products and/or services featured on the site. Companies are ranked in no particular order, and a higher ranking does not imply one company is better than another. We work with FCA-authorised and regulated firms who may pay us a commission for referring you to them, but this has no impact on our content and helps keep this website free to use.