Yorkshire Bank is part of CYBG plc and the English trading name of Clydesdale Bank, which was recently bought by Virgin Money. The bank was founded in 1859 and has branches across the north of England and the midlands, though many of them are soon to close or be rebranded. Yorkshire Bank offers business loans and finance, business current accounts, and savings products for both small and commercial businesses.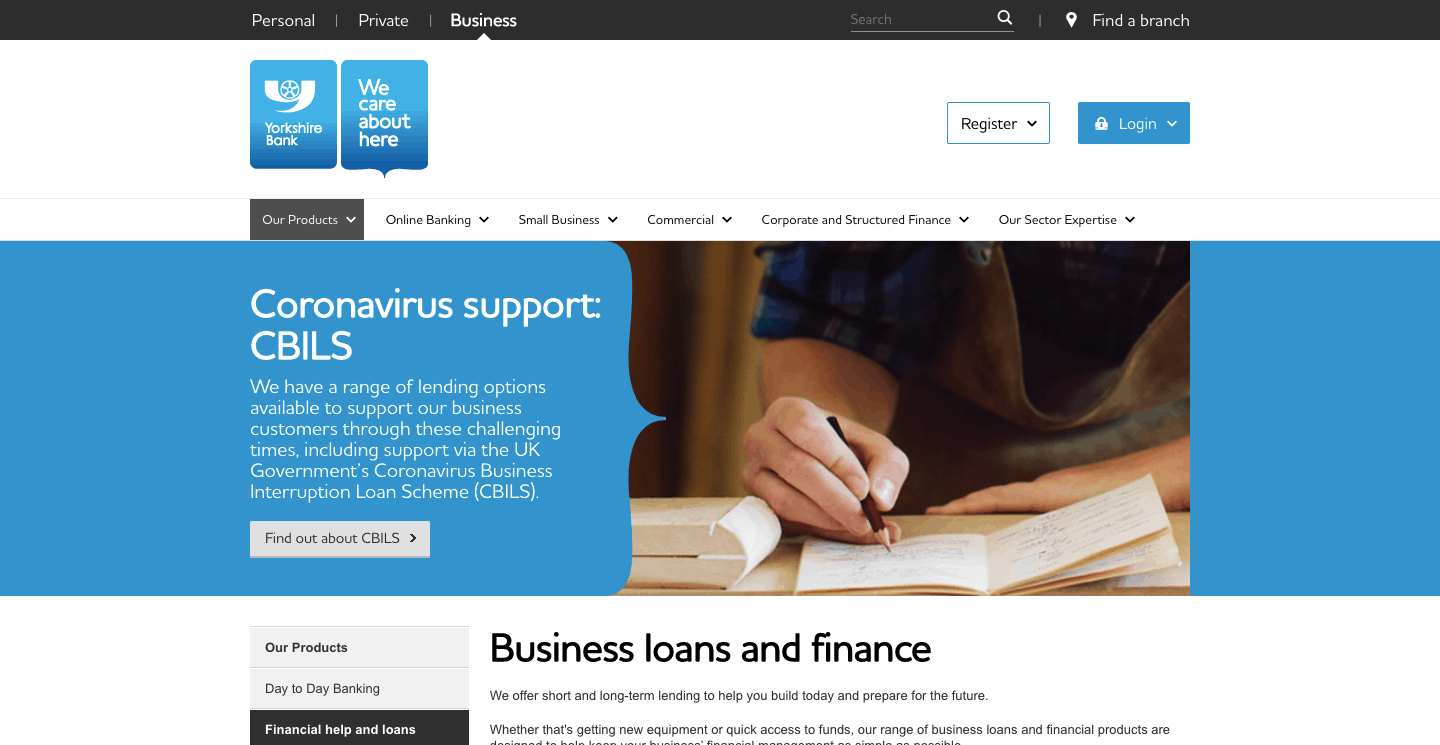 Yorkshire Bank Business Finance
Business loans
Flexible and fixed-term loans are available. Unsecured fixed loans are available from £1,000 to £25,000 at 9% APR representative. Interest is calculated daily over the period of the loan and is applied monthly or quarterly. Flexible loans are available from £25,000 and repayment can be flexible based on how your business' cash flow changes, which includes capital repayment holidays, lump-sum repayments, and low start repayments. The terms vary depending on your repayment options – interest only is from 1 to 5 years and the capital & interest option is from 1 to 15 years.
Business overdrafts
Overdrafts up to £25,000 are available at p.a (variable) 9.0% for existing business current account holders. There's also 2.5% establishment fee (minimum of £120). This is a short-term facility up to 12 months.
Business credit card
The business credit card is available at representative 22.4% APR (variable). Up to 59 days' interest-free credit is available on purchases and there's no annual fee to pay for the first year. The minimum credit limit available is £500 and your business' specific credit limit will be confirmed during the application.
Asset finance
Hire purchase and lease agreements are available through Yorkshire Bank covering manufacturing, agricultural, engineering, plant hire, vehicles, and more.
Hire purchase:
Your business will own the asset at the end of the term
Interest rates fixed or variable
Minimum term of 6 months
Maximum term is negotiable on application
Some extra fees apply
Deposit may be required
Lease:
Your business rents the asset and will receive a proportion of the final sale at the end of the agreement
Interest rates fixed or variable
Minimum term of 6 months
You can recover the VAT on each rental
Invoice finance
Invoice discounting is available through Yorkshire Bank. Businesses can release cash tied up in unpaid invoices and receive their funds immediately. This is a facility for larger businesses with invoices of at least £50,000.
Yorkshire Bank Reviews and Ratings
Yorkshire Bank's reviews are mainly negative, with many customers having difficulties during the Coronavirus crisis. This isn't uncommon and many of the big banks have received similar criticisms on online review sites. Many customers have had bad experiences with waiting times, account management, and customer service. They're also not impressed with the experience in branches and online.
Just like Clydesdale Bank, which is part of the same group, some Yorkshire Bank branches will adopt Virgin Money branding. 52 Yorkshire Bank branches are set to close and others will be merged. The rebrand is set to be completed by January 2021.
Trustpilot –  1.3/5 (based on 406 reviews)
Reviews.co.uk – 2.75/5 (based on 4 reviews)
Smart Money People – 2.11/5 (based on 27 reviews)

Pros
Choice of cards, loans, and finance available.
Flexible and fixed solutions.
Cons
Majority of online reviews are critical.
Branches have been rebranded as Virgin Money.
Website: Yorkshire Bank Business Finance