Virgin Money merged with Clydesdale Bank and Yorkshire Bank which all started to operate under the Virgin Money name since 2021 for their banking services. They offer a range of business accounts and savings accounts. There are Virgin Money branches throughout the UK, mainly in big cities, and you can manage your savings online and on the app too. There are also 5 Virgin Money business lounges in London, Manchester, Sheffield, Norwich, Cardiff, Glasgow and Edinburgh.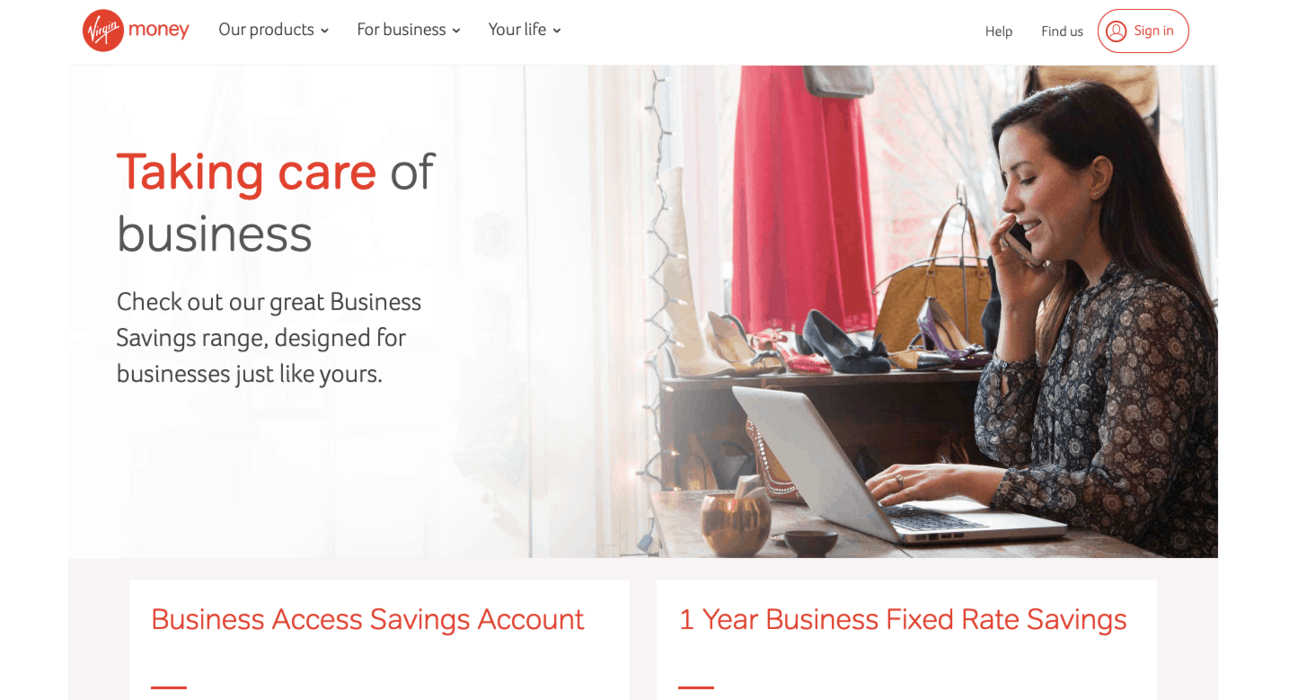 Virgin Money Business Banking Services
Current Accounts
They offer two business current accounts designed for smaller and larger businesses. The Business Current Account offers new businesses and switchers 25 months free day-to-day banking, after this period the account fee is £6.50 per month. They also offer 0.35% cashback on debit card transactions.
The Business Choice Account is for businesses that have a turnover above £6.5 million and they get the latest digital tools and access to their experts.
They also offer an account for charities, clubs and societies and client accounts for professional firms.
Savings account
They offer three types of business savings accounts, instant access accounts, notice accounts and fixed-term deposit accounts. There are no fees or charges. Business account holders will also have access to Virgin's business lounges, which have free WiFi, tea and coffee, newspapers, and a place to work if you're between meetings.
Instant Access Savings Accounts
Business Cash Management Account offers savings from £1 with no maximum restrictions and interest at 0.01% AER. This account has limited online account management.
Business Access Savings Account allows savings from £1 to £2 million with simple online account management. It offers 0.30% AER.

Notice Accounts
They offer a range of business notice accounts with the choice of 30, 65, 95 and 120 days' notice. Save form £1 and make deposits at any time. Withdrawals are only permitted when the required notice period is given. Rates are between 0.05% to 0.20%.
Business Fixed Term Savings
They offer a range of fixed-term savings accounts that include 3, 6, 12, 18 and 24 term deposit accounts, 1 and 2 year fixed rate savings account. Their fixed-rate savings account allow you to save up to £2 million with rates of 0.35-0.45% AER. Their term deposit accounts allow you to save from £5,000 to £25 million with rates of 0.10-0.40% AER.
Overdrafts
Not available.
Business finance and loans
Not available.
Virgin Money Reviews and Ratings
Reviews on Trustpilot and Reviews.co.uk are quite poor. Existing customers are particularly unhappy with customer service, especially over the phone. Some customers report account management problems and blocked transfers too. There are a few 5-star reviews from happier customers though.
It's important to note that online reviews cover all Virgin Money products, as well as business savings. Quite a few customers have been unhappy with travel insurance claims, which has affected the overall Virgin Money rating.
However, Smart Money People reviews are more positive. The large majority of savings customers are very happy with excellent rates, in-store service, and good value. The most current reviews are however more negative as they have been having issues with the app, long queues to speak to someone and poor customer service.
Virgin Money scores 61% in the Which? list of 'Best & Worst Banks'. The bank scores 3/5 for customer service, communication, transparency of charges, telephone banking, online banking, mobile app and service in-branch, and 2/5 for handling complaints.
Trustpilot – 1.3/5 (based on 2,831 reviews)
Reviews.co.uk – 2.0/5 (based on 4 reviews)
Smart Money People – 4.2/5 (based on 1,200)
Which? – 61% Which? customer score
Pros
Very competitive interest rates (they're some of the best around!)
Fixed and flexible accounts are available.
Positive reviews on Smart Money People.
Cons
Reviews on Trustpilot are very critical overall.
Not many local branches to visit if you like offline banking.
Website: Virgin Money Business Banking