Please note Triodos Bank is no longer offering new current accounts or deposit accounts. As a result the information below is no longer being updated and is now out of date.
Triodos Bank is a Netherlands-based bank with branches in France, Belgium, Germany, and Spain as well as the UK. Triodos was founded in 1980 and specialises in business loans from £100,000, as well as business current accounts and savings products. £8.2 billion has already been lent to businesses and organisations throughout Europe. Triodos has a particular focus on 'sustainable banking' and lending to charitable and ecological organisations. UK customer service is based in Bristol.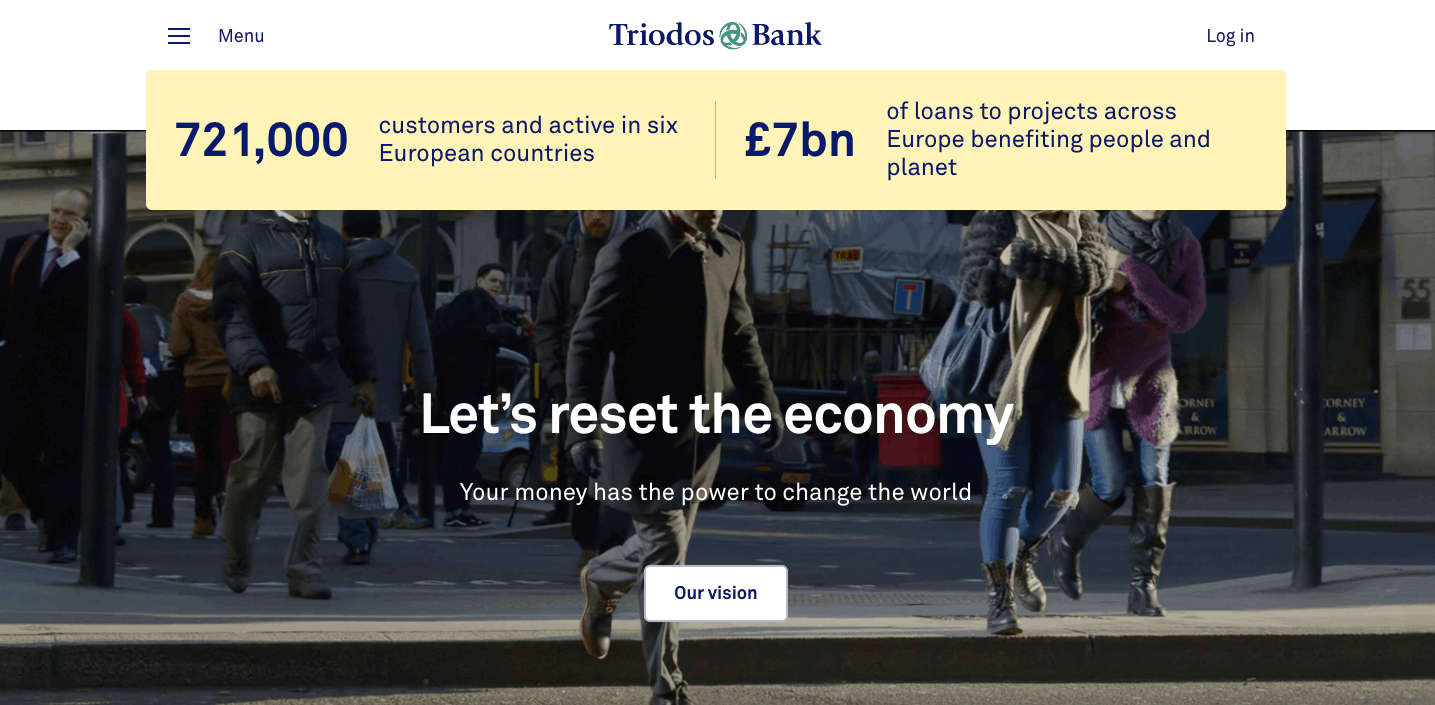 Triodos Bank Business Banking Services
Business Current Accounts
The Social Venture account allows you to manage your day-to-day banking services online, by phone or by post, set up direct debits and standing orders, send and receive foreign payments and write cheques and pay them in by post. However, the account does not offer a credit or debit card as part of the account.
Charity Current Account
Their charity bank account is very similar to their business current account with the benefit of lower banking charges and the ability to earn interest on balances over £5,000. To qualify you must have a turnover of £5,000 or more, be registered with the Charity Commission or the Office of the Scottish Charity Regulator, have 'excepted' or 'exempt' status as defined by the Charity Commission and are going through the process of registering.
Business and Charity Deposit Account
They offer a choice of instant access or notice period accounts that you can open with deposits from £1,000. They claim that they only lend their customers' money to organisations that are making a positive impact on people and the planet.
Fixed-Term Deposits
They offer a choice of fixed-term deposit accounts for 6 or 12 months, all of which allow you to use your organisation's reserves to help make the world a better place. Lock your money away for a fixed rate of return.
Triodos Bank Business Finance
Business loans
Triodos offers small business loans between £100,000 and £500,000 and larger loans from £500,000 to £20 million, typically with up to 70% loan to security value. Loans can be variable or fixed and repayment terms are up to 25 years. Interest, fees, and other charges are agreed on an individual basis. Each business customer will have contact with their own account manager.
Triodos Bank Reviews and Ratings
Online reviews focus on a range of products, including business finance, savings, and investment products.
Triodos Bank has a lot of fans online. Reviews across Trustpilot and Smart Money People are mainly positive with customers praising the bank's professionalism, speed, and ethical considerations. Some customers, however, have had difficulties getting their account set up and issues with payments/transfers.
Many of Triodos' investments focus on green energy and sustainability. In March 2020, Triodos partnered with electric car charging company Pod Point and Tesco to provide chargers at 600 stores. In June 2020, Triodos worked with DEFRA, the Environment Agency, and the Esmee Fairbairn Foundation to attract private sector investment for four habitat restoration projects.
Trustpilot – 3.6/5 (based on 191 reviews)
Google Reviews – no reviews
Reviews.co.uk – no reviews
Smart Money People – 4.92/5 (based on 3,421 reviews) 

Pros
Loans for small, medium, and large businesses.
An ethical bank with green credentials.
Many positive online reviews.
Cons
Minimum funding amount is £100,000, which is too much for some small businesses.
The current account does not offer credit or debit card
Website: Triodos Bank Business Finance