Merchant Money is a business finance provider specialising in flexible finance and merchant cash advances. Launching in 2013, Merchant Money offer both secured and unsecured finance for customer service businesses like pubs, retailers, salons, hotels, restaurants, and e-commerce sites.
Merchant Money is a member of the Federation of Small Business (FSB). 750 firms have been funded so far, raising over £35,000,000.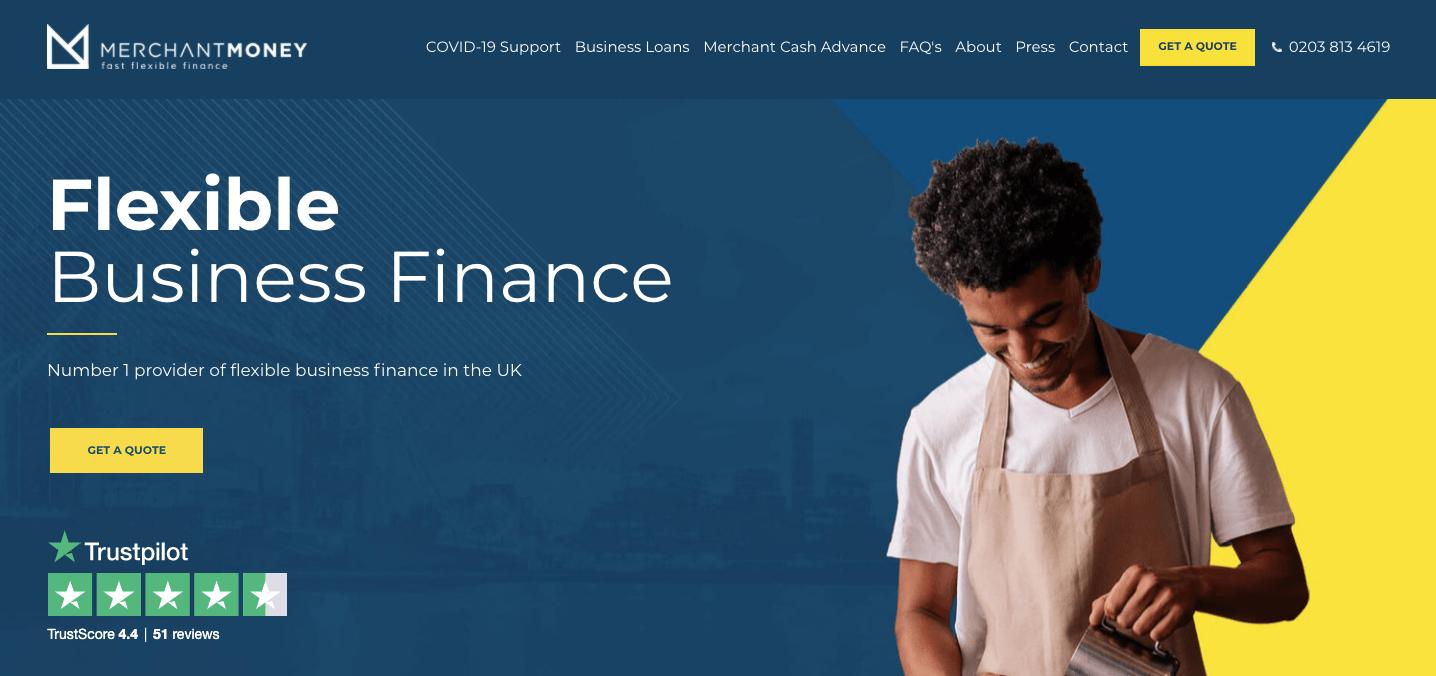 Merchant Money Business Loans & Finance
Business Loans
Unsecured loans are available from £5,000 up to £150,000 and secured loans are available from £150,000 to £500,000. Repayment terms range from 1 to 36 months and there's no penalty for early repayment. To qualify, your business should have at least 12 months of accounts and a minimum annual turnover of £100,000. Approval is online and over the phone and takes just 24 hours.
Merchant Cash Advance
Finance for businesses accepting card payments from their customers. You can raise 100% of the value of your average monthly card transactions between the values of £5,000 and £500,000. The cost of repayments will be pre-agreed and taken automatically from your total card payments. To qualify, your business must have 6 months of trading history through a card machine and a minimum monthly turnover of £5,000.
Merchant Money Reviews and Ratings
88% of Trustpilot reviewers rate Merchant Money 5/5. Most reviewers think the service is efficient and professional with financial solutions that work for their business. Google Reviews are almost completely positive too. There are a few critics unhappy with how Merchant Money dealt with them.
Merchant Money secured a debt facility of £10 million from investor BG Finance in February 2020.
Trustpilot –  4.7/5 (based on 63 reviews)
Google Reviews – 4.3/5 (based on 11 reviews)
Reviews.co.uk – no reviews
Smart Money People – no reviews

Pros
Unsecured, secured, short and long term finance available.
Very positive reviews.
Cons
Small business loans are only available to businesses with at least £100k annual turnover. Could be out of reach for many.
Website: Merchant Money Business Finance