Money can't buy you love. But it can complicate the feelings others have towards you.
Even before the pandemic further padded the collective wealth of the billionaire class, the word 'billionaire' had become synonymous with 'baddie.' Today, billionaires – just 0.000035% of the world's population – control 3.5% of the world's wealth; the poorest 50% own just 2%. While 2,750 billionaires sit on a $12.7 trillion fortune, lack of healthcare access kills 5.6 million people in poorer countries every year, according to Oxfam. And that's just one issue.
But a strange thing happens when we talk about our feelings towards billionaires. So long as they remain a faceless mass, the rest of us tend to think their wealth is fair game for redistribution. However, once you pick a name from the hat – Bill Gates (he means well!), Elon Musk (visionary/saviour) – folk get more protective.
It's understandable. We crave role models and devour pop icons. Billionaires are both, and more: mortal gods who embody our aspirations of success, plenitude, and security. Endowed with world-changing levels of charisma, these characters are undercut by the flaws and quirks that we recognize in ourselves, our friends, and our rivals. And yet it all comes down to money, that perennially raw issue. It's no wonder Jeff Bezos, Sheryl Sandberg, or Richard Branson polarise our feelings.
But how does society judge these individuals on balance? With ever more billionaires, some with a louder fandom than others, BusinessFinancing.co.uk decided to identify which ones the world truly values – and which ones draw the most ire.
What We Did
BusinessFinancing.co.uk collected thousands of geotagged tweets mentioning billionaire entrepreneurs, narrowing our search to those primarily known for their wealth/entrepreneurship (and so excluding athletes, entertainers, etc.) We sorted the tweets by location and used an AI 'sentiment detector' to analyse them and calculate what percentage of tweets about each billionaire was positive or negative.
KEY FINDINGS
•   Donald Trump is the most hated billionaire in more countries (84) and U.S. states (43) than anyone else.
•   Bill Gates is the most loved in the highest number of countries (37), although he's most hated in three others.
•   Elon Musk is the most loved billionaire in the U.S., getting more Twitter praise than others in 12 states.
Donald Trump is World's Most Hated Billionaire, Bill Gates is the Most Loved
Some argue that the work of billionaires benefits us all, or that billionaires are a symptom of living in a free society. But this 'free society' looks very different depending on where you live. Our first maps illustrate the most loved and hated billionaires in each country around the world.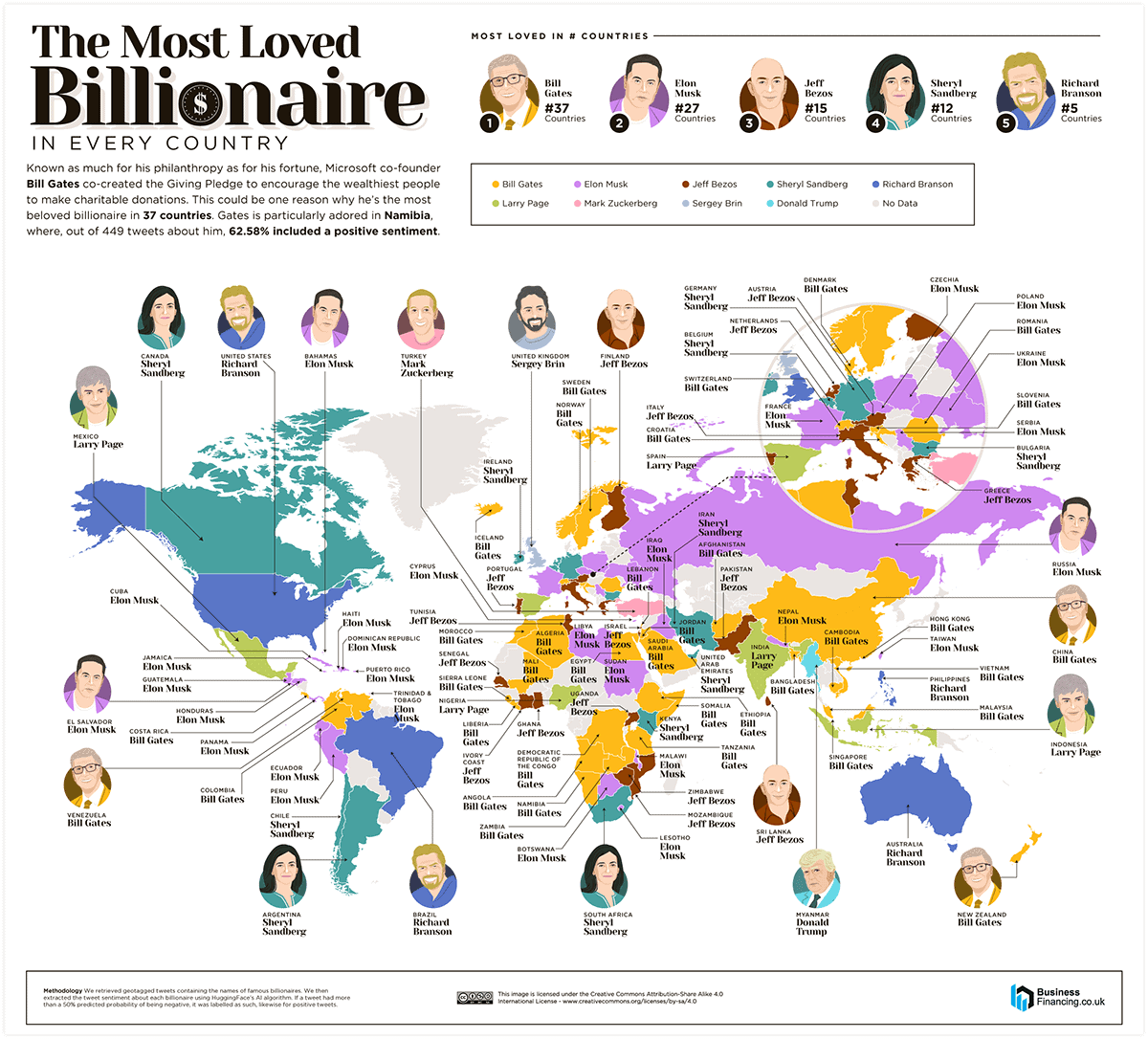 Click here to see the image in full size
"I have an obligation to return my resources to society in ways that have the greatest impact for reducing suffering and improving lives," says the world's favourite billionaire, Bill Gates. His promise to drop off the rich list transcends language, and he is the most loved billionaire in 37 countries. But he is also the most hated in three countries, evidence that his two-decade effort to rebrand himself has a way to go.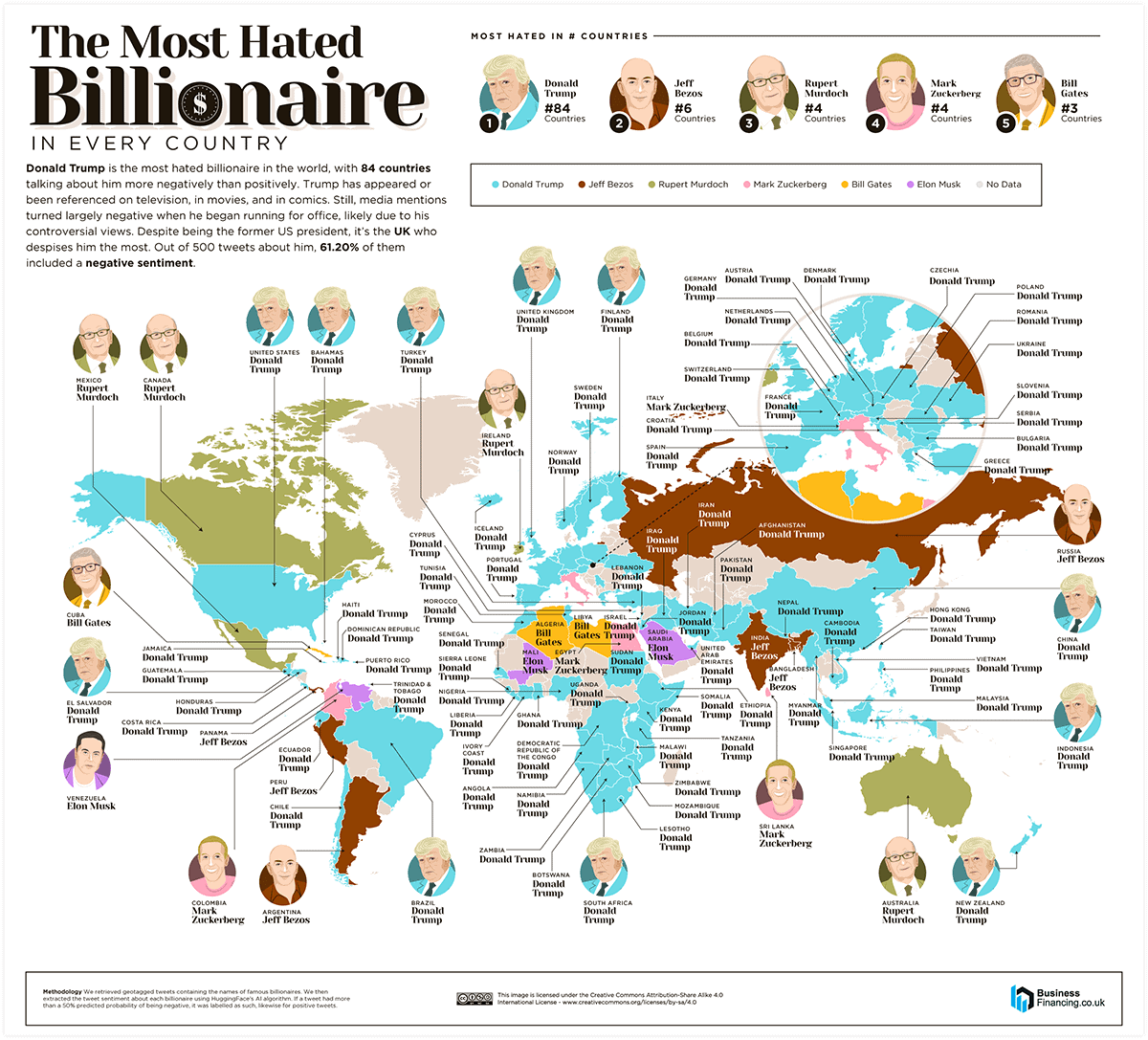 Click here to see the image in full size
Billionaire worship often comes down to a cult of personality. It's a cult on which Donald Trump capitalized, becoming 'leader of the free world' on the back of his perceived business success and the 'power' he executed on TV's The Apprentice. But while his rise inspired some, it alienated international observers who were concerned about his actions on the world stage. While it's politics rather than business that put the anti-Trump sentiment on a global scale, he tried to transfer his (questionable) business skills to the presidency. And Twitter, on which our research is based, is where it all came down.
'American' Hero Billionaires Paint Mixed Picture of U.S. Ideals
Every U.S. state has its own economic fingerprint and its own work culture – not to mention its own politics. Hence, there are nine different billionaires who get the most positive Twitter response from one state to another. However, the most negative press is divided between just three: Trump, Murdoch, and Cuban.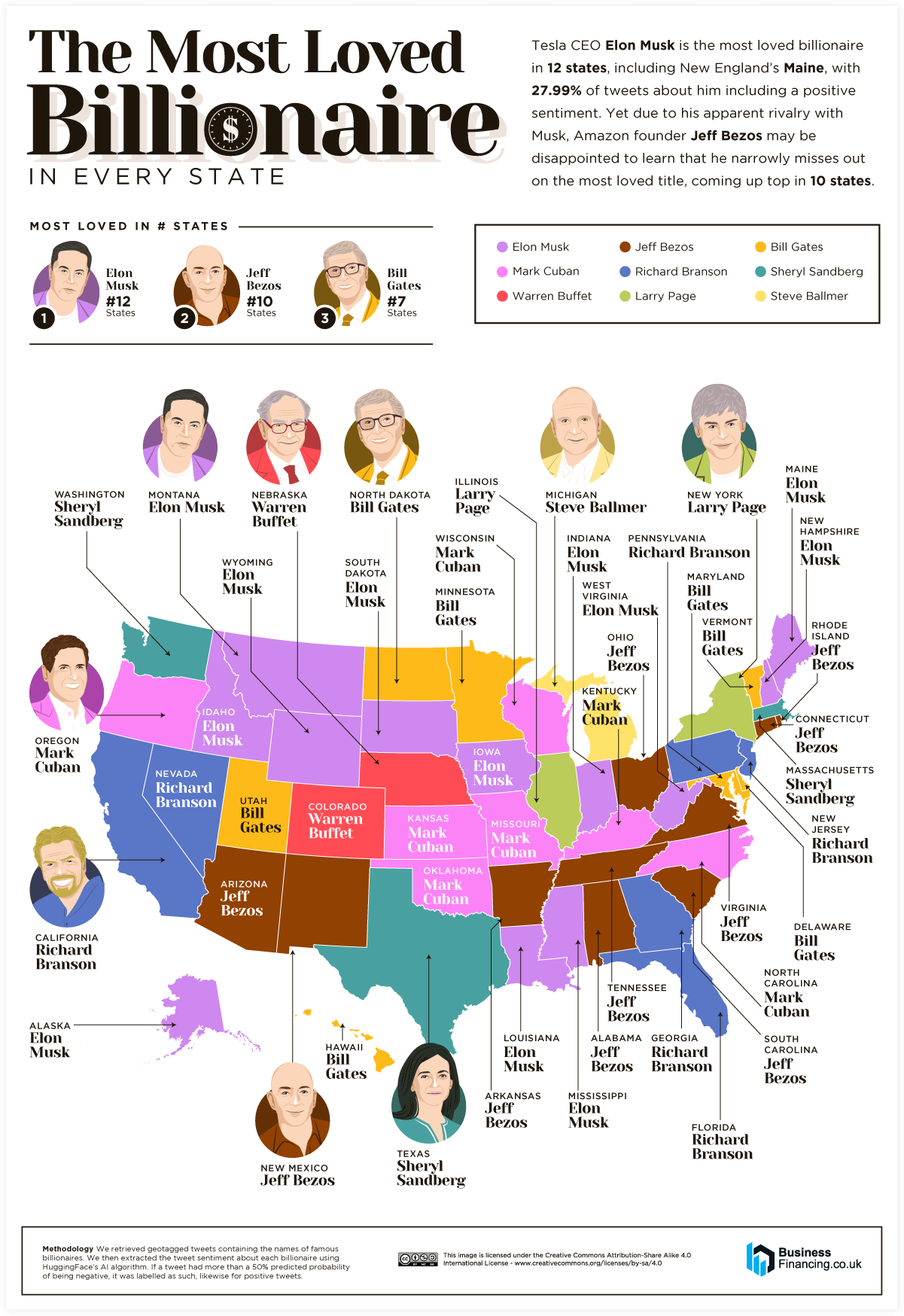 Click here to see the image in full size
Elon Musk is the closest the world has to a tortured comic book superhero; he even has his own toxic fanbase. The PayPal, Tesla, and SpaceX magnate is a controversial figure but fits the complex ideals of the American pioneer. Outspoken, ruthless, a cowboy with one foot in the motor industry and the other in a space rocket, Elon Musk is the favourite billionaire of 12 states, from Alaska to Wyoming.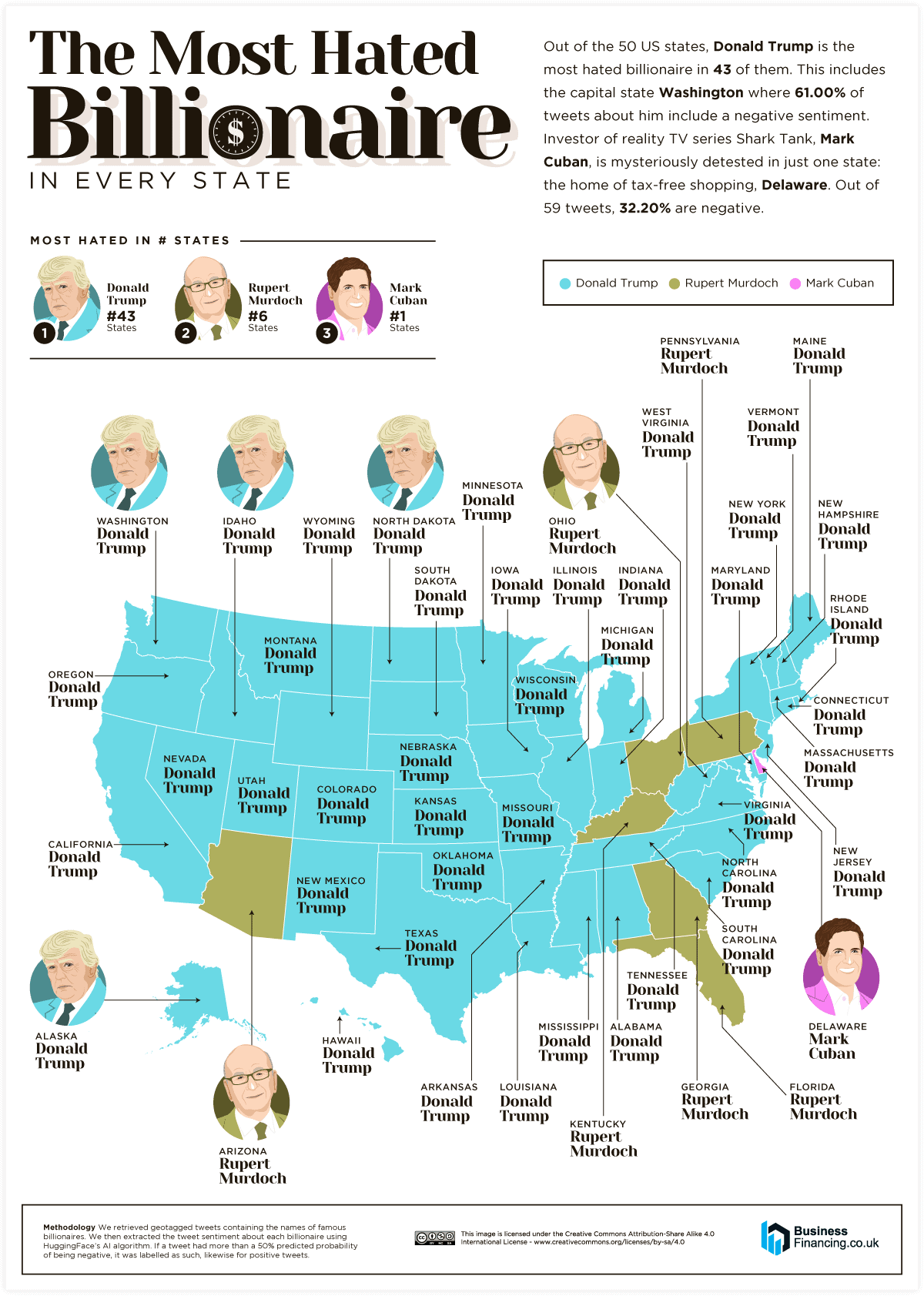 Click here to see the image in full size
Did somebody say outspoken and ruthless? These are ambiguous attributes which tend to rub off on the non-billionaires who admire the Trumps and Musks of the world. "Most people aspire to a lifestyle that they're not willing to work for or that they can't afford," says MIT neuroscientist Dr. Tara Bieber on the cult of (billionaire) personality. "Unfortunately, I think it gives some people permission to behave badly, to say mean things on social media, to treat their family members badly." While Bieber is talking about Musk, these words also apply to Trump in the Twittersphere; but Trump's position as the most-hated in 43 states goes to show that outspoken, ruthless billionaires remain popular only so long as they personify 'success.'
The Countries Where Musk, Bezos, Zuck and Trump Are Most and Least Liked
This interactive map set guides you through the countries where Musk, Bezos, Zuckerberg, and Trump – four cornerstones of our 2020s socio-economic condition – are most and least hated. Choose the tab for your billionaire of choice and select Most Loved or Most Hated to find the data you require.
The maps demonstrate how negative tweets (34.85%) towards Facebook's Mark Zuckerberg outnumber positive tweets (12.71%) by nearly 3:1 in the U.S. He divides opinion in the States more dramatically than in most other places, where those percentages are more closely aligned. However, he is most hated of all in Colombia, with nearly five times as many negative tweets as positive ones. Colombian users take to the app to rail against Facebook's perceived 'digital colonialism' and selective promotion of news stories.
Ethics Are Priceless
Finally, here's our data in full. Please explore the interactive table to find the precise positivity/negativity factor of each billionaire in any country.
Life's not a billion times greater when you're a billionaire. Science has found that happiness 'levels out' when you hit $75,000 (£62,300) per year. Earn more than that, and the extra money itself has no effect on your happiness. The hatred is fierce, and the love is not always healthy. Build an ethical business on a product people love and guide it through the bad times and the good, and your personal popularity will take care of itself.
METHODOLOGY & SOURCES
We retrieved geotagged tweets containing the names of the most talked-about billionaires. We only considered billionaires defined by their wealth, as opposed to sports or entertainment billionaires such as Michael Jordan and Kim Kardashian.
The final list of famous billionaires included:
Elon Musk, Bill Gates, Jeff Bezos, Rupert Murdoch, Mark Zuckerberg, Warren Buffet, Larry Page, Larry Ellison, Sergey Brin, Steve Ballmer, Michael Bloomberg, Mark Cuban, Sheryl Sandberg, Donald Trump, and Richard Branson.
For the billionaires with a Twitter account, we also considered mentions to them:
@elonmusk, @BillGates, @JeffBezos, @rupertmurdoch, @WarrenBuffet, @larryellison, @Steven_Ballmer, @rihanna, @KimKardashian, @MikeBloomberg, @kanyewest, @Oprah, @mcuban, @sherylsandberg, @richardbranson
Only tweets in English were considered.
We used HuggingFace's AI algorithm to extract the tweet sentiment about the billionaires under study. If a tweet had more than a 50% predicted probability of being negative, it was labelled as such, likewise for positive tweets. Finally, we calculated the percentage of tweets labelled as negative and positive to discover the most hated and loved billionaires worldwide.
The data was gathered in May 2022.
Most Popular Guides