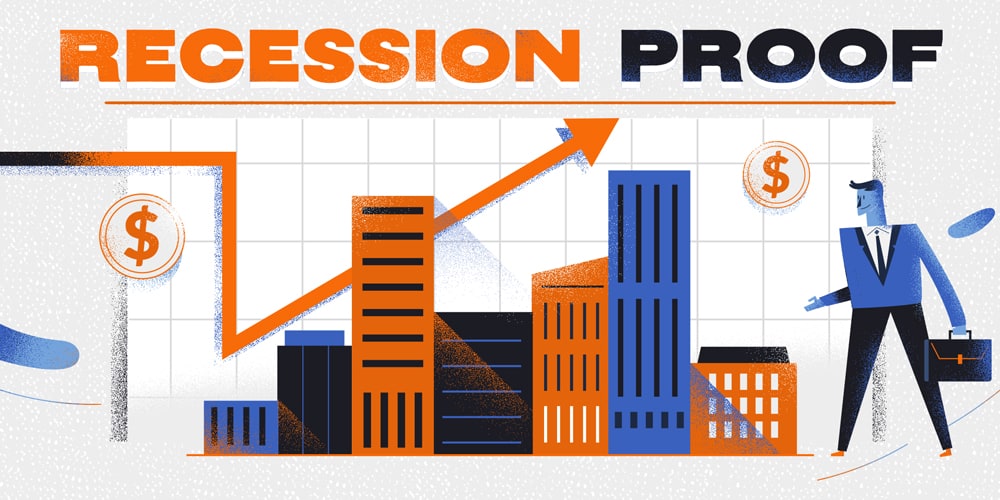 With unemployment claims at historic highs and consumer confidence at historic lows, the COVID-19 pandemic has caused untold damage to the global economy. The current economic downturn may discourage some would-be entrepreneurs from starting their own businesses, but history shows that a great business concept can succeed in any environment.
Using data from SEC filings, Fortune magazine, and the National Bureau of Economic Research, we found that many of the largest, and most successful companies in the world were started during times of recession.
A History of 126 Downturn-Defying Companies
Flying through time you'll find American Airlines, formed in the Great Depression, is now serving nearly 50 countries across the globe. Stop off for a pizza in the Recession of 1960-61, and you'll see Domino's being cooked up.  The 1973-75 recession saw the birth of HBO, now home to some of the world's most popular and well respected TV series and software giant Microsoft was also formed during this downturn.
Jumping forward in time, the early 2000s recession was due in part to the collapse of the dot-com bubble, but Mailchimp sprung into life during this time and is still thriving today. The second Great Recession (2007-2009) saw Airbnb burst onto the scene and reinvent the travel sector, putting a few hotels out of business along the way.

The Biggest Recession Babies
Let's look at the top 50 most successful companies started during a recession. Topping the table is UnitedHealth Group, now number seven on the U.S. Fortune 500, and founded during the 1973-1975 period of stagflation.
Next up we have two of the biggest car companies of all time, Ford and General Motors. Ford was founded during the 1902-1904 recession, while GM started their engines in the aftermath of the panic of 1907, the first global financial crisis of the 20th century. The panic lasted just six weeks, but the effects rippled for two years and many companies struggled to stay afloat.

Don't Be Discouraged!
Prospective entrepreneurs take note! Our study proves it, a solid business idea can succeed in any environment, even a global pandemic.
Methodology
Company founding dates were gathered from the May 2018 Fortune article See the Age of Every Company in the Fortune 500, SEC filings and a variety of news articles. Periods of recession were defined using recession dates released by the National Bureau of Economic Research.
These visualisations analysed the performance of all companies in the 2020 Fortune 500 list as well as that of 69 companies founded during a recession but that weren't included in the Fortune 500 ranking.
Most Popular Guides