Lloyds Bank Invoice Finance User Reviews
Review Summary
0.0 out of 5 stars (based on 0 reviews)
Recent Reviews
There are no reviews yet. Be the first one to write one.
Submit a Review
Lloyds Bank is a British bank that has been serving personal and business customers for over 250 years and has a branch network of over 1,000 high street branches. They provide a broad range of business products covering banking and financial products such as loans, invoice finance, asset finance and mortgages.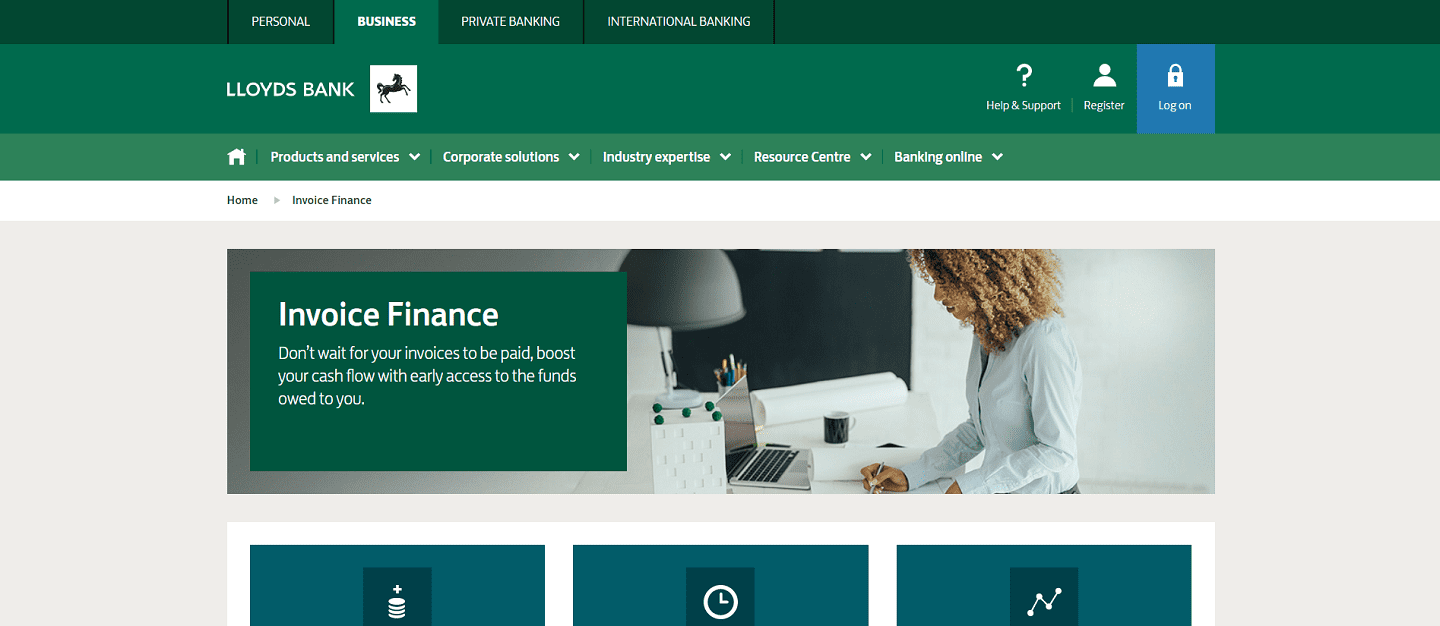 Lloyds Bank Invoice Finance Options
Lloyds Bank offers invoice finance solutions that allow businesses to access cash flow early through releasing funds from unpaid invoices and repaying the funds when the customer pays the invoice. The facility offers:
Releasing up to 90% of invoice values or 85% on single invoice finance
Receive funds within 24 hours
Online management facility
Scalable solution that will grow with business sales
They offer full invoice finance for the whole sales ledger and single invoice finance solutions as well as a choice of invoice factoring and invoice discounting.
Single Invoice Finance
Single invoice finance provides a facility for those that have an occasional need or want to even out seasonal cash flow challenges. You can select which invoices you would like to use for funding through their Invoice Finance Manager digital platform which can help you to chase payments through automated reminders to customers.
Invoice Factoring
Invoice factoring provides support in managing your sales ledger and credit control processes. It is designed to support smaller businesses that may not have an established finance team.
Invoice Discounting
Invoice discounting is a confidential service that allows you to retain management of your sales ledger and credit control processes. This type of invoice finance is designed for more established and larger businesses with better financial processes.
Lloyds Bank Invoice Finance Eligibility
Lloyds Bank offers invoice finance products to limited companies that invoice other businesses, and you must have been trading for over 6 months and have a turnover above:
£100,000 per year for single invoice finance
£50,000 per year for invoice factoring
£250,000 per year for invoice discounting
You must also have a compatible accountancy software package for single invoice finance.
Lloyds Bank Invoice Finance Rates
Lloyds Bank doesn't include the rates for their invoice finance products on their website.
Lloyds Bank Invoice Finance Calculator
Lloyds Bank doesn't have an invoice finance calculator.
Lloyds Bank Invoice Finance Reviews
There is a large number of reviews for Lloyds Bank across several of the leading customer review sites. It is worth noting that many of the reviews are about their personal banking products or insurance products.  Across all the review sites Lloyds Bank is rated poorly.
The greatest number of reviews are on Trustpilot where 76% of reviewers gave them a bad rating. Negative review comments included internet banking issues such as downtime and access problems, telephone service has long wait times and poor responses, and generally poor customer service.
Reviews.co.uk has an average rating and 44% of reviewers would recommend Lloyds Bank. Some of the positive comments were from long-term customers that were happy with the service, always helpful staff, easy to set up products that are competitively priced. Smart Money People has similar scores and reviews to Reviews.co.uk.
Review Centre has the only reviews that are for business customers only, but these are rated low due to issues setting up business bank accounts.
A customer survey undertaken by Which? on customer service by banks gave Lloyd Bank a score of 66%. When scored out 5 for their services they largely received 4 out of 5, this was for online banking, telephone banking, customer service, communication, transparency of charges and benefits. Scores of 3 out of 5 were received for service in-branch, mobile app and handling complaints.
Trustpilot – 1.7/5 (based on 2,393 reviews)
Google Reviews – no reviews
Reviews.co.uk – 2.77/5 (based on 874 reviews)
Review Centre – 1.0/5 (based on 3 reviews business only)
Smart Money People – 2.42/5 (based on 106 reviews)
Which? – 66% Which? customer score
How To Apply For A Lloyds Bank Invoice Finance?
If you want to apply for one of Lloyds Bank's invoice finance products you can call them on 0800 169 4356 or request a call back through their website.
Pros
Offers a choice of invoice finance products
Provides selective invoice financing
Suitable for businesses of different sizes and capabilities
Cons
There is no rate information available
Rated poorly in customer reviews
Website: Lloyds Bank Invoice Finance