Allied Irish Bank Invoice User Reviews
Review Summary
0.0 out of 5 stars (based on 0 reviews)
Recent Reviews
There are no reviews yet. Be the first one to write one.
Submit a Review
Allied Irish Bank is the fourth largest bank in Ireland and its headquarters are in Dublin. They have a presence in several countries including in the UK with offices in London and Belfast. They offer both business and personal banking and finance products. Their business product range includes current and savings accounts, credit cards, loans, invoice finance, asset finance and merchant services.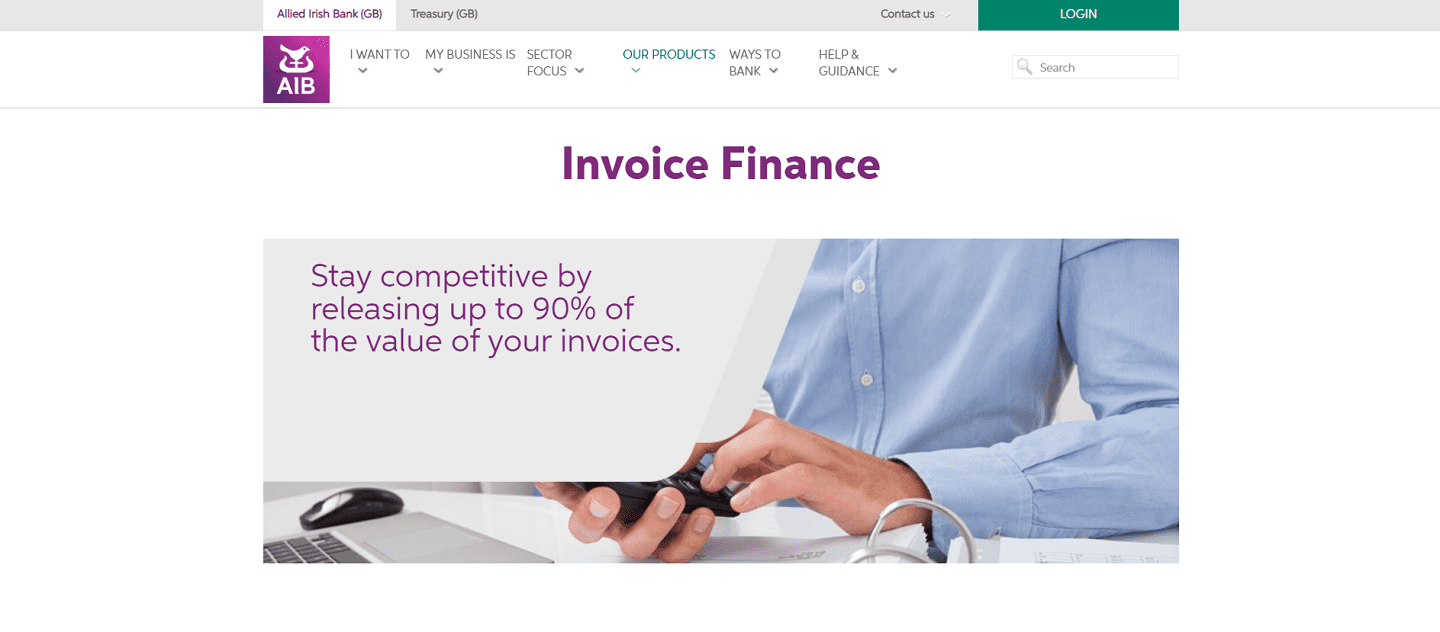 Allied Irish Bank Invoice Finance Options
Allied Irish Bank provides an invoice finance facility that allows businesses to release up to 90% of funds tied up in unpaid invoices upfront. The service is known as an invoice discounting service where you retain your credit control facilities and your own chase payments. The loan is repaid when your customer pays the invoice. The payments from customers will be paid into a designated collection account where Allied Irish Bank will take the loan amount and fee before transferring the remaining balance to you.
There are 2 charges applied which are a discount charge that is applied to the funds used, and a service fee is applied as a percentage of the debt purchased.
The amount you can borrow can grow in line with your sales ledger.
Allied Irish Bank Invoice Finance Eligibility
There is no eligibility criteria detailed on their website but they do state that credit will depend on an assessment of your financial position.
Allied Irish Bank Invoice Finance Rates
There 2 charges applied to invoice finance which are:
A discount charge which is a levy on the funds used by the company
A service fee which is a levy charged as a percentage of the debt purchased
Allied Irish Bank Invoice Finance Calculator
Allied Irish Bank offers an invoice finance calculator to give an indicator of the funds that could be made available to you based on a 90% prepayment rate.
Allied Irish Bank Invoice Finance Reviews
Allied Irish Bank is not very well rated across the 3 review sites that it features on. It is worth noting that the reviews cover both their personal and business products, therefore they may not accurately reflect the service provided by their invoice finance.
The highest number of reviews is on Trustpilot and they are largely negative with 84% of reviewers scoring them as bad. Some of the comments included in the reviews were about the long waiting times, how difficult it is to contact them, poor customer service and problems using the app. There were some positive comments which referred to good customer service and account management.
There are only a low number of reviews on the Review Centre and Smart Money People which are fairly mixed and not very highly rated. There seems to be a mixture of positive and negative customer experiences using their banking services including internet banking.
Trustpilot – 1.4/5 (based on 294 reviews)
Google Reviews – no reviews
Reviews.co.uk – no reviews
Review Centre – 2.1/5 (based on 4 reviews)
Smart Money People – 3.54/5 (based on 13 reviews)
How To Apply For Allied Irish Bank Invoice Finance?
To apply for invoice finance with Allied Irish Bank you can call them on 0345 600 5204 or visit a branch.
Pros
Established banking institution
Offers up to 90% of invoice values
Can grow with your business
Cons
Only offers invoice discounting
No rates are available
No branch network in the UK after most branches closed in 2020/21
Largely negative customer reviews
Website: Allied Irish Bank Invoice Finance