Allied Irish Bank is one of the Big Four banks in Ireland. The bank is headquartered in Dublin, but has branches worldwide, including 21 in the UK. 15 of those are in Northern Ireland. Allied Irish Bank GB customers can access business current accounts, savings products, business finance, and credit cards.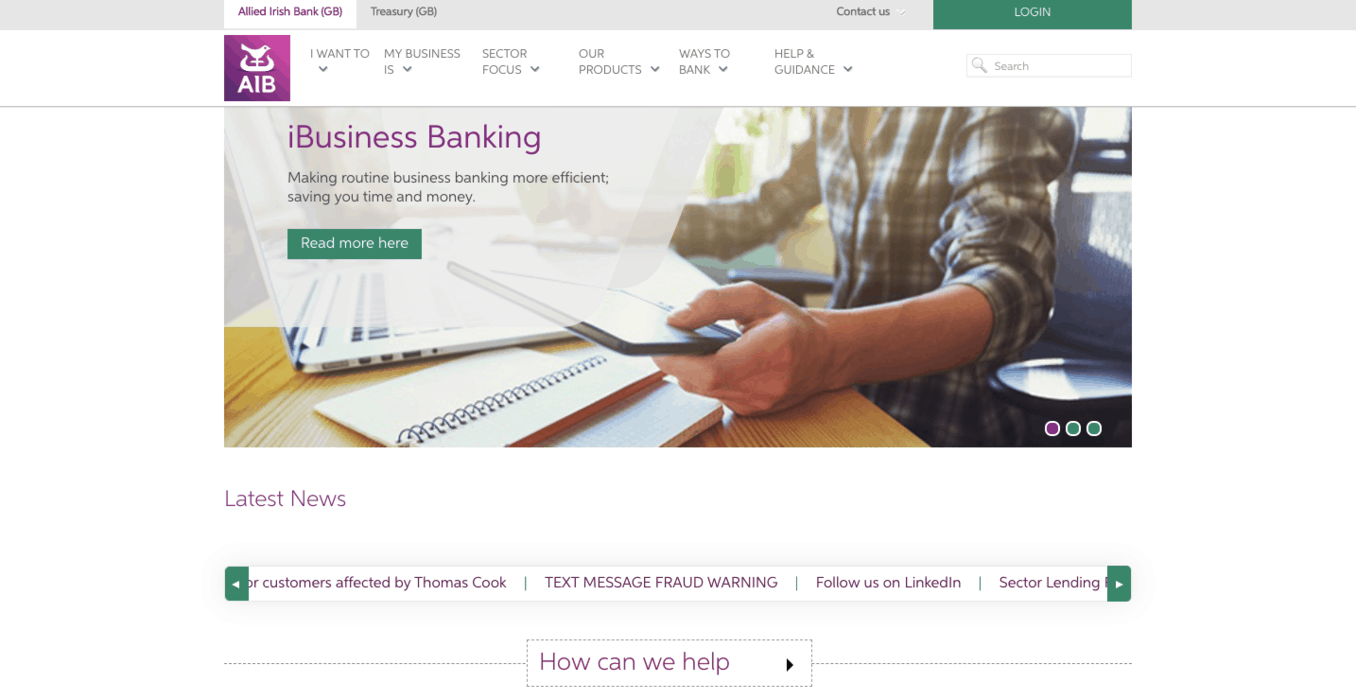 Allied Irish Bank Business Banking Services
Current Accounts
The Allied Irish Bank business current account has flexible access online and on mobile. Customers can also earn interest on their balance, and there's a debit card included. The current account is charged at £10.00 per quarter per account, not including some additional charges for extra banking services.
Savings account
There are two savings accounts available – Fixed Term and Demand Deposit. Interest rates vary from 0.01% to 0.50%, depending on how much you save and how long for. The fixed-term account can keep your money locked away for 1 week to up to 5 years.
Overdrafts
Business customers will pay 6.24% EAR (variable) representative on overdrafts up to £25,000. An arrangement fee of 1.5% (minimum £500) may apply. Reviewing and increasing your overdraft will be charged at 0.5% minimum.
Business finance and loans
Business customers can borrow up to £25,000 at 8.1% APR representative. An arrangement fee of 1.5% (minimum £500) may apply, and there could be an early redemption fee too.
Allied Irish Bank Reviews and Ratings
Trustpilot reviews are only available for Irish customers, and these are largely negative ratings. Some customers have had positive experiences with account management and easy customer service, while others have criticised long waiting times and slow payments.
Smart Money People reviewers are more positive overall, saying they're great for businesses and very supportive.
There are no live reviews on Reviews.co.uk, and Allied Irish Bank isn't included in the Which? list of 'Best and Worst Banks'.
Allied Irish Bank ranked 14th in a list of the 14 largest business current account providers for overall service quality in an independent survey. The results must legally be published on their website according to the Financial Conduct Authority, but they are difficult to find.
In the same list of 14 business current account providers, Allied Irish Bank also ranked 13th for online and mobile banking services, 12th for overdraft and loan services, 11th for relationship and account management, and 13th for service in-branch.
Like many banks, Allied Irish Bank has been consistently closing branches throughout the UK and Ireland over the past few years. In 2015, they had 30 branches in Northern Ireland. In 2019, there were just 15.
Trustpilot –  1.4/5 reviews (based on 223 reviews) Irish customers only
Reviews.co.uk – No reviews
Smart Money People – 3.75/5 (based on 12 reviews)
Which? – Not included
Pros
Competitive monthly account fee and charges.
Savings and loan products have all the essentials.
Cheaper account charge than some other accounts.
Cons
No free banking opening offer for new customers and startups.
UK branches are only located in major cities.
Poor Trustpilot reviews (Irish customers only).
Website: Allied Irish Bank Business Banking