User Reviews
Review Summary
0.0 out of 5 stars (based on 0 reviews)
Recent Reviews
There are no reviews yet. Be the first one to write one.
Submit a Review
ABC Finance is a broker providing a variety of financial products to investors and businesses. Their main focus is on commercial property finance, but they also offer a range of other financial products that include business loans, invoice finance and asset finance.
ABC Finance works with a wide range of financial lenders from their offices in Staffordshire and they serve the whole of the UK. Their panel of lenders include high street lenders and bespoke private lenders offering a variety of products that can cater for a range of needs.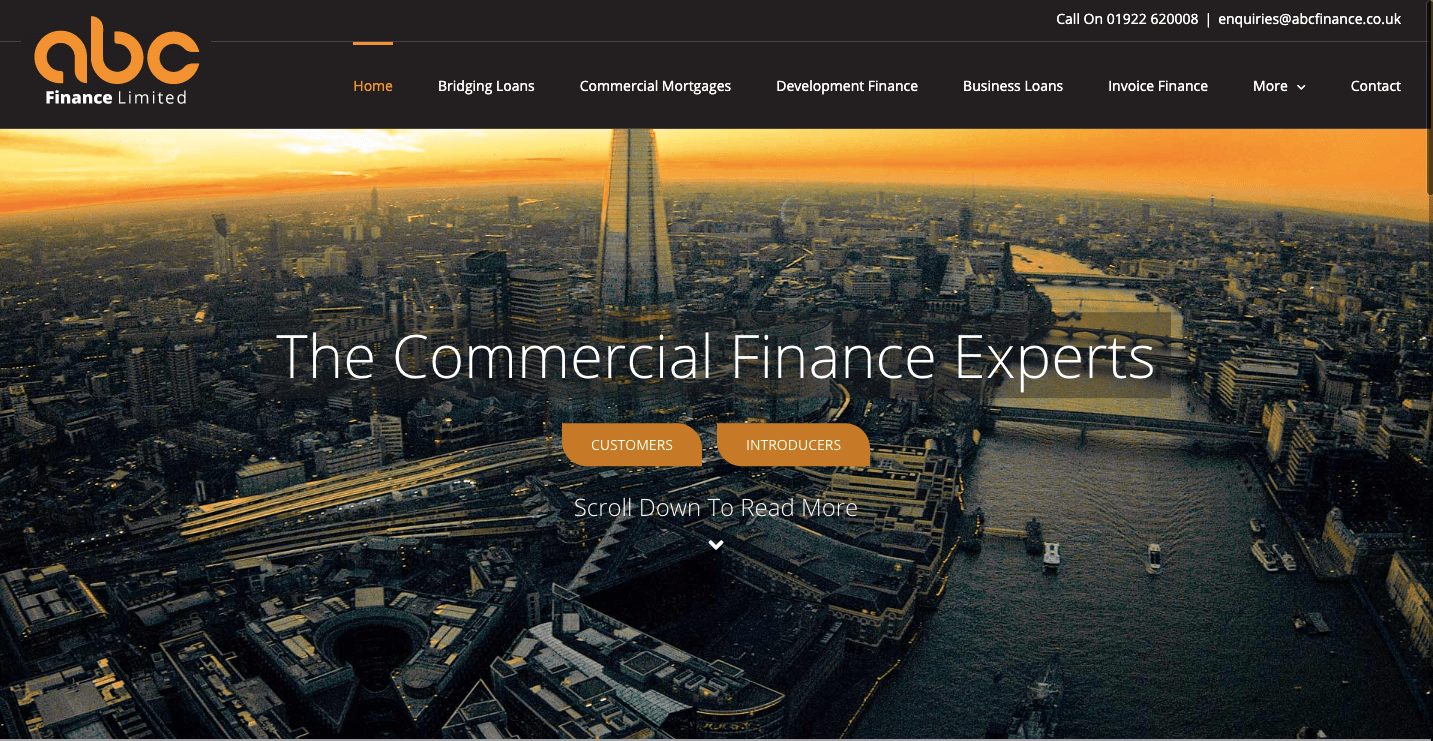 ABC Finance Invoice Finance Options
ABC Finance offers a range of invoice products that release money tied up in unpaid invoices in the form of a short-term loan that is repaid when the customer pays the invoice. Features of invoice finance include:
Can raise funding up 95% of the invoice value
Funding can be released within 24 hours
Repayments are made when the customer pays, the loan amount and fee is taken from this and the remaining funds are transferred to the business
The rates for invoice finance vary depending on your financial strength and customer base
A service fee is charged for accessing the facility
A discounting fee is applied to the funds that you borrow
The facility can be set up in a few days
There are several different types of invoice finance that ABC Finance can offer which include:
Invoice factoring
Invoice factoring is a service that also takes on your credit control services which includes collecting payments and chasing payments. This type of invoice finance is the most visible to customers as it is a fully disclosed service. Smaller businesses that don't have strong credit control facilities benefit the most from this service.
Invoice discounting
Invoice discounting is a more confidential service that allows the business to retain their credit control function and can allow you to keep the knowledge of you using the service to a minimum as customers as less likely to be aware.
Selective invoice finance
Selective invoice finance, spot factoring or single invoice finance allows businesses to raise funds against single or selected invoices rather than the whole sales ledger. This facility is designed for businesses that only need occasional need for finance.
ABC Finance Invoice Finance Eligibility
They offer invoice finance facilities to limited companies. LLPs, partnerships and sole traders. To qualify you must own a UK business and raise invoices to business clients/customers who are creditworthy and are on payment terms of 30 days or longer.
ABC Finance Invoice Finance Rates
ABC Finance is a broker and does not disclose the cost of invoice finance as rates can vary for each provider and they are based on your business' financial strength and customer base. The charges are split into two fees – a service fee that is a monthly charge for accessing the service, and a discounting fee which is applied to the funds that are borrowed.
ABC Finance does not charge a broker fee for their service.
ABC Finance Invoice Finance Calculator
There is no invoice finance calculator available on ABC Finance's website.
ABC Finance Invoice Finance Reviews
There is a low number of customer reviews on several review sites which covers all their product range and may not be focused on invoice finance.
Trustpilot reviewers rate ABC Finance as excellent with 97% of reviewers scoring them highly. Reviewers' comments include excellent advice, fast and efficient service and personal service.
Google Reviews and Reviews.co.uk both rate ABC Finance positively with reviewers commenting on excellent customer service and fast service that is easy to understand.
Trustpilot – 4.2/5 (based on 30 reviews)
Google Reviews – 4.3/5 (based on 13 reviews)
Reviews.co.uk – 4.92/5 (based on 49 reviews)
Review Centre – no reviews
Smart Money People – no reviews
How To Apply For ABC Finance Invoice Finance?
To get a quote or apply for one of ABC Finance's invoice finance products you will need to request a callback from one of their team through their online form. They will take you through the application process and search the market for you to find the best provider and product to suit your needs.
Pros
Provides a choice of invoice finance options including selective invoices
Offers a large panel of lenders and no broker fee
Rated highly in customer reviews
Cons
Broker, not a provider
The number of reviews is low although positive
Website: ABC Finance Invoice Finance