ABC Finance is a finance broker, specialising in bridging loans, commercial mortgages, development finance, business loans, and invoice finance. Based in Staffordshire, ABC Finance has access to a panel of lenders with different products and offers.
Loans generally start at £5,000 and repayment terms and interest rates vary depending on the lender and the product. They will often charge a broker fee, depending on the amount raised.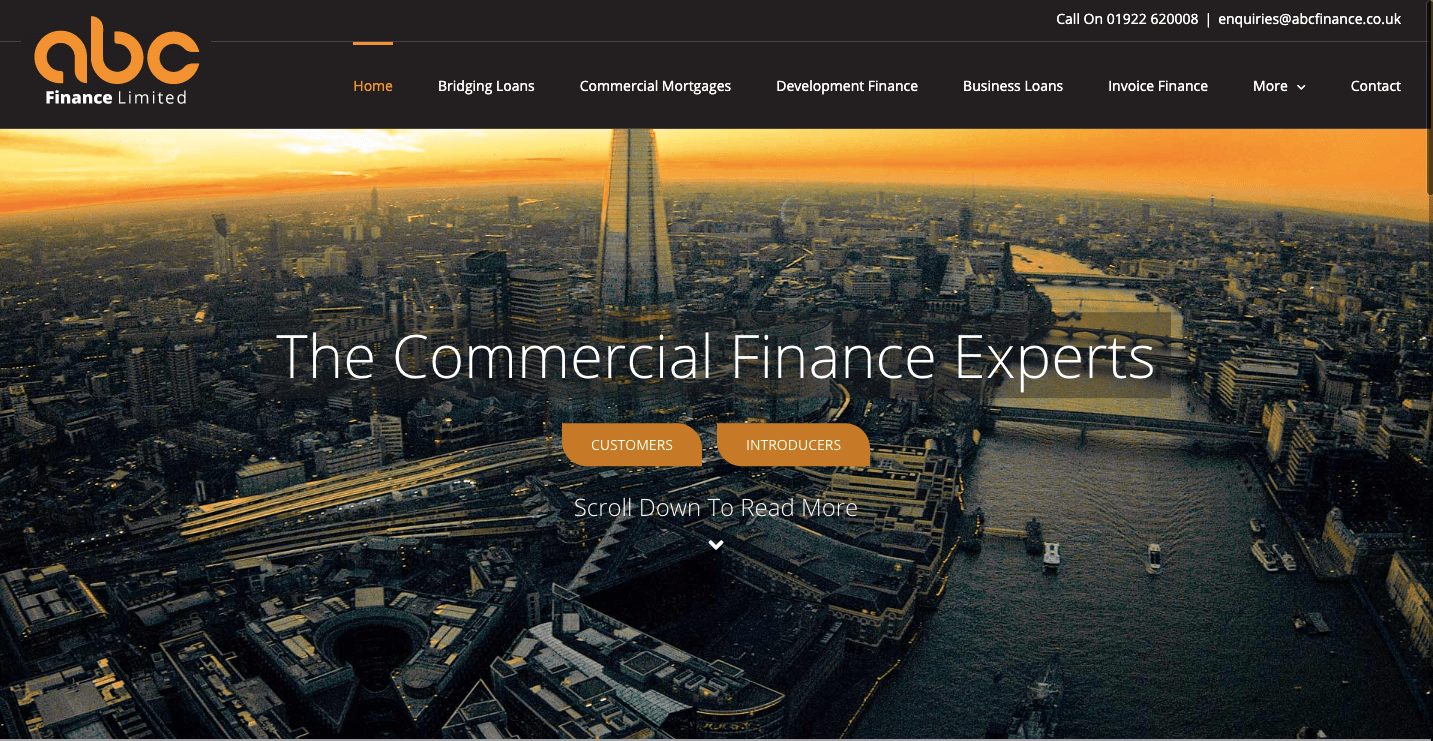 ABC Finance Loans & Funding
Business Loans
ABC Finance provides business loans from a panel of specialist lenders that can offer:
Raise from £500 to £1 million
Interest rates from 1.9% per annum
Terms from 6 months to several years
Unsecured basis in most cases
Suitable for startups and more established businesses
Dedicated adviser
Bridging Loans
Bridging loans 'bridge the gap' between securing funds for a property, and are usually for businesses or individuals investing in property. ABC Finance offers different products from different lenders and different minimum and maximum bridging loan amounts. Security is often required and a lender fee usually applies.
Commercial Mortgages
Much like residential mortgages, commercial mortgages help businesses buy property, whether they're owner-occupied or investments. Repayment terms and loan amounts can vary, usually ranging from £500,000 to several million. A lender fee usually applies, and legal fees will often need to be covered by the individual or business raising finance.
Development Finance
This finance is for the construction, conversion or refurbishment of a commercial building. The short-term loan will fund the work and then repayment is usually taken care of when the building is sold. Various offers are available through ABC Finance with different limits and terms. Lender, broker, and legal fees can apply.
Invoice Finance
Invoice finance uses your unpaid invoices as security. Businesses can raise the amount they're owed in unpaid invoices, which the lender will then take as repayment when the debt is cleared. ABC Finance has offers for businesses of all ages with a maximum advance of up to 90% of the invoice value.
ABC Finance Reviews and Ratings
There are a handful of reviews around the internet. Trustpilot reviews are very positive on the whole, with 97% 'Excellent' ratings. Borrowers think their service is fast and efficient, the team provides excellent advice, and a personal service.
Google and Reviews.co.uk ratings are also very positive with many reviewers working with ABC Finance multiple times across multiple products.
Trustpilot –  4.2/5 (based on 30 reviews)
Google Reviews – 4.3/5 (based on 12 reviews)
Reviews.co.uk – 5/5 (based on 47 reviews)
Smart Money People – no reviews

Pros
ABC Finance is a broker, so loans and mortgages can be tailored and specific.
Good range of finance types to choose from.
Excellent reviews.
Cons
There are brokers fees to consider.
Repayments and costs can vary depending on what ABC Finance comes up with.
Website: ABC Finance Business Finance