Hitachi Capital offer asset finance, invoice finance, and franchise finance to British businesses. Hitachi is an established lender with an over 35-year history, funding over £5 billion and supporting 800 SMEs across 50 industries. As well as business finance, Hitachi Capital provides personal loans, retail finance, point of sale finance, and car and vehicle finance.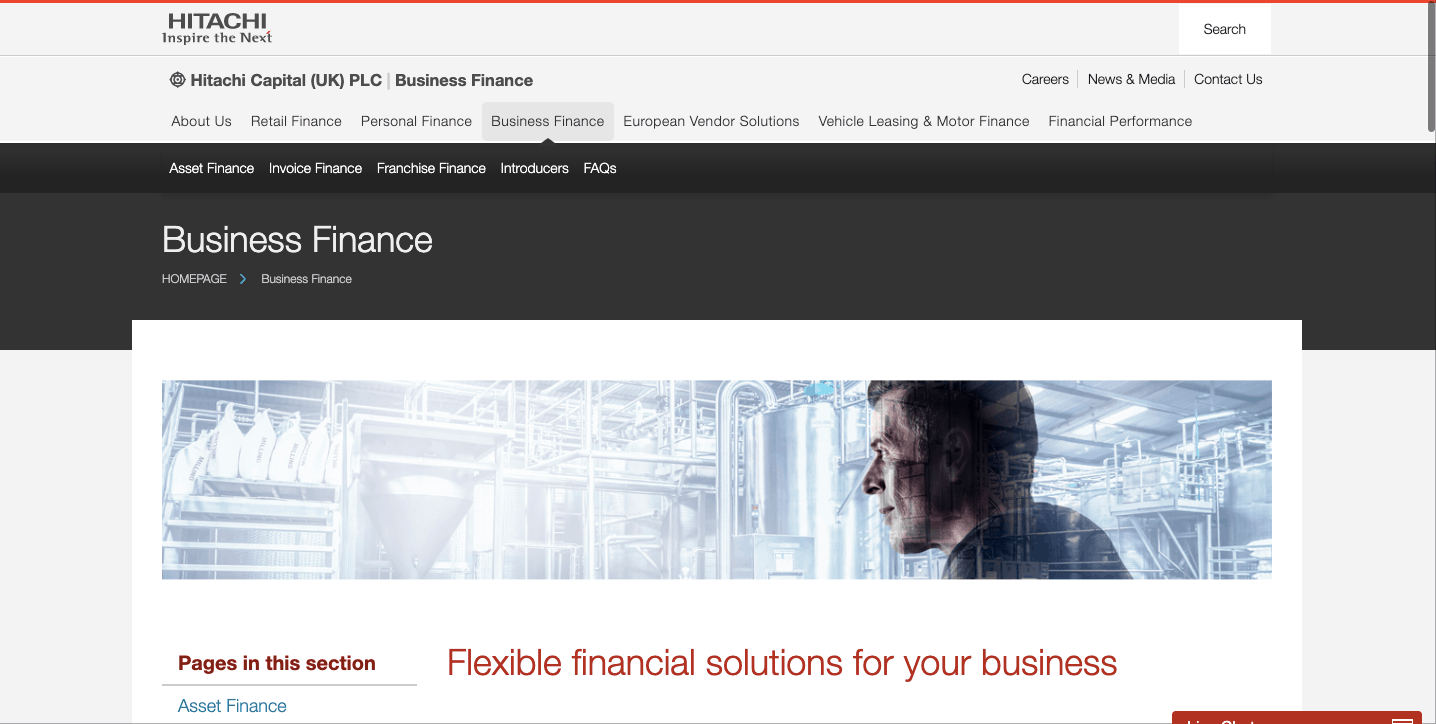 Hitachi Capital Loans & Finance
Invoice Finance
Your business can release up to 90% of the value of an invoice within 24 hours. You'll receive the final 10% when your customer pays the full invoice. Both factoring and discounting are available, meaning either you or Hitachi can take care of chasing the final payment. Hitachi will take a percentage of the total invoice as a fee.
Asset Finance
£10,000 to £500,000 is available to purchase or rent vehicles, physical assets, and equipment over 2-5 years. Interest rates start from 5.9% APR representative and repayment terms are 2-5 years. To qualify, your business needs 3+ years of trading history.
Franchise Finance
Hitachi Capital offers franchise finance to first-time franchisees, franchisors and expanding franchisees. Hitachi also has access to a panel of franchise finance brokers, so can often find an appropriate finance deal for many businesses.
Hitachi Capital Reviews and Ratings
Trustpilot, Feefo, and Smart Money People reviews are posted by personal finance customers only.
68% of Trustpilot reviewers think Hitachi finance is 'Excellent'. People think the borrowing process is quick and easy but some critics have found them to be slow and unresponsive. Feefo and Smart Money People reviews are also very complimentary. Many customers say they "can't fault the service" and Hitachi are quick to answer questions and sort out issues.
There are far fewer Google reviews which have very mixed reviews.
Hitachi Capital has won a range of awards and nominations for its business finance products. Hitachi Capital is a finalist for Best Factoring & Invoice Discounting Provider and Best Service from an Invoice Finance Provider at the 2020 Business Moneyfacts Awards.
Trustpilot –  3.1/5 (based on 797 reviews)
Google Reviews – 2.3/4 (based on 15 reviews)
Reviews.co.uk – no reviews
Smart Money People – 4.96/5 (based on 283 reviews)
Feefo – 4.9/5 (based on 4,810 reviews)
Pros
Range of finance options to suit businesses with different needs.
A large finance brand with a long history of lending to businesses and individuals.
Positive ratings across the review sites.
Cons
Most reviews are written by personal finance customers.
Asset and invoice-based finance only.
Website: Hitachi Capital Business Finance