Hampshire Trust Bank provides high rate savings and specialist finance for businesses and charities. A current account isn't available. The bank was formed in 1977, and a new management team took over in 2014 with a new investor. There are no UK branches, but you can log in and manage your account online 24/7.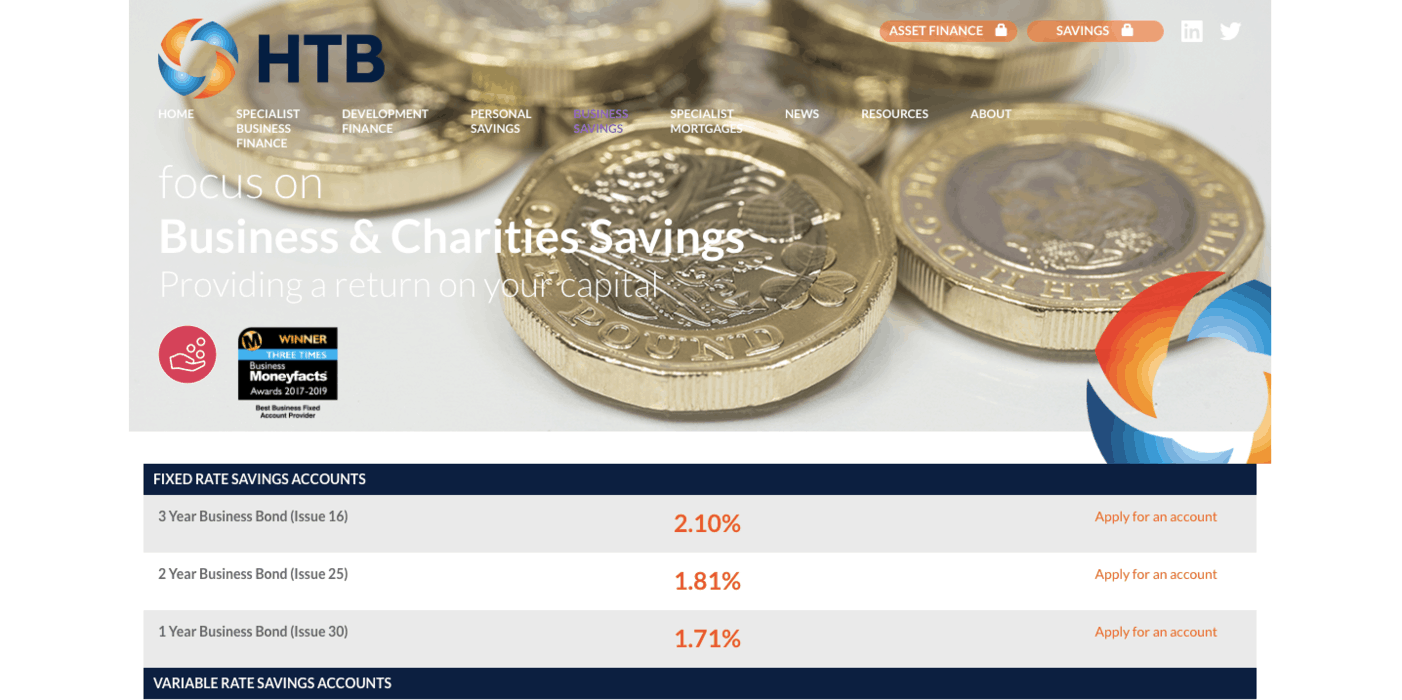 Hampshire Trust Bank Business Banking Services
Current Accounts
Not available.
Savings account
Both fixed and notice accounts are available. Your business can gain a competitive rate on its spare capital. Small businesses, charities, and community organisations can open accounts with Hampshire Trust Bank.
Variable-rate notice accounts
Open an account with 95 or 120 days' notice, and earn 0.75% or 0.85% AER. Interest is paid annually, and the minimum investment is £5,000. You can save up to £750,000.
Fixed-term savings accounts
Save for a fixed period of 1 or 2 years, and earn 1.11% or 1.20% AER. Interest is paid annually, and the minimum investment is £5,000. You can save up to £750,000.
Overdrafts
Not available.
Business finance and loans
They offer structured asset finance, block discounting, residential development, commercial and development exit finance. Repayment terms and interest rates aren't published on the website, you have to enquire for more details.
Hampshire Trust Bank Reviews and Ratings
The Trustpilot reviews on Hampshire Trust Bank are highly positive with 79% of ratings being 'Excellent' and 15% being 'Great'. The reviews included good customer service, ease of setting up the account, good communication and rates.
There are no public reviews on Reviews.co.uk. Hampshire Trust Bank isn't included in the Which? list of 'Best & Worst Banks'.
Feefo has the most reviews, and a positive overall score of 4.6/5. The large majority of customers rate the bank's service 5/5 – they're happy with the interest rates, easy set-up, and customer service. There's just two review on Smart Money People, which are positively rated of Hampshire's asset finance and property finance.
Hampshire Trust Bank won a range of awards for its different products, including Moneyfacts Best Business Fixed Account Provider 2017-2019 and Best Overall Business Savings Provider 2019 at the Moneynet.co.uk awards.
Hampshire Trust Bank has been named as "one of the London Stock Exchange Group's 1000 Companies to Inspire Britain in 2019″.
Trustpilot –  4.6/5 (based on 383 reviews)
Reviews.co.uk – not available
Feefo – 4.6/5 (based on 1,013 reviews)
Smart Money People – 4.5/5 (based on 2 reviews)
Which? – not included
Pros
Competitive interest rates and a good choice of fixed and flexible accounts.
Range of business finance products available.
Customer reviews are excellent. Current customers are clearly very pleased.
Cons
Doesn't offer a current account.
Lack of specific information about business finance on the website.