The Fair Everywhere business bank account is designed to make trading internationally easier for small businesses. This is an online current account that customers can manage on desktop and on the app. Fair Everywhere is a young startup, established in 2017.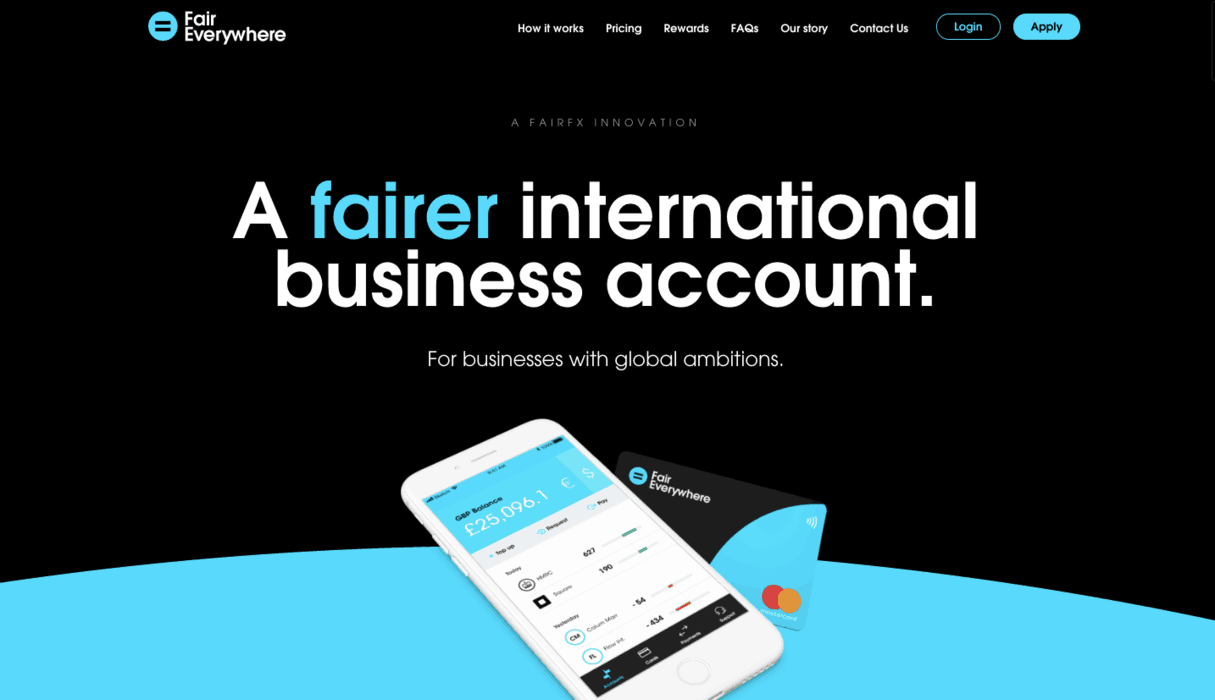 Fair Everywhere Business Banking Services
Current Accounts
Fair Everywhere is an accessible multi-currency business current account, manageable online 24/7. Customers can send and receive payments in any currency from anywhere in the world. Like many other online current accounts, users can manage all their expenses and incoming cash on the app, organising their payments and paying bills anywhere.
The account also includes an international MasterCard, which can be used to spend and withdraw cash in 210 countries worldwide. Customers earn up to % cashback on purchases from 50 big high street names, including book shops, restaurants, supermarkets, fashion retailers, and more.
All customer support and advice is UK-based. Integrations with online tools like Sage, Quickbooks, Xero and Concur are coming soon. The account costs £12.50 per month, some payment and transaction fees apply.
Savings account
Not available.
Overdrafts
Not available.
Business finance and loans
Not available.
Fair Everywhere Reviews and Ratings
As Fair Everywhere is yet to officially launch, there are no public reviews. Instead, the reviews below are for Fair Everywhere's parent company, FairFX, a worldwide money transfer and currency exchange platform.
Reviews for FairFX are positive across popular review sites. Trustpilot reviewers say the exchange rates are competitive, the prepaid cards are reliable, and topping up with currency is easy.
There are far fewer reviews on Reviews.co.uk and Smart Money People, but they're still very positive and equally happy with the competitive exchange rates.
In contrast, customers on Compare Holiday Money have mixed opinions of FairFX. Some dislike paying hidden management fees, while others highly recommend a FairFX card for easy spending abroad. There are also comments from customers who have noticed the FairFX exchange rate is less competitive than it was, and can be easily beaten by other currency providers.
Trustpilot –  4.6/5 (based on 10,958 reviews)
Reviews.co.uk – 5/5 (based on 5 reviews)
Smart Money People – 5/5 (based on 1 review)
Which? – not included
Pros
Ideal for businesses that travel and receive different currencies.
Cashback on many purchases.
Parent company has very good reviews.
Cons
You'll have to join a waiting list!
Expensive monthly fee compared to other accounts.
Website: Fair Everywhere Business Banking