Danske Bank is a Danish bank offering personal and business banking services, including current accounts, loans, and credit. In the UK, Danske Bank UK is a subsidiary of its Danish owner and has operated from Northern Ireland since 1824 and is its largest business lender. It was formerly called Northern Bank. There are branches throughout Northern Ireland but none in England, Scotland or Wales. Danske Bank UK offers bridging loans and business overdrafts to its UK business customers.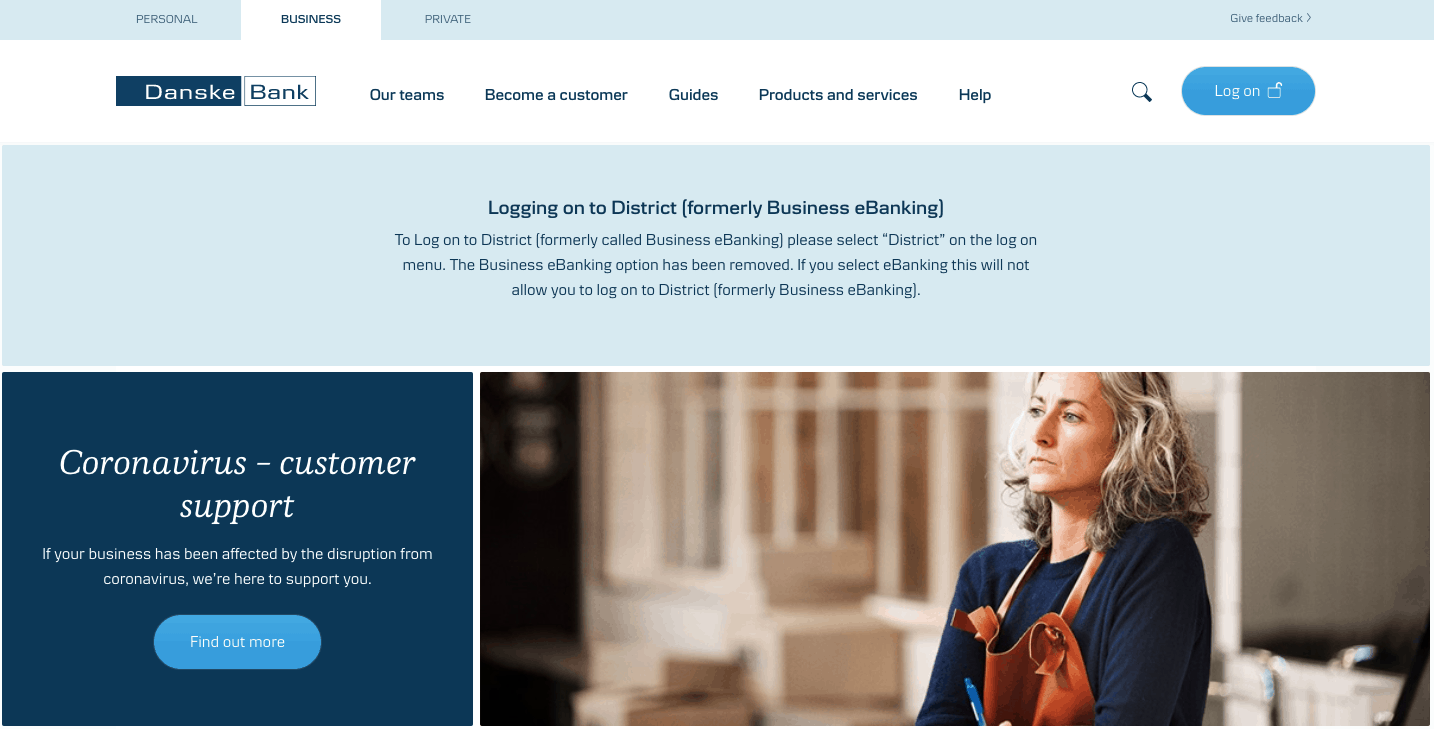 Danske Bank UK Business Banking Services
Danske Large Business current account
Current accounts are available to large businesses including a Mastercard debit card. The account costs £7 a month and there are other charges for a variety of transactions including online payments, cash withdrawals, automated transactions and more. Your business can manage its account online on the bank's District platform, in local Danske Bank branches, Post Offices, and over the phone.
Danske Small Business current account
The small business current account is available as a standard account or as a digital account, each has a different account fee. The standard small business account fee is £14 a month and the digital account is £9 a month. Just like the large business account customers can manage their accounts online, in branch, at the Post Office, and over the phone.
Danske Charity Account
The charity bank account provides simple day-to-day banking for charitable organisations. The account has a monthly fee of £2.50 and there are some other charges for account transactions, but overall the account is cheaper to manage than the large business current account. Just like the business current account, charity customers can manage their accounts online, in branch, at the Post Office, and over the phone.
Dankse Community Account
The Community Account is for managing unincorporated club or society funds. The account costs £5 a month and there are some other fees for routine account transactions. Your account can be managed in the same places as the other two accounts. Account holders also benefit from a Mastercard Business debit card.
Business Investment Account
Businesses can save with a minimum balance of £1 (no maximum balance) at an AER of 0.01%. The account is easy access, giving customers the ability to transfer their cash back into their Danske Bank UK current account whenever they want. This account doesn't include a card.
Danske Fixed Term Deposit
A fixed-term savings account for businesses saving a minimum of £5,000. Your business must have either a current account or a Business Investment Account to be eligible. Saving terms are up to 1 year or 2 years, giving account holders an interest rate of up to 0.20% AER on balances under £250,000, and up to 0.35% AER on balances of £250,000 and over. Withdrawals can be made when the account reaches maturity.
Danske Bank UK Business Finance
Asset finance
Hire purchase, contract hire, and leasing products are available for a variety of assets, including vehicles, agricultural equipment, technology, and machinery. Your business can choose to either rent the asset or own it at the end of the agreement.
Invoice finance
Factoring and discounting are available. Your business can access up to 85% of an invoice's value almost instantly, and will then receive the remaining balance (minus fees) when your client or customer pays.
Bridging loan
Short term financing for 12 months which can pay for closing a deal quickly or renovating a commercial property. There is no minimum or maximum loan amount. Repayment is normally made in one lump sum, at or before the end of the agreement. Your business will need to set up a servicing account if it doesn't already have a Danske Bank business current account. Security may be required.
Business overdraft
An overdraft linked to your Danske Bank business current account. Your business' overdraft facility will be reviewed every 12 months and there's a setup fee to pay.
Danske Bank UK Reviews and Ratings
Many online reviews are posted by both business and personal customers.
Trustpilot reviews are critical. The majority are 'Bad' rated with 78% selecting this rating. Customers are unhappy with the banking app, service in-branch, and high fees. Smart Money People reviews are mainly written by personal customers and more complimentary.
On Which?, Danske Bank UK scores 4/5 for online banking and 3/5 for customer service, communication, mobile banking, in-branch service and transparency of charges. The bank also scored 2/5 for complaints handling and telephone banking.
Danske Bank UK ranked 2nd in a list of the 5 largest business banks in Northern Ireland for SME loan and credit services in an independent survey. In the same list of 5 Northern Irish banks, Danske Bank UK also ranked 1st for service in branches and business centres and 1st for relationship and account management.
Danske Bank UK approved £50 million in loans in the first week of the Coronavirus Bounce Back Scheme.
Trustpilot – 2.1/5 (based on 9 reviews)
Google Reviews – no reviews
Reviews.co.uk – no reviews
Smart Money People – 4.23/5 (based on 30 reviews)
Which? – 66% Which? Customer Score

Pros
Range of products including bank accounts, savings, loans, and specialist finance.
Positive ratings in an independent survey of Northern Irish banks.
Cons
Branches only in Northern Ireland.
Poorly rated for mobile banking.
Website: Danske Bank UK Business Finance