Charity Bank provides ethical savings accounts for businesses. There is no current account available. Your money will be used to create loans for charities and social enterprises, and you'll earn interest as they repay. So far, over £288 million has been invested in over 1000 businesses up and down the UK.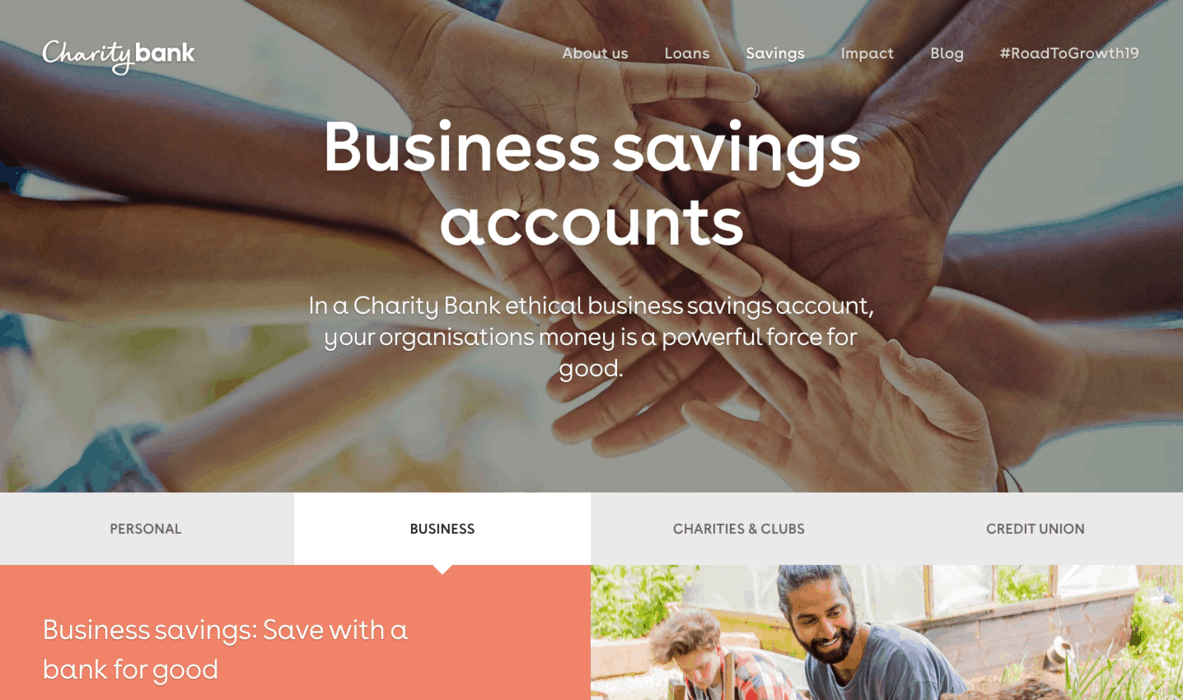 Charity Bank Business Banking Services
Current Accounts
Not available.
Savings account
There are two savings accounts to choose from that lock your money away for different periods and earn different levels of interest. All savings accounts will contribute to charities and social enterprises.
Ethical 1-Year Business Fixed Rate Account
Save your money for 1 year and earn 0.47% Gross/AER. The minimum deposit is £10,000 and the maximum deposit of £500,000.  You can't withdraw or change your balance until the term is over.
Overdrafts
Not available.
Business finance and loans
If your business is a charity or social enterprise, you can raise money through Charity Bank. Repayment details aren't available online. Fill out the form on their website for more details.
Charity Bank Reviews and Ratings
There are very few public reviews on Trustpilot and Smart Money People and no reviews on Reviews.co.uk. The reviews are mixed based on good customer experience and poor systems. Charity Bank isn't included in the Which? list of 'Best & Worst Banks'.
Charity Bank ranked top in a list of the most ethical savings accounts, compiled by Ethical Consumer.
In 2019, independent charitable trust Power to Change saved a £5 million deposit with Charity Bank.
The Bank saw a 43% increase in lending between 2017 and 2018. 72% of their borrowers took out a loan to buy assets, and more than half applied for finance to improve growth and innovation.
Trustpilot – 3.5/5 (based on 2 reviews)
Reviews.co.uk – no reviews
Smart Money People – 2/5 (based on 1 review)
Which? – not included
Pros
Invest in good causes that make a difference.
Competitive interest rates.
Wide choice of fixed and notice accounts.
Cons
Very low number of public reviews, so it's not clear how good the customer service is.
Website: Charity Bank Trust Business Banking