NatWest Commercial Mortgage User Reviews
Review Summary
0.0 out of 5 stars (based on 0 reviews)
Recent Reviews
There are no reviews yet. Be the first one to write one.
Submit a Review
NatWest is one of the largest and most established high street banks in England and Wales. It became part of the RBS Group in 2000. NatWest has a large UK branch network with 960 branches offering personal and business banking and finance. Their business finance products include bank accounts, credit cards, loans, mortgages, invoice finance, asset finance and trade finance.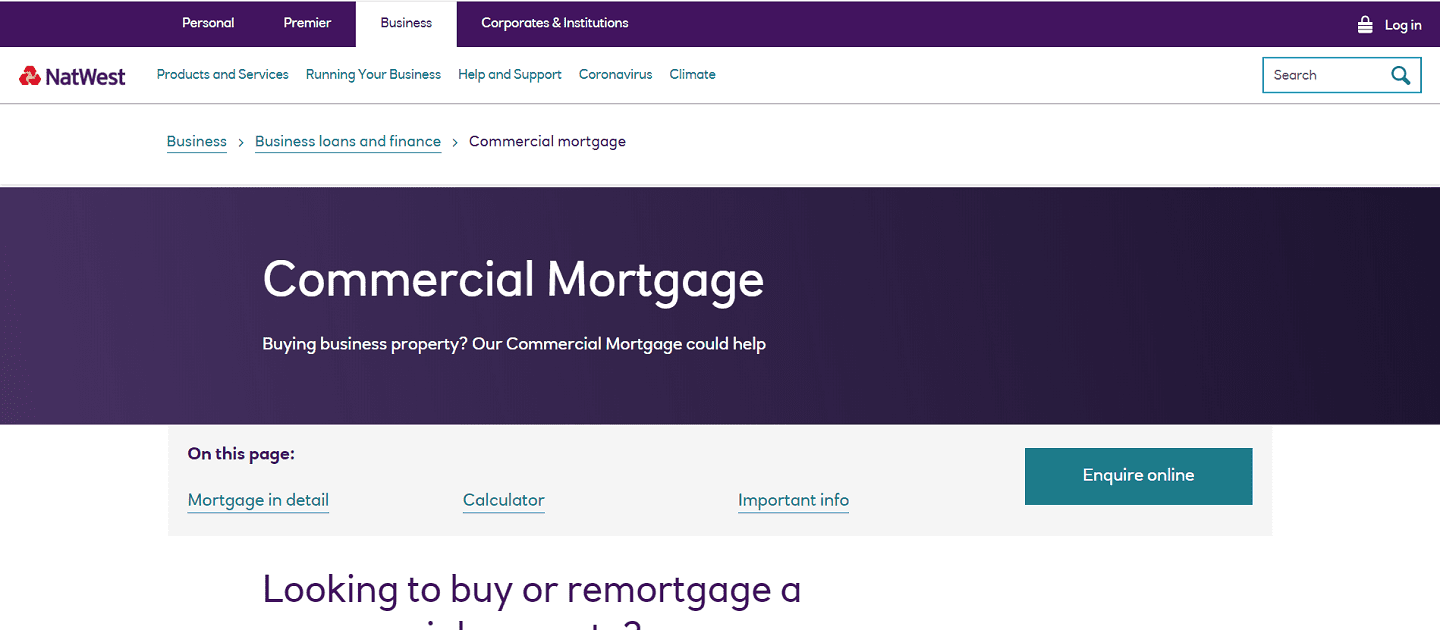 NatWest Commercial Mortgage Options
NatWest offers a commercial mortgage which provides:
Loans from £25,001 up to £10 million on fixed rate or no upper limit on variable rate
Choice of fixed or variable rate
Terms up to 25 years
Fixed-rate terms for 3, 5, 7, 10 or 15 years
No early repayment charges
Offers repayment holidays
Provides Capital & Interest or Straight Line repayment profiles
Fees may apply such as arrangement or security fees
Dedicated Relationship Team
Buy to Let Mortgages
NatWest offers a range of buy to let mortgages that offer:
Fixed-rate mortgage
Choice of capital and interest repayment and an interest-only
Green mortgage offered to properties with an EPC rating of A or B
Maximum LTV of 75%
Real Estate Finance
NatWest also offers real estate finance which includes residential development, residential investment and commercial investment. These products offer:
Loans from £50,000
Dedicated real estate finance experts
Terms of up to 3 years on residential development
Terms up to 20 years property investment
Fixed or variable rates
Early redemption charges may apply
Arrangement fees may apply
NatWest Commercial Mortgage Eligibility
You don't need to have a NatWest account to apply for a commercial mortgage. New businesses can apply for their commercial mortgages. Circumstances and credit rating will be taken into account when deciding on your application.
NatWest's buy to let mortgages are available to properties that have an expected rental income of at least 125% of your monthly interest payments, minimum 25% deposit, property worth at least £50,000 and borrowing over £25,000 over 3 or more years. The total borrowing with NatWest mustn't exceed £3.5 million. They don't offer mortgages on multiple tenancy properties.
NatWest Commercial Mortgage Rates
NatWest doesn't detail its commercial mortgage rates, but they state that arrangement fees and security fees apply.
NatWest Commercial Mortgage Calculator
NatWest provides a commercial mortgage calculator on their commercial mortgage page.
NatWest Commercial Mortgage Reviews
There are quite a lot of reviews for NatWest on the customer review sites and these tend to be fairly low rated on the majority of the site. Trustpilot has the largest number of reviews and the lowest score at 1.4. 84% of reviewers rated them as bad with comments including poor communication, branch reductions, poor internet banking interface, issues accessing their account, long wait times on the phone, problems dealing with the fraud team and complaints department.
Reviews.co.uk and Reviews Centre have slightly higher scores than Trustpilot. Only 13% of Reviews.co.uk would recommend NatWest and 19% of Review Centre reviewers would recommend them. Smart Money People reviews are more positive but still only average.
In a Which? customer survey NatWest scored 67% and around mid-table of all the banks surveyed. Different elements of their customer service were rated out of 5 and they received 4 out of 5 for customer service, communication, telephone banking, online banking, mobile app and benefits. They received 3 out of 5 for transparency of charges and handling of complaints, and 2 out of 5 for service in-branch.
Trustpilot – 1.4/5 (based on 3,588 reviews)
Google Reviews – no reviews
Reviews.co.uk – 1.57/5 (based on 345 reviews)
Review Centre – 1.7/5 (based on 274 reviews)
Smart Money People – 2.66/5 (based on 80 reviews)
Which? – 67% Which? Customer Score
How To Apply For A NatWest Commercial Mortgage?
If you want to apply for a commercial mortgage from NatWest you can enquire online or if you are an existing customer you can speak to your Relationship Manager, or alternatively call them on 0345 711 4477.
Pros
Provides a variety of options in their commercial mortgage product
Offers a range of property finance products
Offers a green mortgage for landlords
Cons
No details about rates
Poorly rated in customer reviews
Website: NatWest Commercial Mortgage