Metro Bank is a lesser-known high street bank that first appeared in 2010 and has branches in most English cities. They offer a wide range of personal and business products. The business banking and finance range includes bank accounts, credit cards, overdrafts, loans, asset finance and invoice finance.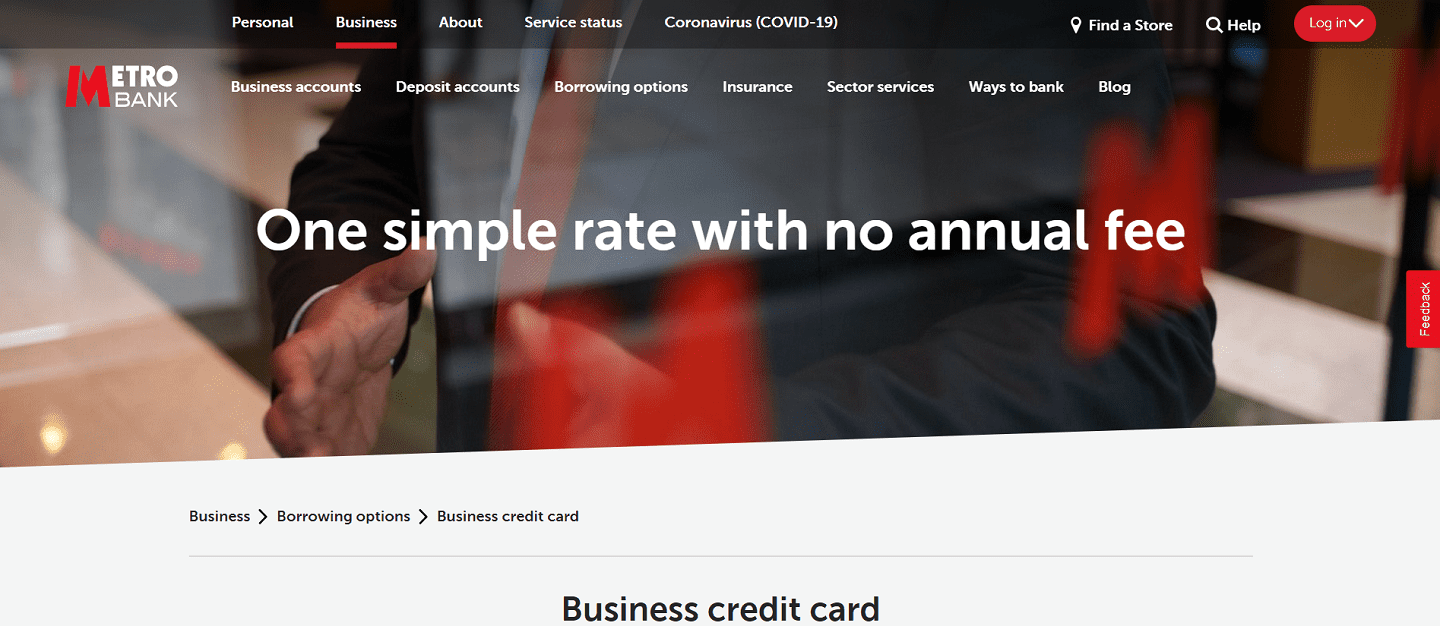 Metro Bank Credit Card Options
Metro Bank offers a business credit card that includes:
One simple low rate of 14.9% APR
No annual fee
Up to 56 days of interest-free credit
Can walk out of a store (open 7 days a week) with a card the same day
Free transactions in most European countries
Outside Europe charges are 2.99%
Cash withdrawals are free in Europe or 2.99% + £1.50 outside Europe
Manage the card on your online banking or mobile app
Metro Bank Credit Card Eligibility
You will need to be a Business Current Account or Commercial Current Account customer to apply for a credit card.
Metro Bank Credit Card Rates
Metro Bank charges are:
9% APR
No transaction or cash withdrawal fees in Europe
Outside Europe charges are 2.99% plus £1.50 for cash withdrawals
Metro Bank Credit Card Calculator
Metro Bank doesn't have a credit card calculator.
Metro Bank Credit Card Reviews
There are a large number of reviews for Metro Bank across several customer review sites which vary in their rating of the bank.
Trustpilot provides the greatest number of reviews and although rated as poor the score is average with 53% scoring the bank as excellent and 40% as bad. Reviewers positive comments include ease and speed of opening an account, great experience in-branch and over the phone, supportive and friendly staff, and generally good customer service. On the opposite side, the comments included rude staff, poor communication, problems opening an account, issues making adjustments to accounts, and cards/accounts being blocked.
Reviews.co.uk gave the bank a slightly low score based on a small number of reviews and only 25% of them would recommend the bank. Lower still was the reviews on Review Centre which were also based on a small number and only 16% would recommend the bank.
However, Smart Money People reviews were overall a lot more positive and were based on a large number of reviews, although there has been a lot of negative reviews recently.
A customer survey conducted by Which? rated Metro Bank positively at 6th place out of the banks surveyed with a customer score of 77%. The customers gave different parts of Metro Bank's services a score out of 5 with several aspects receiving 5 out of 5, these are customer service, transparency of charges and telephone banking. The following received 4 out of 5 – communication, handling complaints, branch service, mobile app, and online banking received 3 out of 5.
Trustpilot – 2.6/5 (based on 3,390 reviews)
Google Reviews – no reviews
Reviews.co.uk – 2.03/5 (based on 32 reviews)
Review Centre – 1.6/5 (based on 89 reviews)
Smart Money People – 4.75/5 (based on 2,753 reviews)
Which? – 77% Which? Customer Score
How To Apply For A Metro Bank Credit Card?
If you want to apply for a business credit card from Metro Bank you can visit one of their stores or as an existing customer, you can contact your Relationship Manager or Local Director. You must have a business or commercial current account with them to get a credit card.
Pros
Low-interest rate
No annual fees
No charges for cash withdrawals
No transaction fees in Europe
Cons
Only available to business/commercial current account customers
Reviews are very mixed and there are many negative comments
Website: Metro Bank Credit Card