Lloyds Bank is has a strong background in providing services to Britain for personal and business banking and financial products for over 250 years. They have over 1,000 high street branches across Britain. Their business product range includes bank accounts, overdrafts, credit cards, loans, asset finance, invoice finance and mortgages.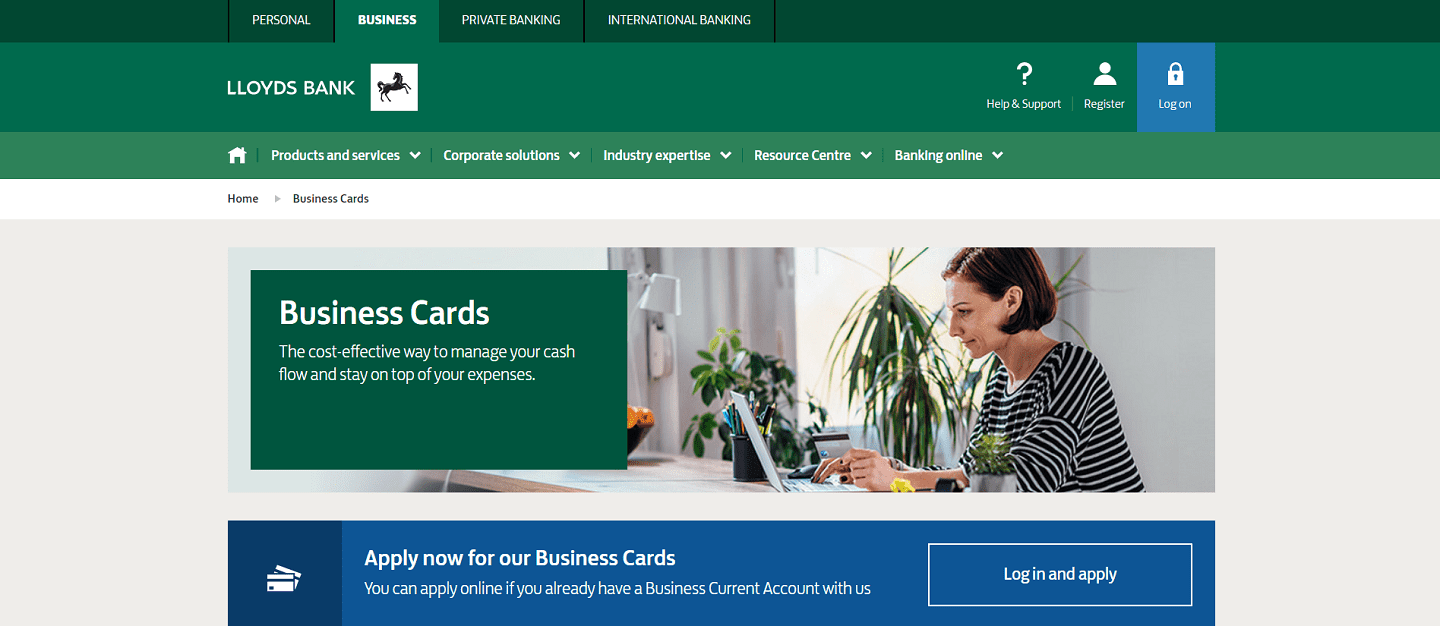 Lloyds Bank Credit Card Options
Lloyds Bank offers a business credit card and a business charge card that offer:
Up to 45 days of interest-free credit
Online management of the card
Allowance to withdraw £500 cash per day
Contactless Mastercard
Includes Buyers Protection Insurance
Access merchant rebates through Business Savings by Mastercard
Business Credit Card
Lloyds Bank offers a flexible business credit card that offers in addition to the above:
Flexible repayment options
Longer credit terms
Can issue up to 20 cards
Individual spending limits
Limit up to £10,000
Business Charge Card
Lloyds Bank offers a business charge card that provides the following in addition to the above:
No interest if the monthly balance is paid in full
Have as many cardholders as required
Set individual spending limits
Card limits from £1,000 to the agreed amount (not stated)
Lloyds Bank Credit Card Eligibility
Lloyds Bank doesn't provide any eligibility criteria for their credit cards.
Lloyds Bank Credit Card Rates
Lloyds Banks' card rates:
Typical APR 22.4% (variable)
Purchases at 1.358% monthly, annual 16.3%
Cash withdrawals are also at the above rates plus a 2.5% handling fee (minimum £2.50)
Non-Sterling transaction fee 2.95%
£32 per card per year
Lloyds Bank Credit Card Calculator
Lloyds Bank doesn't have a credit card calculator
Lloyds Bank Credit Card Reviews
The reviews for Lloyds Bank across the leading review sites are low to average but they are largely for their personal banking products and insurance products rather than for business products.
On Trustpilot, 76% of reviewers scored Lloyds Bank as bad and themes behind their reviews were that the telephone service was poor with slow response times and service, internet banking was problematic due to downtimes and issues logging on, and many generally found the customer service poor.
On Reviews.co.uk, 44% of reviewers would recommend Lloyds Bank and they had an overall average rating. Smart Money People reviews also came out as average. The negative feedback on both sites was similar to Trustpilot and the positive reviews included comments about helpful staff, good service, competitively priced products and easy to set up.
The reviews on Review Centre weren't as positive but were from business customers only. There were only 3 reviews though and these all had issues setting up a business bank account.
A customer survey by Which? rated Lloyds Bank's customer service at 66% with most of their services receiving 4 out of 5 – telephone banking, online banking, communication, customer service, transparency of charges and benefits. Other aspects received 3 out of 5 – service in-branch, handling of complaints and mobile app.
Trustpilot – 1.7/5 (based on 2,393 reviews)
Google Reviews – no reviews
Reviews.co.uk – 2.77/5 (based on 874 reviews)
Review Centre – 1.0/5 (based on 3 reviews business only)
Smart Money People – 2.42/5 (based on 106 reviews)
Which? – 66% Which? customer score
How To Apply For A Lloyds Bank Credit Card?
If you want to apply for a credit card or charge card from Lloyds Bank, existing business current account customers can apply online. Alternatively, businesses with a turnover below £3 million can call them on 0345 072 5555 and those with a turnover above £3 million can call 0800 022 4395.
Pros
Offers the choice of a credit card or charge card
Issues multiple cards with individual spending limits
Simple fee and charging structure
Cons
Unclear what their eligibility criteria is
Customer reviews were low
Website: Lloyds Bank Credit Card