Wondering if it's safe to share your business bank account number and sort code in the UK? This guide will put your mind at ease.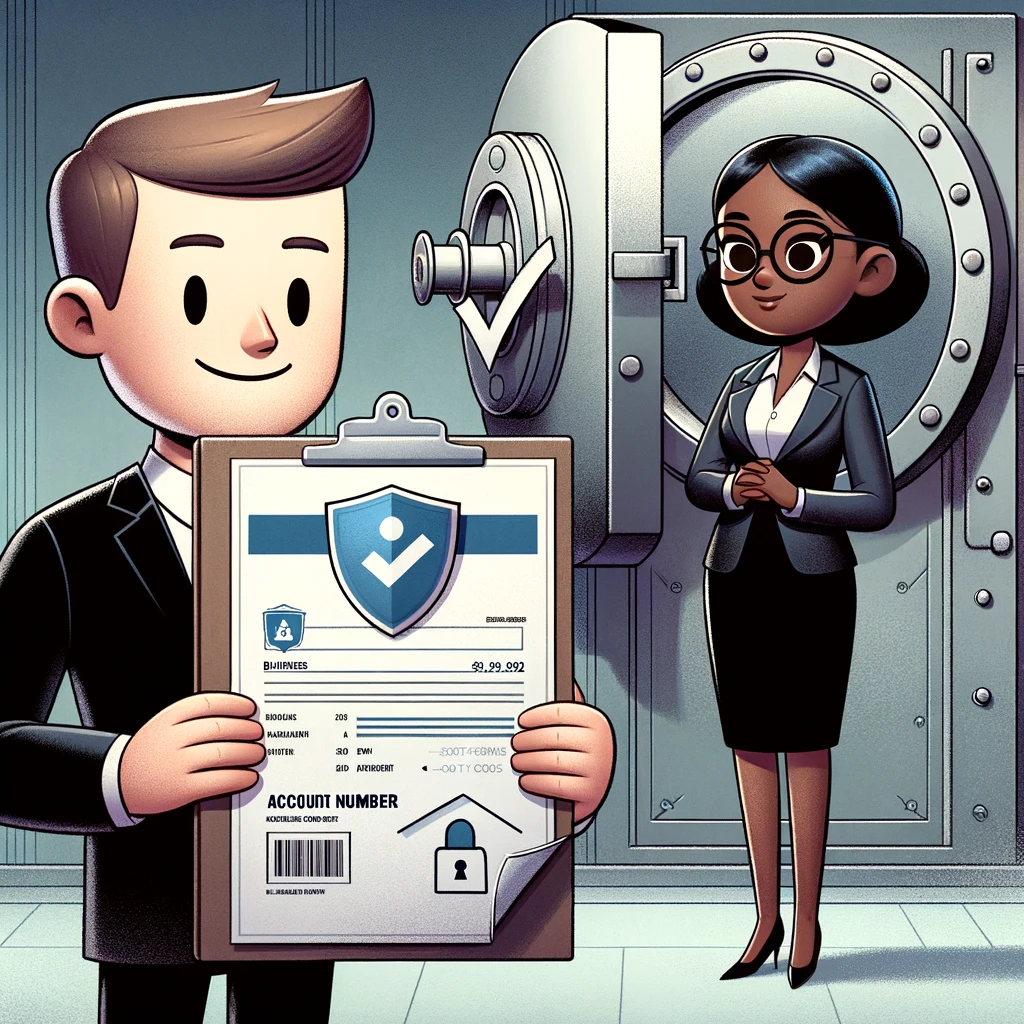 Can I Share Business Bank Account Number and Sort Code?
Sharing just your account number or sort code is generally safe and necessary for conducting legitimate business transactions. However, it's important to exercise caution and be mindful of potential risks associated with sharing sensitive financial information.
Considerations When Sharing A Business Bank Account Number and Sort Code
Businesses will typically come across situations where sharing bank information is essential. In order to do this safely, you must take into account the following considerations:
Legitimate transactions: Providing your business account number and sort code to trusted parties involved in legitimate business transactions, such as clients, customers, or suppliers, is often necessary for receiving payments or facilitating transactions. This information is typically required to initiate a bank transfer or set up a direct debit.
Data protection and privacy: While sharing your bank details with relevant parties is necessary, it's important to ensure that you do so securely.

Make sure you only share this information with trusted individuals or entities and through secure channels, such as encrypted email or secure online platforms. Avoid sharing sensitive information through unsecured channels like public forums or social media.

Fraud prevention: Be cautious about sharing your business bank account details with unknown or suspicious entities. Fraudsters may attempt to deceive you by posing as legitimate organisations or individuals to gain unauthorised access to your account. Verify the identity and legitimacy of the recipients before sharing sensitive information.
Phishing and scams: Exercise caution when receiving requests or communications asking for your sensitive information. Be vigilant for phishing attempts, where fraudsters may impersonate banks or trusted institutions to trick you into revealing sensitive information. Always verify the authenticity of the request through official channels before sharing any personal or financial details.
Regulatory compliance: Ensure that sharing your business account numbers and sort codes comply with relevant legal and regulatory requirements, such as data protection laws and any contractual obligations you may have with third parties.
Remember, it's essential to strike a balance between conducting legitimate business transactions and safeguarding the security and privacy of your financial information. If you have any concerns or doubts about sharing your business bank account details, consult with your bank or seek advice from legal and financial professionals who can provide guidance based on your specific circumstances and jurisdiction.
How to Safely Provide Payment Details
When sharing your business bank sort code and account number, it's important to take measures to protect your business and mitigate the risk of unauthorised access or fraudulent activities. These measures include:
Verify the recipient: Before sharing your details, verify the identity and legitimacy of the recipient. Ensure you are communicating with trusted individuals or reputable organisations. Double-check email addresses, contact information, and any supporting documents to confirm authenticity.
Secure communication channels: Use secure and encrypted communication channels when sharing sensitive information. Consider using encrypted email services or secure file-sharing platforms to transmit bank details. Avoid sharing sensitive information through unsecured methods like regular email or public messaging platforms.
Limit access to bank details: Only share bank account information on a need-to-know basis. Restrict access to this information within your organisation, ensuring that only authorised personnel have access to it. Implement proper access controls and user permissions to prevent unauthorised individuals from viewing or accessing your details.
Regularly monitor account activity: Maintain a vigilant eye on your business bank account activity. Regularly review bank statements, transaction logs, and account balances to identify any suspicious or unauthorised transactions. Report any discrepancies or suspicious activities to your bank immediately.
Strong password management: Ensure strong password practices are followed for your business bank account. Use unique, complex passwords that include a combination of letters, numbers, and symbols. Regularly update passwords and avoid using easily guessable information, such as personal details or common words.
Two-factor authentication (2FA): Enable two-factor authentication whenever possible. This adds additional security and a second verification method, such as a code sent to a mobile device or email, is required in addition to the password, to access the account.
Regularly update security software: Keep your computer systems, including antivirus and firewall software, up to date. Regularly install security updates and patches to protect against vulnerabilities that could be exploited by hackers or malicious software.
By implementing these measures, you can help protect your business when sharing bank sort codes and bank account numbers. Remember, maintaining good security practices and staying vigilant is crucial for safeguarding your business's financial information and preventing unauthorised access or fraudulent activities.
FAQs
Can hackers access my account with an account number and sort code?
A hacker won't be able to hack your account using just an account number and sort code. They would require additional security information to access an account.
Avoid providing strangers with details that are not necessary like your date of birth and address or additional banking information like your PIN, card expiry date, or the CVV number on the back of a card.
How can I avoid giving out account details?
In some cases, services like PayPal can provide a means to transfer money and provides an extra level of security.
A PayPal account can help businesses pay money in a more convenient way than bank transfers. The online accounts are easy to manage which means you won't have to share banking details or debit card information directly.
However, it is important that anyone that uses third-party platforms that are linked to bank accounts displays the same level of caution so these accounts can't be hacked.
What details do businesses need to provide to set up a direct debit?
A direct debit is a secure way of arranging a regular payment. You can arrange the date the payment will go through for a convenient automated process.
Setting up a direct debit instruction will typically include:
Name
Address
Bank Name
Bank Address
Bank Account Number
Bank Sort Code Number
Name on the Account