The 4 accountants listed below are the top-rated accounting firms in St Helens based on Google reviews. Firms had to have at least 5 reviews and a score above 4.8 to be included.
Please note that these listings are in no particular order and are based on user reviews only. We can't guarantee the quality of any of the services directly. 
1. Capital Bookkeeping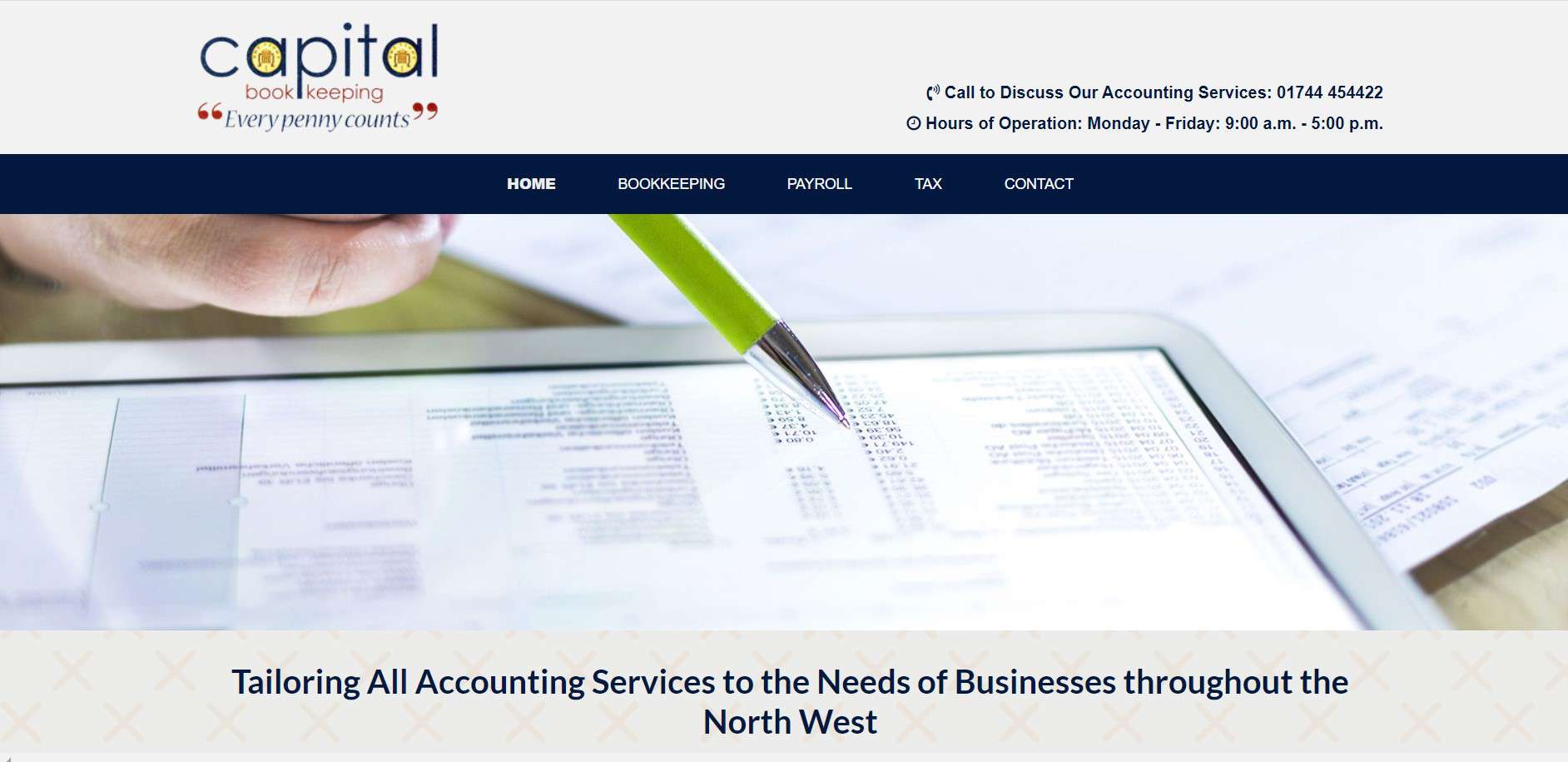 Sample Services:
Bookkeeping Services

Account Management

VAT Returns

Self-Assessments

Reconciling Bank & Credit Card Accounts

Entering Cash Purchases

Processing & and Purchase Invoices

Preparing Remittances

Sage Accounts Training
AAT licensed: No
ACCA licensed: No
Member of the Institute of Chartered Accountants: No
Sample Reviews: 
"Excellent service, very professional, nothing is a problem. I have used capital for 12 years, and I have no wish to change." — Stephen Bailey
"Helpful and efficient service." — Paul Hudson
Address:
86 Lugsmore Ln, 
Saint Helens 
WA10 3DL
Website: 
http://www.capitalbookkeepingltd.co.uk/ 
2. Colin Tunstall Chartered Accountants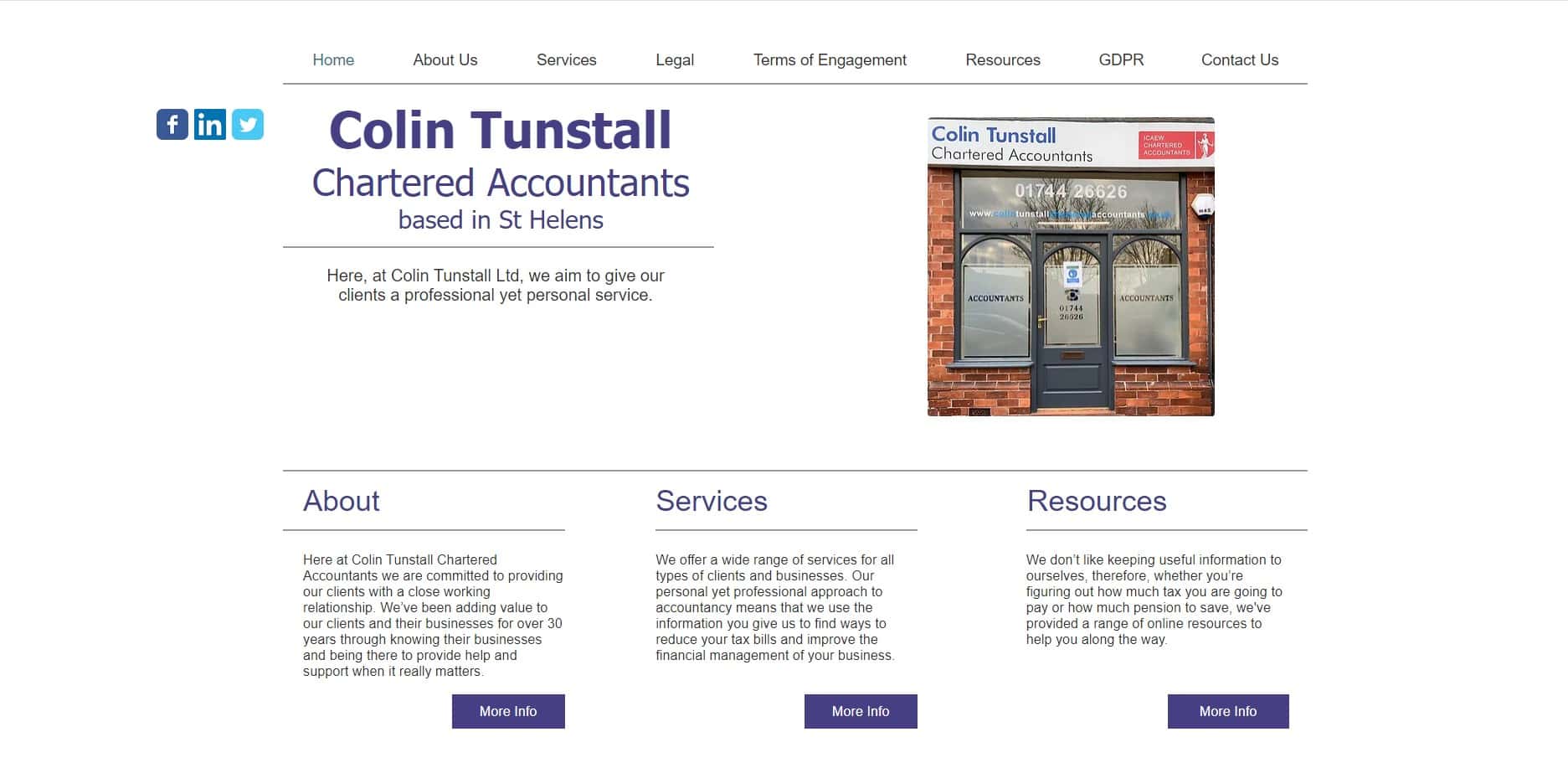 Sample Services:
Business Advisory Services

Payroll Services

Tax Services

VAT Returns and Calculation

Self-Assessment Tax Return

Management Accounts

Tax Returns

Account Preparation

Audit Services
AAT licensed: Yes
ACCA licensed: No
Member of the Institute of Chartered Accountants: Yes 
Sample Reviews: 
"Mike Nelson is very honest, very professional, very friendly and also, the guys at Collin Tunstall are very helpful. I think Five stars are not even enough for what these guys need. If I could rate more, I would do top class." — Patrick Jones
"Good lads, very professional." — Edward Keenan
Address:
296 Clipsley Ln, 
Haydock, 
Saint Helens 
WA11 0JQ
Website: 
https://www.colintunstallcharteredaccountants.co.uk/ 
3. Writers Tax Limited
Sample Services:
Inheritance Tax Planning

Copyrighting Protection

Tax Deduction for Writers

VAT Returns and Calculations for Authors

Accountancy Services

Bookkeeping Services

Tax Services

Advisory Services

Creative Averaging

Individuals and Limited Company Services
AAT licensed: No
ACCA licensed: No
Member of the Institute of Chartered Accountants: Yes 
Sample Reviews: 
"I'm thrilled to be working with Louise Ford and Writers Tax for my accountancy needs. After switching to them after a so-so experience with another accountancy firm, I've been very happy with Louise's speed, professionalism and attention to detail. She turned around my taxes at very short notice and is also willing to take the time to explain anything I don't understand. I recommend them very highly!" — Krystal Sutherland 
"It has been such a brilliant experience working with Writers Tax. Louise is so well-informed about industry-specific matters (creative averaging, for example) and has been incredible in advising me on everything from past years' accounts to setting up a limited company and managing my accounts going forward. I feel my accounts are in the very best and professional of hands and can't recommend Writers Tax highly enough." — Jenny Ashcroft
Address:
31 View Rd, 
Rainhill, 
Prescot 
L35 0LF
Website: 
4. Sergents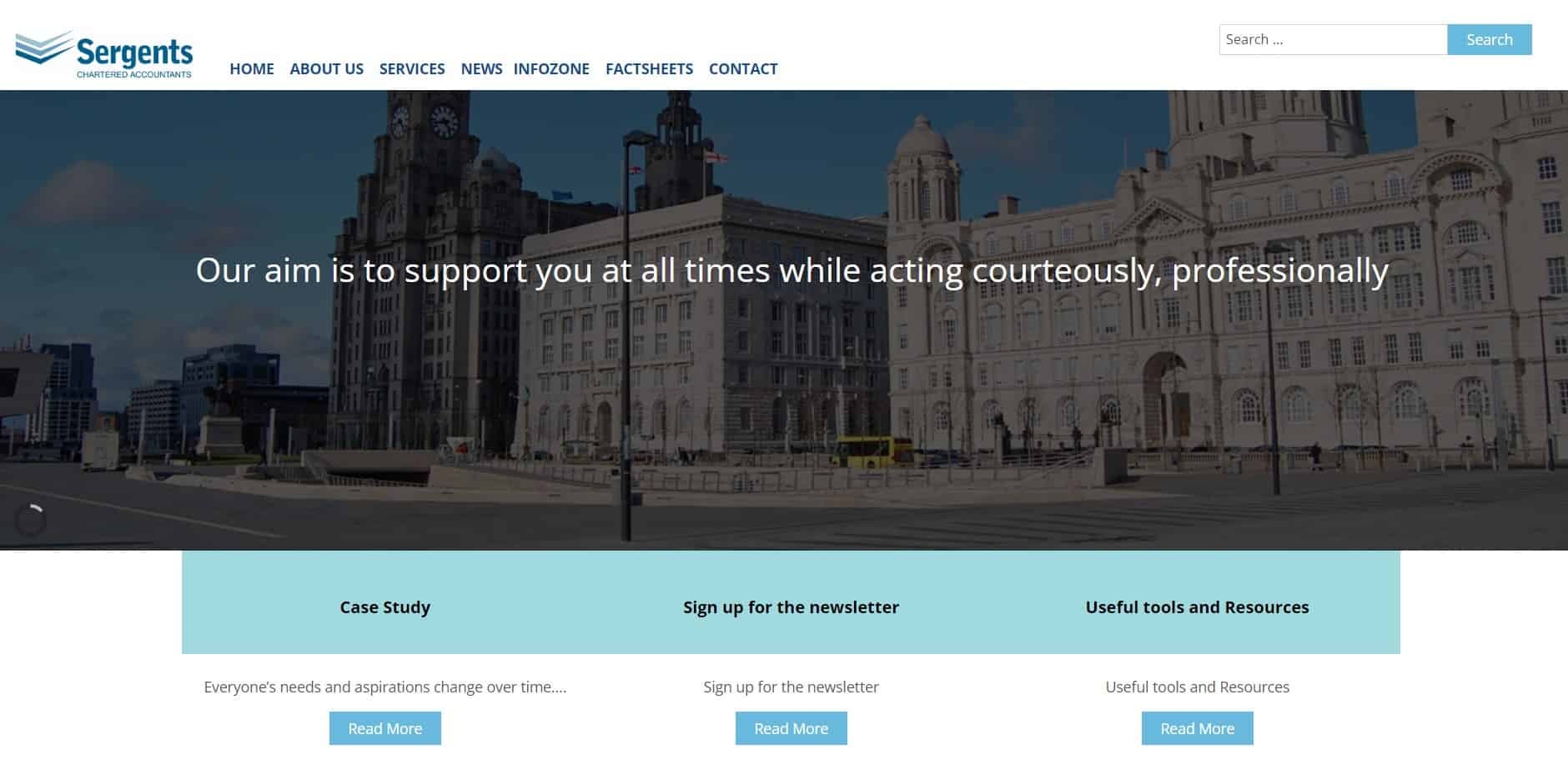 Sample Services:
Estate and Financial Planning

Pensions – Auto-Enrolment

Personal Tax Planning and Compliance

Trusts and Trustee Services

Company Secretarial and Incorporation Services

Computerisation and Software Selection

Corporate and Business Tax Planning and Compliance

Bookkeeping Services and Accountancy

Business Start-Up

Payroll Services
AAT licensed: No
ACCA licensed: No
Member of the Institute of Chartered Accountants: Yes 
Sample Reviews: 
"I have been a client of Sergents for the past 7 years and have been both extremely delighted and impressed with the service and advice received over the years.  They have become friends as well as advisers.  I would recommend them to anyone." — Paul Mackarell
"I have been with Sergent's accountants for a number of years now.  I have always found them to be very professional, friendly and always helpful.  I would always recommend them to any businesses." — Lisa Cunliffe 
Address:
4 Leyland St, 
Prescot 
L34 5QP
Website: 
How did you pick the "best" St Helens accountants?
We used Google local business data and selected firms with at least 3 reviews, scored 3.3 or higher, and that had a website.
Our dataset included only the 54 closest accounting firms to St Helens city centre.
Moreover, we did not take into account ratings from other review sites. Feel free to get in touch if you think a particular deserving accountant has been overlooked.
How much does an accountant in St Helens cost? 
According to our list of best accounting firms in St Helens, accounting services start at £35/month without VAT for individual entrepreneurs and rise in accordance with the scope of your needs. 
In general, you should first arrange a consultation with the local accountancy expert of the accounting firm to get a quote. During the meeting, the firm will provide you with a proposal covering the fees they charge for the services you are interested in. Some of the firms, for instance, will arrange a tailored fixed fee after they assess your accounting needs.
How can I save money on a St Helens accountant?
If hiring a dedicated accountant is too expensive, you might look into accounting software.
Here are the starting prices for various popular choices in the UK (all prices exclude VAT):
– Quickbooks: £10/month
– Freshbooks: £12/month
– Sage: £12/month
– Zoho: £12/month
– Xero: £14/month
Disclaimer: Businessfinancing.co.uk is a business finance and lending research and information website publisher. We are not a lender, bank, broker and/or other financial institution, and as such, we are not authorised or regulated by the FCA to offer financial advice. We can't recommend any of the products and/or services featured on the site. Companies are ranked in no particular order, and a higher ranking does not imply one company is better than another. We work with FCA-authorised and regulated firms who may pay us a commission for referring you to them, but this has no impact on our content and helps keep this website free to use.