Qualifications And Certifications
Bookkeepers are generally considered entry-level hires. They keep track of money going in and out of your company's finances. Bookkeepers don't technically have licensing or certification requirements; but it's always a good idea to hire a professional, especially for larger companies.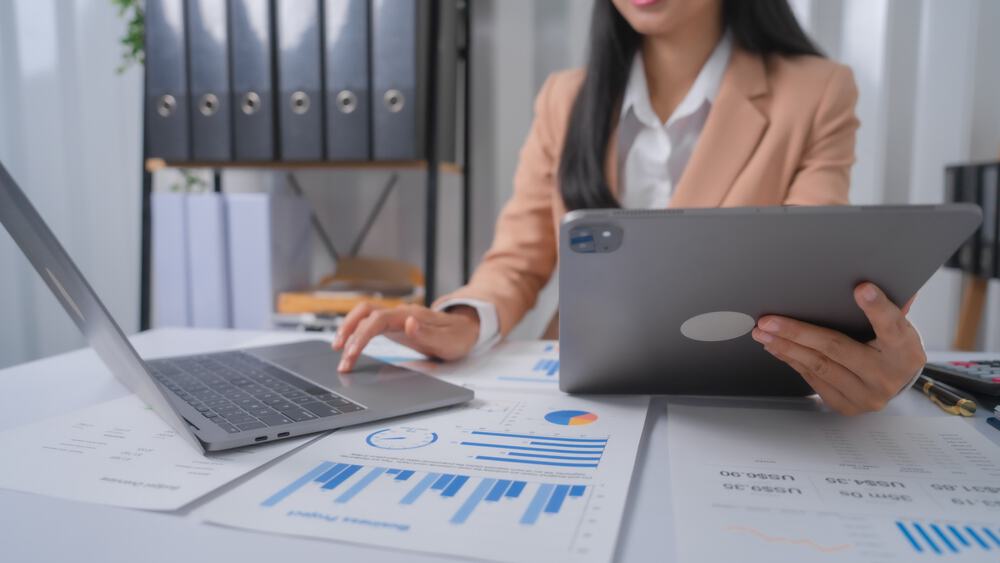 There are some organizations that can certify bookkeepers; the Institute of Accountants and Bookkeepers (IAB) or the Institute of Certified Bookkeepers (ICB), for example. There are certain levels of bookkeeping that are recognised internationally:
AAT Level 1: Basic manual, single-entry bookkeeping certification at the entry-level.
AAT Level 2: Capable of doing manual bookkeeping activities. These are the foundation of all accounting and financial positions.
AAT Level 3: Professional bookkeepers with more extensive proficiency in bookkeeping operations. This accreditation is essential for all financial departments to function smoothly and efficiently.
When interviewing a prospective bookkeeper, make sure you check their credentials and establish their AAT level. If you have a qualified bookkeeper, you can be more confident in their accounting abilities. It's also important for your bookkeeper to be supervised for money laundering under a professional body. If this is not the case, your business must register for supervision with the HMRC.
Experience
It's important to hire a bookkeeper with extensive experience to keep your books running smoothly. This is the best step for a small or limited company, where this employee must handle your tax returns and accounts payable.
Your business needs someone with great time management and attention to detail. Ideally, they should have experience with businesses in the same sector as yours.
Ask for proof of their bookkeeping experience and a list of client testimonials. This is the best way to ensure your bookkeeper will be capable of handling your financial tasks.
Remember to make sure that your prospective hire is familiar with HMRC's digital services to improve efficiency at the end of the financial year.
Range Of Services
Different bookkeepers offer different services. This can be because of their certifications, the accounting software they use, or their level of experience. Your own business needs should determine their job description.
Some bookkeepers offer services to analyse financial reports and statements. Others can only provide organization skills and simple data entry.
An experienced bookkeeper can have a different job description, depending on their core skills and qualifications. However, job descriptions generally include:
Tracking financial transactions, financial data, and financial records.
Controlling a business' balance sheet.
Payroll from your company's bank account.
Sales invoices for business transactions.
Data entry on financial documents.
Analytical skills for business finances.
Using accounting software efficiently.
Utilizing technical knowledge for financial statements and paying bills.
Organizational skills and good time management.
It's also important to note that it's not necessarily a bookkeeper's job to file taxes. It's typically better to hire an accountant for this task. Another option is to check if your bookkeeper is a registered BAS agent. When you hire BAS agents, they can prepare and lodge BAS returns and offer advice on your taxes.
As a business owner, it is vital that your prospective bookkeeper is proficient in these basic skills. It certainly helps if you hire a certified bookkeeper. However, the specific services you need will vary, which will determine if you should use a firm, hire remotely, or go for a freelancer.
A great bookkeeper will help sort out any accounts payable and maintain your successful career.
Firm, Freelance, Or Remote?
It can be difficult to choose between using a bookkeeping firm, hiring a freelancer or employing a remote bookkeeper. This depends on the size and requirements of your business.
Bookkeeping firms are ideal for larger companies needing full financial services. These companies have skilled specialists capable of handling all financial responsibilities. Their knowledge and expertise create a solid support structure that can expand as your business grows.
Remote bookkeepers provide ease and flexibility. They work from home, using cloud technology to view and handle financial data. Remote bookkeepers are especially useful for small to medium-sized enterprises. The remote configuration enables seamless cooperation and rapid reaction times. It also eliminates the need for extra office space.
Freelancers have specific expertise and provide personalized service. They are appropriate for businesses with specialized or occasional bookkeeping requirements. They provide a customised strategy and might be cost-effective for small firms or startups. Freelancers often have specialised skills and can adapt to clients' specific needs.
Response Time And Good Communication
In the field of bookkeeping, quick reaction time and great communication skills are essential. A swift response allows financial matters to be handled as soon as possible. It guarantees that transactions and records are corrected and documented on time. They can reduce mistakes and avoid potential financial inconsistencies.
A bookkeeper's ability to communicate effectively with clients and other stakeholders is important. Clear communication avoids misconceptions that might result in financial losses.
A bookkeeper with great communication can effectively express financial data in layman's terms. This creates productive and collaborative connections.
Bookkeeping Software
Bookkeeping software helps improve financial procedures and increase overall efficiency. It streamlines time-consuming activities. The software decreases mistakes and accelerates data entry and analysis. It frees up the bookkeeper's time for more strategic financial analysis and decision-making. It also makes data organization easier for your bookkeeper.
Your bookkeeper will have real-time tracking of financial activities and so provides up-to-date financial information. The program can create detailed statements and customizable reports with powerful reporting tools. This allows your business owners and stakeholders to make informed decisions.
A bookkeeper can dramatically improve accuracy by using efficient software. There is a government guide available to compare commercial software suppliers to determine your potential bookkeeper's capabilities.
Price
Price is an essential factor when it comes to bookkeeping services. Choose a bookkeeper who understands your company's financial limits. Make sure that the cost of their services remains within realistic parameters. Carefully evaluate the pricing structure of all potential bookkeepers before making a decision.
It is critical to create a balance between the value supplied by the bookkeeper and the available financial resources. While price is important, however, it should not come at the expense of quality and dependability. Analyse their skills, credentials, and level of experience to guarantee they will satisfy your business's needs effectively.
The hiring process should be thorough to ensure that bookkeeping services are priced fairly and offer great quality. It's also a good idea to research the average pricing of different kinds of bookkeeping services to make comparisons.
FAQs
Should I hire an accountant or a bookkeeper for my business?
Hiring either an accountant or a bookkeeper is strongly advised. The best choice is determined by your company's requirements. You can even have both. An accountant can provide further financial knowledge. A bookkeeper is someone who handles day-to-day financial responsibilities and keeps records.
Can I outsource bookkeeping services?
Yes, it is possible to outsource bookkeeping services. It gives you remote access to expert specialists. This saves money and gives you more freedom in handling your financial tasks.
What qualifications should I look for when hiring a bookkeeper?
Look for a professional bookkeeper with the necessary skills. This can be a degree in accounting or a related discipline, professional certifications, and bookkeeping experience.
Conclusion
Hiring a bookkeeper for your company requires careful thought and attention to several important factors. Prioritize qualifications and experience first. Check that your bookkeeper has a proven track record. The right bookkeeper will have effective communication skills and be capable of transparent financial reporting.
Consider hiring a bookkeeper who can provide a variety of services to match your business's unique requirements. Whoever you employ should be able to use bookkeeping software to improve productivity and streamline procedures. Finally, while pricing bookkeeping services is a crucial consideration, try to strike a balance between quality and affordability.
Using these suggestions, you can easily find a qualified bookkeeper who will be an invaluable asset to your company. It is worth mentioning, however, that hiring an accountant in addition to a bookkeeper may be more beneficial to your company, depending on its size.
Also see: How To Find A Good Payroll Service  and How To Find A Good Accountant
Sources
https://fitsmallbusiness.com/how-to-find-a-bookkeeper-tips/
https://www.aat.org.uk/qualifications-and-courses/bookkeeping
https://www.cosbookkeeping.co.uk/bookkeepers-must-register-with-hmrc-for-money-laundering-supervision/
https://www.indeed.com/hire/interview-questions/bookkeeper
https://www.zinnerco.com/zinner-blog/6-tips-for-hiring-the-right-bookkeeper-for-your-business
https://www.myob.com/au/blog/5-tips-for-choosing-the-right-bookkeeper/
https://beanninjas.com/blog/hire-a-bookkeeper/
https://bench.co/blog/bookkeeping/how-to-hire-the-right-bookkeeper/