Unity Trust Bank is a commercial business bank offering commercial and property loans, particularly for charities. Established in 1984 and based in Birmingham, Unity Trust Bank's funds come from customer accounts and it prides itself on being an ethical, sustainable bank that supports British businesses, charities, and their communities.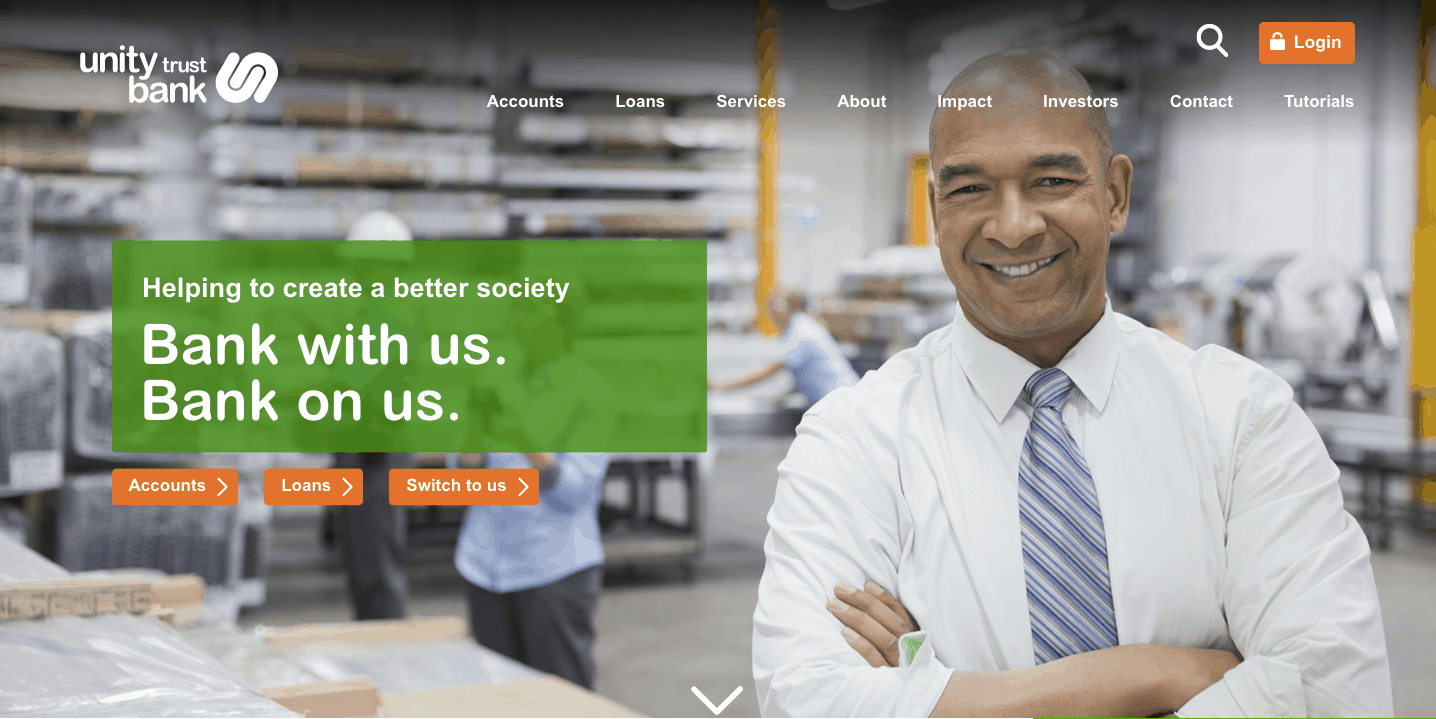 Unity Trust Bank Business Banking
Current account
Current accounts are available to businesses with an annual turnover of under £100,000, £100,000-£2 million, and over £2 million. You can manage your account online 24/7 and pay in/withdraw cash & cheques at your local NatWest, RBS and Ulster Bank branches. This account doesn't include a debit card so all transactions must be online or in-branch.
For business customers with a turnover of less than £2 million, accounts cost £6 a month and there are a few extra transaction charges. Larger businesses with a turnover of £2 million+ will be charged customised fees and have their own relationship manager.
Instant access savings account
This account currently has 0.00% interest AER. Business customers can access their savings whenever they need to with no fees.
30 day deposit savings account
The minimum deposit is £2 million and you can withdraw with 30 days' notice. Interest rates are available on request.
90-day deposit savings account
The minimum deposit is £500,000 and you can withdraw with 90 days' notice. Interest rates are available on request.
Unity Trust Bank Business Finance
Commercial/property loans
Unity Trust Bank provides loans for refinancing, property purchase, and property refurbishment. £250,000 to £10 million is available at 70% loan to value on a variable rate. Interest-only periods are available and there's a fee of 1.5% of the loan value (plus legal and valuation fees). Loans are a 10 year commitment with up to 20 years' amortisation profiles. Fixed-terms are available for loans between £500,000 and £10 million on terms of 2 or 5 years.
Unity Trust Bank Reviews and Ratings
Unity Trust Bank has very few online reviews. Trustpilot and Google reviews are a mixture of positive and critical. On Google some have banked with Unity for years and are very impressed with the level of customer service, but a few think they're hard to work with. On Trustpilot, the positive review praises Unity for being human and easy to talk to with clear terms and information, and the negative reviews one is for a different company and the other has issues with the website.
Unity Trust Bank provided £5 million in funding for a London-based social enterprise in June 2020. The Teachers' Housing Association will provide 300 homes for teachers.
Unity also provided £900,000 for West Midlands small businesses struggling during the Covid-19 pandemic.
Trustpilot – 2.8/5 (based on 3 reviews)
Google Reviews – 3.5/5 (based on 11 reviews)
Reviews.co.uk – no reviews
Smart Money People – no reviews

Pros
Loans for a variety of purposes, including refurbishment and expansion.
An ethical bank that often funds charities and social enterprises.
Cons
Not many reviews and quite a few are critical of customer service.
Large amounts only. Not suitable for businesses interested in raising a few thousand.
Website: Unity Trust Bank Business Finance