Hitachi Capital Business Loan User Reviews
Review Summary
0.0 out of 5 stars (based on 0 reviews)
Recent Reviews
There are no reviews yet. Be the first one to write one.
Submit a Review
Hitachi Capital is an established lender that has been providing lending products for 35 years which includes supporting over 800 SMEs in 50 industries with £5 billion in funding. They offer a range of business products that include retail finance, point of sale finance, car and vehicle finance. They offer asset finance, invoice finance and franchise finance.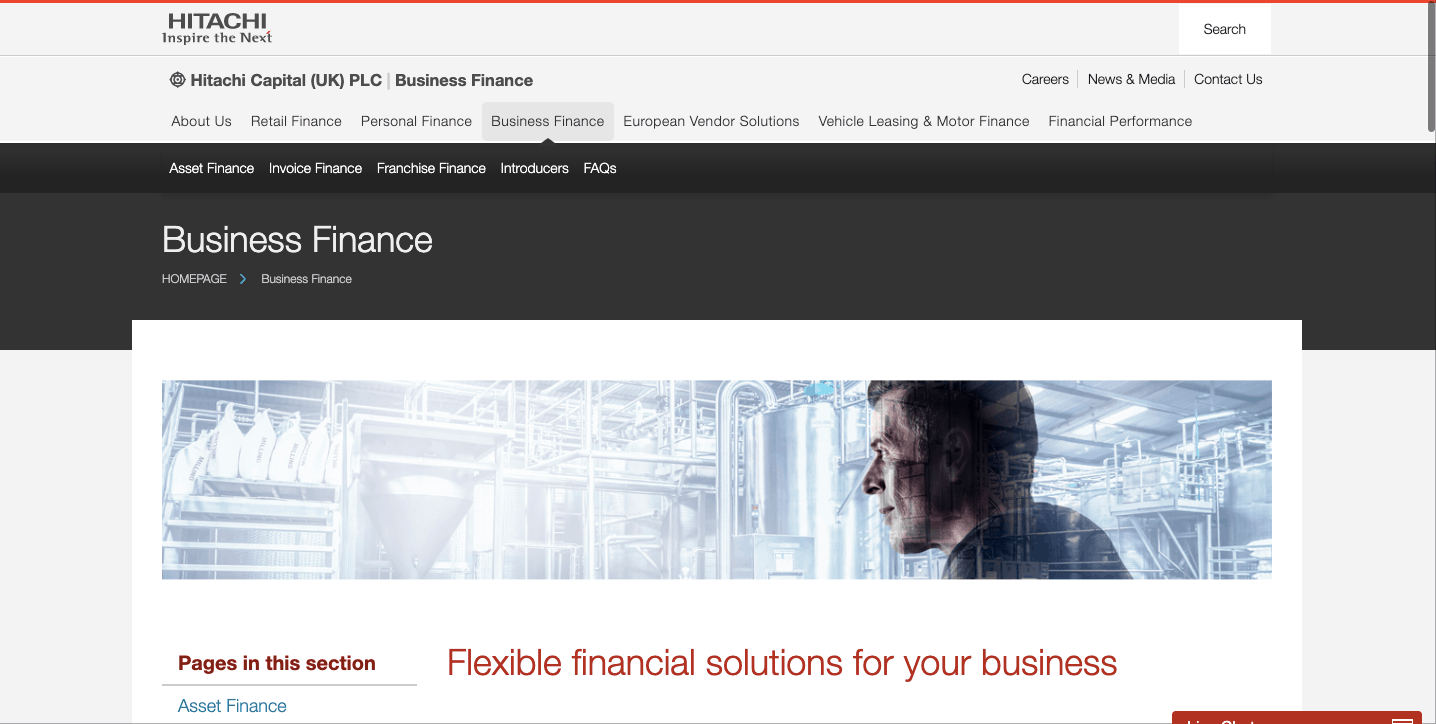 Hitachi Capital Loans and Funding Options
Asset Finance
Hitachi Capital offers asset finance that allows businesses to pay for an asset in instalments with the option to purchase the asset outright at the end of the term or upgrade. The products features are:
£10,000 to £500,000 is available to purchase or rent vehicles, physical assets, and equipment
Terms over 2-5 years
Interest rates start from 5.9% APR
A document fee of £175 applies
Upfront deposit is required
Flexible repayment options
A purchase fee applies of £75 if you buy the asset at the end of the term
To qualify, your business needs 3+ years of trading history.
Franchise Finance
Hitachi Capital offers franchise finance to first-time franchisees, franchisors and expanding franchisees. Hitachi also has access to a panel of franchise finance brokers, so can often find an appropriate finance deal for many businesses. The loan features include:
Funding from £5,000 to £500,000
Support a variety of businesses such as fast food, coffee shops, gyms
Offers complementary services including funding and arranging finance, business planning and business training
Available throughout the franchise lifecycle
Other loan products
Hitachi Capital also offers invoice finance products to release money from unpaid invoices. Criteria and rates vary.
Hitachi Capital Loans and Funding Eligibility
Hitachi Capital's asset finance is available to businesses that have been trading for over 3 years and have a good credit history, this includes sole traders, partnerships, unincorporated entities, limited liability partnerships (LLPs), private limited companies (LTD) or public limited companies (PLC).
Hitachi Capital Loans and Funding Rates
Hitachi Capital doesn't include the rates for its products.
Hitachi Capital Loans and Funding Calculator
Hitachi Capital doesn't have a funding calculator.
Hitachi Capital Loans and Funding Reviews
Hitachi Capital has reviews on most of the leading customer review sites but many of the reviews tend to be from personal finance customers rather than business finance customers. The reviews overall are mixed with the scores being average on some review sites and higher on others.
Trustpilot reviews are fairly positive with 67% of reviewers rating them as excellent and 25% rating them as bad. Positive comments included quick and efficient, good online account management and great customer experience. Negative comments included delays in set up, long response times over the phone, poor complaint handling, login issues and the app not working well.
Google Reviews and Review Centre reviews are fairly poor with similar feedback to the Trustpilot reviews.
Smart Money People and Feefo reviews are more positive, but they are all for retail finance or personal loans. A lot of the review comments refer to how well individuals have been treated and how quick the finance was put in place.
Trustpilot – 2.9/5 (based on 824 reviews)
Google Reviews – 2.3/5 (based on 15 reviews)
Reviews.co.uk – no reviews
Review Centre – 1.9/5 (based on 51 reviews)
Smart Money People – 4.96/5 (based on 284 reviews)
Feefo – 4.9/5 (based on 4,613 reviews)
How To Apply For Hitachi Capital Loans and Funding?
If you want to apply for Hitachi Capital's loan products you can call them on 01784 227322 or complete their online enquiry form.
Pros
Provides specialist finance products
Funding can be used for a broad range of assets
Customer reviews are largely positive
Cons
No rates are provided on their products
Customer reviews are mostly about personal loans
Website: Hitachi Capital Loans and Funding