Revolut is an online business bank account already used by over 8 million individuals and businesses. The platform launched in 2015 and has been backed by well-known investors throughout Europe. Business customers can monitor and manage their accounts 24/7 on the Revolut app and desktop site.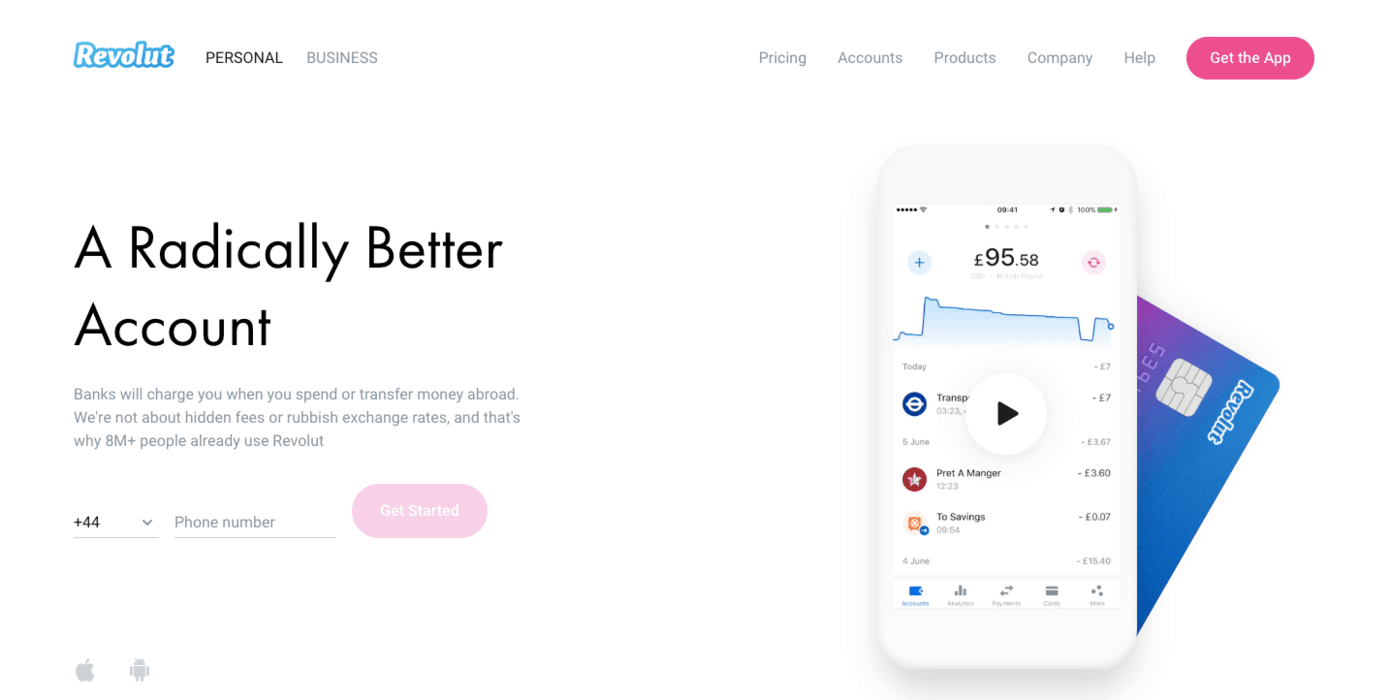 Revolut Business Banking Services
Current Accounts
A Revolut current account shows a clear summary of all your earnings and outgoings, as well as upcoming payments. Business customers and their team can also use pre-paid Revolut MasterCards, with all spending activity easily trackable on the app.
This is a handy account for businesses trading in different countries. You can receive and exchange 30+ currencies without paying hidden fees, and spend in 150 different currencies too.
Their basic account is now free (£0/month) with more advanced business accounts costing £25, £100, or £100 a month depending on usage. Freelancers can either choose their free account or one costing £7/month depending on what they need.
Revolut syncs with popular business account and task management tools, including Sage, Slack, Xero, and Zoho.
Savings account
Not available.
Overdrafts
Not available yet, but coming soon.
Business finance and loans
Not available yet, but coming soon.
Revolut Reviews and Ratings
Revolut has a lot of reviews on Trustpilot – over 93,000 with 76% rate the app and service 5/5, and they're particularly impressed with how easy it is to use and how transparent the fees are. Smart Money People reviewers are very happy too – they love how easy it is to spend abroad and the cheap monthly fee.
There are far fewer reviews on Reviews.co.uk, and they're much lower-rated. Some have found it difficult to get through to a real person in customer services, and that payments have been blocked without warning or reason. These comments are few and far between though, compared to the thousands of happy reviewers across other review sites.
Revolut isn't included in the Which? list of 'Best & Worst Banks'.
At the time of writing (October 2019), Revolut is seeking $1.5 billion in funding to expand globally. According to Sky News, the startup is aiming to earn a US banking licence, and invest in better customer service. Revolut has also teamed up with Visa and hired 3,500 more staff to expand into 24 new markets.
Trustpilot – 4.4/5 (based on 93,859 reviews)
Reviews.co.uk – 1.15/5 (based on 246 reviews)
Smart Money People – 4.87/5 (based on 8,116 reviews)
Which? – not included
Pros
Great for cheap foreign transfers.
Simple and convenient account management.
Excellent reviews on Trustpilot.
Cons
Still a relatively new service – potentially less stability than a conventional bank.
Can be expensive for larger businesses in need of extra account features.
No credit or saving products are available yet.
Website: Revolut Business Banking