Find out what actual customers of PrimePAY payroll software think about it.
Or better yet leave your own review.
We also go over how much PrimePAY costs, what features it offers and what other reviewers think about it.
PrimePAY User Reviews
PrimePAY Review Summary
0.0 out of 5 stars (based on 0 reviews)
Recent PrimePAY Reviews
There are no reviews yet. Be the first one to write one.
Submit A Review For PrimePAY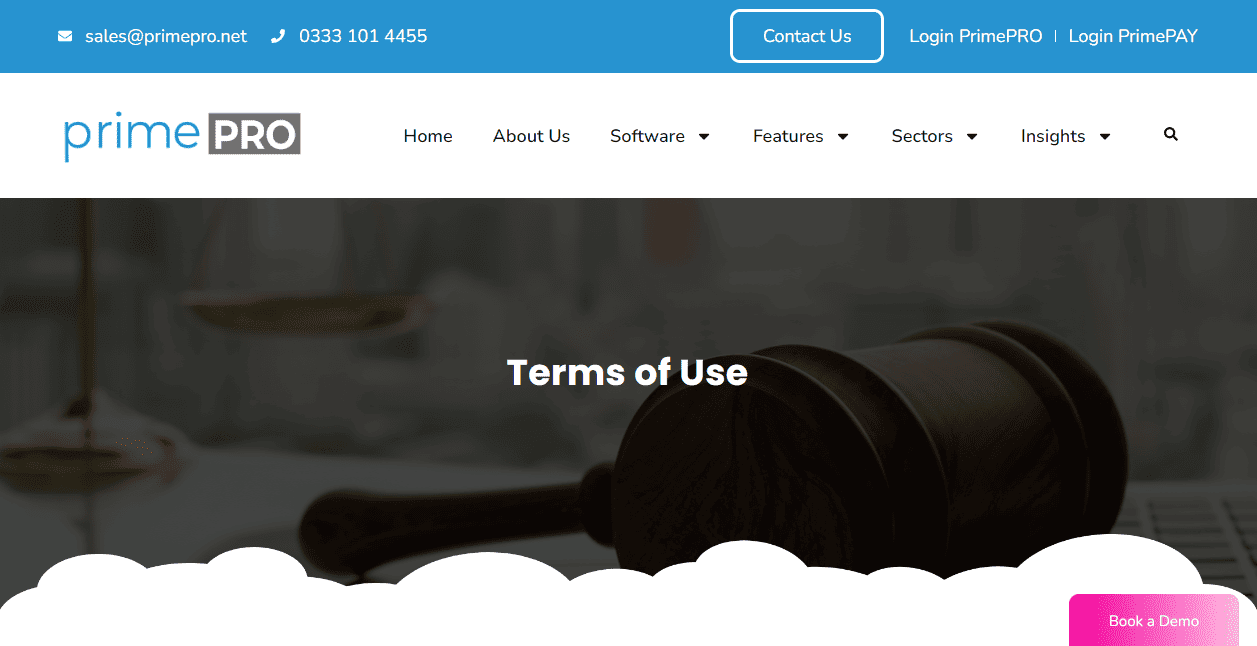 Key PrimePAY Information
Software Name: PrimePAY
Company Name: PrimePRO Software Limited
Listed On HMRC Website: Yes
Listed As Free By HMRC: No
Business Size: Enterprise
Sector Focus: None
Click to visit the PrimePAY website
PrimePAY Reviews From Other Websites
PrimePAY Prices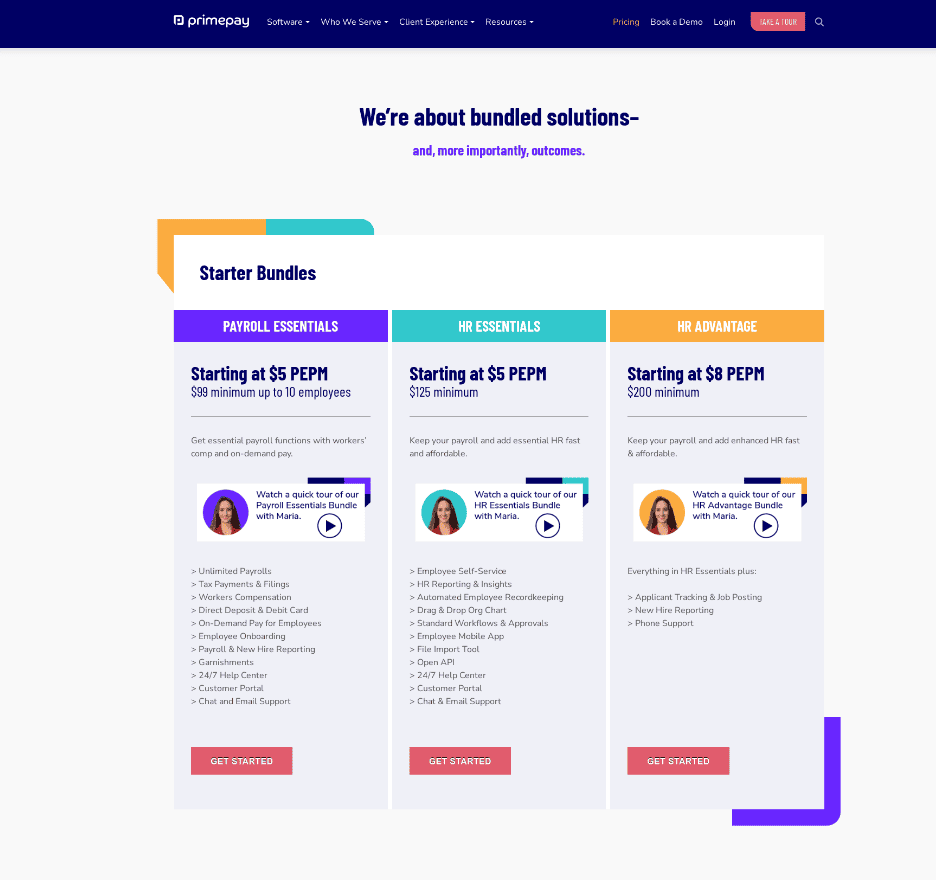 How much does PrimePAY cost? Here is what they publish on their website:
PrimePAY Free Plan / Free Trial
Offers A Free Plan? No
Offers A Free Trial? No
How Long Does The Free Trial Last? Not Applicable
Paid Plan Costs
Here are the names for for the various plans PrimePAY offers and how much they cost per month:
Payroll Essentials: $125
HR Essentials: $125
HR Advantage: $200
PrimePAY Features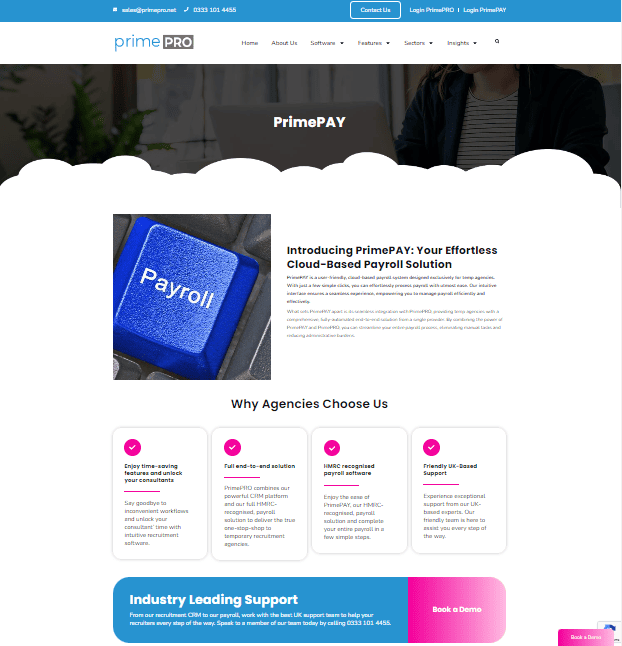 Payroll Essentials Features
Unlimited Payrolls
Tax Payments & Filings
Workers Compensation
Direct Deposit & Debit Card
On-Demand Pay for Employees
Employee Onboarding
Payroll & New Hire Reporting
Garnishments
24/7 Help Center
Customer Portal
Chat and Email Support
HR Essentials Features
Employee Self-Service
HR Reporting & Insights
Automated Employee Recordkeeping
Drag & Drop Org Chart
Standard Workflows & Approvals
Employee Mobile App
File Import Tool
Open API
24/7 Help Center
Customer Portal
Chat & Email Support
HR Advantage Features
Everything in HR Essentials plus
Applicant Tracking & Job Posting
New Hire Reporting
Phone Support
Other Software Integrations
NOW
NEST
Peoples Pension
Well Plan
Popular Features List:
Run Unlimited Payrolls: Yes
Automatic Tax Filing & Payments: Yes
Live Customer Support: Yes
Ability To Manage Employee Benefits: Yes
Employee Access to Platform: Yes
Direct Deposits: Yes
Expense Reimbursements: No
Time Off Tracking: $200
Handle Deductions From Pay: No
Debt Repayment From Pay: PrimePRO Software Limited
Background Checks: No
Offers An API: Yes
Create Payslips: No
Create P45: No
Create P60: No
Bonus Incentive Pay: No
Pension Filing: Yes
Statutory Payments (E.g. Sick Pay, Maternity Pay, etc.): No
Direct HMRC Submissions: Yes
RTI Compliant: No
Pros & Cons
The following pros and cons come from Trustpilot and other third-party review sites from around the web.
Pros
I like the onboarding process. From getting all of your documents together to communication, it was really good. The price is average for what you can pay. I like when you get one deticated person to deal with from onboarding to runing payrolls. I like that she was really hands on with making sure you know all the ins and outs of getting started. She was very meticulous and task driven. She did not run it untill we confirmed everything.
my contact representative was very good.
Nothing besides that it paid our employees
The implementation team was very responsive.
It did a decent job of getting payroll together and sending the paychecks to where they needed to go. Very accurate on the employee PTO and Sick Time as well as the tax codes for them.
Cons
I didn't like the switiching to a new person to handle my account. Like other payroll services, you get one person for on boarding and another for the rest of your term. That was the case here. The second person wan't bad at her job she just wasn't as experienced or meticulous. We had a few times that weren't entered correctly or something was missed in email. We eventually got it. It just took time.
Pricing is out of control and they don't value a 20+ year customer to even come close to other competitor payroll providers. was willing to pay a little more not to leave, but they would not negociate. Primepay i'm paying $450 per month (new pricing – old pricing was $230/m). New company paying $220/m. I begged to talk to someone in leadership not to leave, but could not
The reporting system portal and the entire company and support team is totally antiquated, incompetent, and will surely fail and shut down entirely in the next few years as all their customers continue to migrate to better, cheaper options as we did after repeated unacceptable instances of being ignored by their support team, from which we could not even obtain a report we needed for an audit deadline (which in other payroll services is readily available via self service)
We went live with SyncHR/Primepay January 1, as of today 8/14, Q1 and Q2 taxes have not been filed properly, and I have not received any responses on how they will be resolved. I send a follow up email weekly, but there have been no updates in 3 months. Implementation went rough and all employees W4 information was uploaded incorrectly, causing problems on employee taxes. Employee direct deposits uploaded incorrectly. The platform was literlly slapped together in hopes that we would find and solve their issues when we went live, instead of giving us the time to test everything ahead of time. 8 months into this project, I am still finding issues where I was told was resolved, but are not. Not a single ticket has been resolved. Worst customer service I've ever experienced.
Getting a report was extremely difficult. If you needed one you would need to know in advance to actually needing it since it takes so much time to get it together. Any small hiccup would need you to call customer service to get handled. No way to really change anything yourself which makes it very time consuming.
Other Payroll Software Topics