Find out what actual customers of Employment Hero Payroll payroll software think about it.
Or better yet leave your own review.
We also go over how much Employment Hero Payroll costs, what features it offers and what other reviewers think about it.
Employment Hero Payroll User Reviews
Employment Hero Payroll Review Summary
0.0 out of 5 stars (based on 0 reviews)
Recent Employment Hero Payroll Reviews
There are no reviews yet. Be the first one to write one.
Submit A Review For Employment Hero Payroll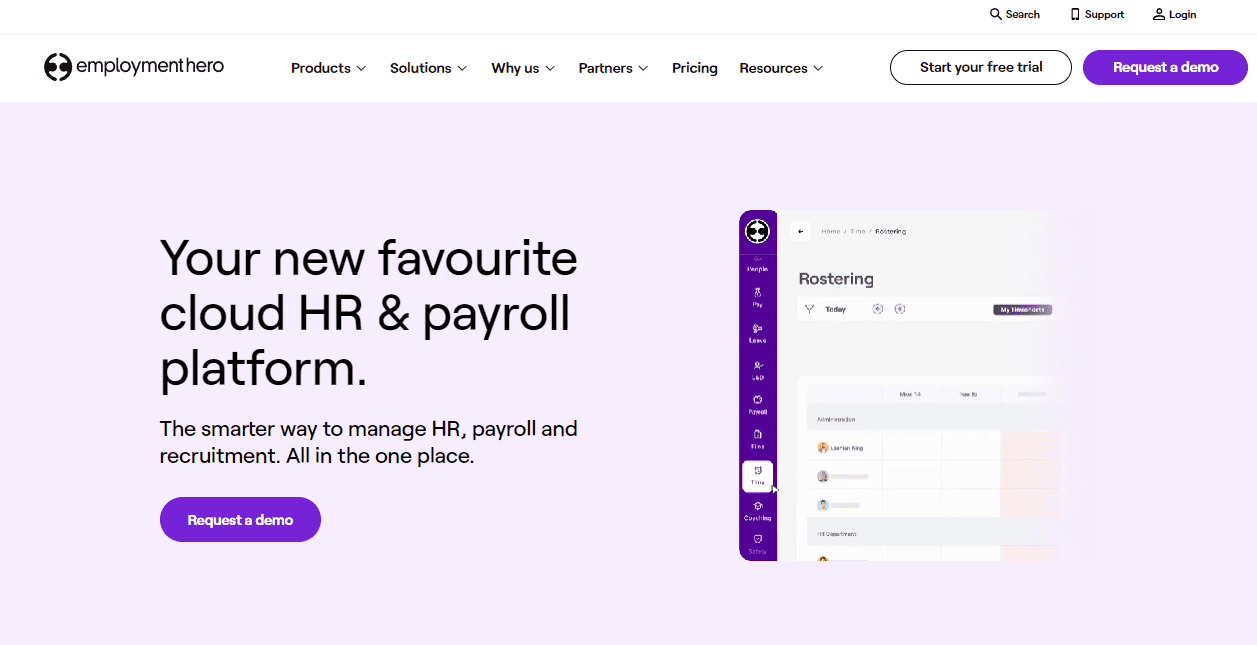 Key Employment Hero Payroll Information
Software Name: Employment Hero Payroll
Company Name: Employment Hero
Listed On HMRC Website: Yes
Listed As Free By HMRC: No
Business Size: Medium
Sector Focus: None
Click to visit the Employment Hero Payroll website
Employment Hero Payroll Reviews From Other Websites
Employment Hero Payroll Prices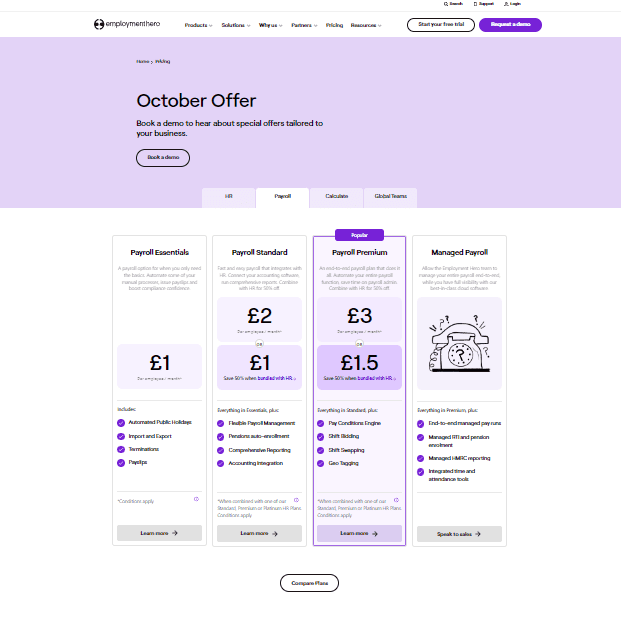 How much does Employment Hero Payroll cost? Here is what they publish on their website:
Employment Hero Payroll Free Plan / Free Trial
Offers A Free Plan? No
Offers A Free Trial? Yes
How Long Does The Free Trial Last? Not Specified
Paid Plan Costs
Here are the names for for the various plans Employment Hero Payroll offers and how much they cost per month:
Payroll Essentials: £2
Payroll Standard: £2
Payroll Premium: £3
Employment Hero Payroll Features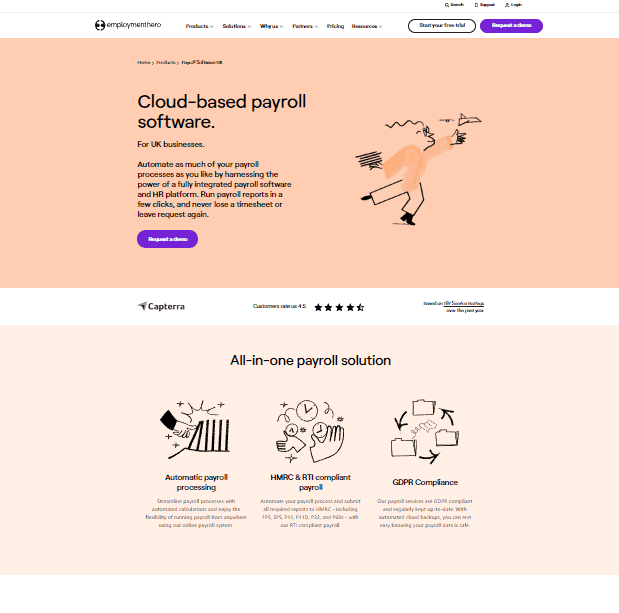 Payroll Essentials Features
Imports and Exports
Terminations
Automated Public Holidays
Payroll Standard Features
Imports and Exports
Terminations
Automated Public Holidays
Accounting Integration
Comprehensive Reporting
Flexible Payroll Management
Pay Conditions Engine
Payroll Premium Features
Imports and Exports
Terminations
Automated Public Holidays
Accounting Integration
Comprehensive Reporting
Flexible Payroll Management
Pay Conditions Engine
Image Capture
Real Time Reporting
Clock In/Out via Mobile or iPad
Geo tagging
Shift Swapping and Bidding
Unavailability and Leave Visibility
Templates
Budgeting
Other Software Integrations
Popular Features List:
Run Unlimited Payrolls: No
Automatic Tax Filing & Payments: No
Live Customer Support: Yes
Ability To Manage Employee Benefits: Yes
Employee Access to Platform: Yes
Direct Deposits: No
Expense Reimbursements: No
Time Off Tracking: £3
Handle Deductions From Pay: No
Debt Repayment From Pay: Employment Hero
Background Checks: No
Offers An API: Yes
Create Payslips: Yes
Create P45: No
Create P60: Yes
Bonus Incentive Pay: No
Pension Filing: Yes
Statutory Payments (E.g. Sick Pay, Maternity Pay, etc.): No
Direct HMRC Submissions: Yes
RTI Compliant: Yes
Pros & Cons
The following pros and cons come from Trustpilot and other third-party review sites from around the web.
Pros
We like the On-boarding experience EH provides new employees joining our group. The Employee Self Service enables them 24hr access that notifies manages and payroll of any request and/or changes.
The great advantages of Employment Hero are the excellent understanding of the HR/Payroll processes and Australian legislation; the innovation and continuous improvement of the software and the clean/user friendly layout and user experience.
The ability for employees to update their own personal information. Contract templates are helpful for those who don't have an internal legal or large HR department.
it made the business less effectively to do
HR coupled with Payroll covers many boxes that we have to deal with. User-friendly for our team members and the transparency creates confidence across the company. We like the adaptability of the development team and the improvements we've seen over the past two years. As a whole, it has produced efficiencies across the team for payroll & compliance that ahs been well worth the effort.
Cons
We are the 4th largest privately owned Automotive Group in Australia and would like to see EH integrate with our DMS and this option isn't currently available.
I think the Performance Review process is not as developed as other features within the software. It can be more flexible and 360 degree, allowing a more robust tool to develop employees. I think if improved, it would add a significant value to the organisations. After all feedback is one of the most powerful tools of development.
The integration between the two products – HR and payroll is awful. They often don't communicate with each other seamlessly and you are required to learn by trial and error due to the poor deployment processes and cumbersome workflow regarding setup. Customer Service is helpful most of the time but you will be passed through numerous people who do not explain the fundamental use of all the features. Too much emphasis is on knowing the hundreds of pages of instructions and features. Timekeeping apps (Clock Me In/Workzone) are simply terrible.
some features are difficult to use and need a lot of time to learn
We implemented the system in mid-2018. We found at that time that creating payroll rules when you're outside of an award can be very challenging, especially when you have to learn how the categories affect each other and you're trying to mesh everything to existing agreements. The platform could do with information links for each step that detail the exact impact of changing each rule. Sometimes a change could create a cascade of unintended consequences (this may have changed). If we had to go back fix something now, we'd have to relearn why certain things were done.
Other Payroll Software Topics