Find out what actual customers of BrightPay payroll software think about it.
Or better yet leave your own review.
We also go over how much BrightPay costs, what features it offers and what other reviewers think about it.
BrightPay User Reviews
BrightPay Review Summary
0.0 out of 5 stars (based on 0 reviews)
Recent BrightPay Reviews
There are no reviews yet. Be the first one to write one.
Submit A Review For BrightPay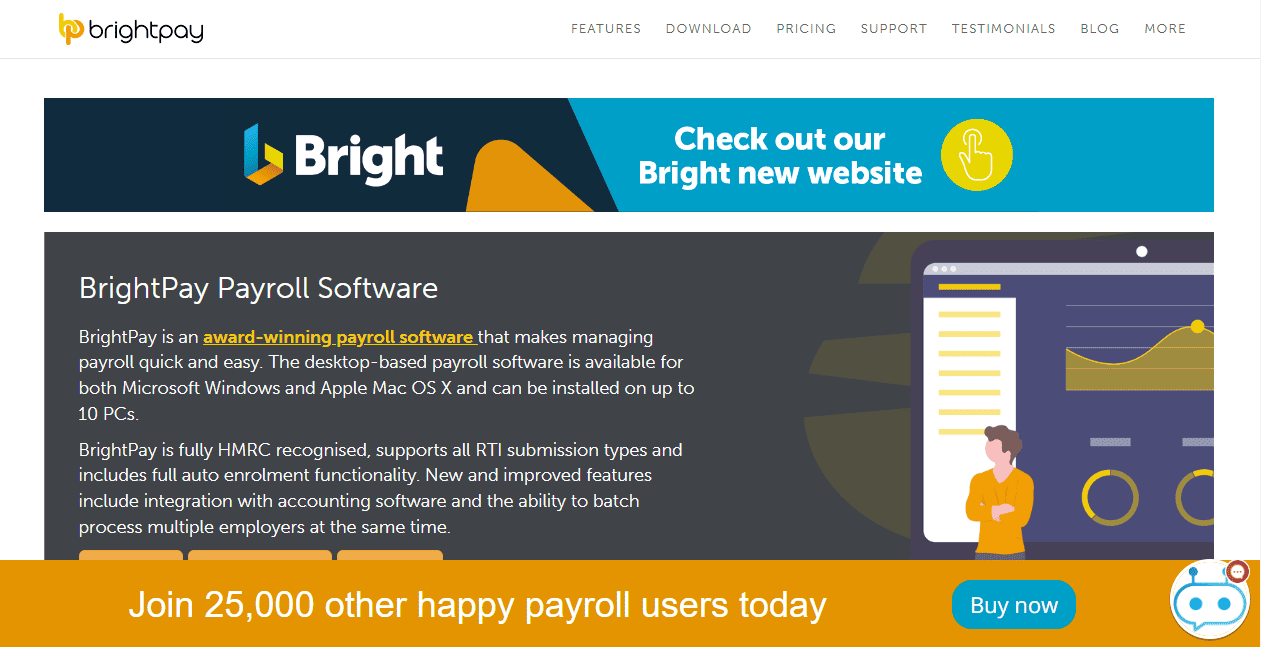 Key BrightPay Information
Software Name: BrightPay
Company Name: BrightPay
Listed On HMRC Website: Yes
Listed As Free By HMRC: No
Business Size: Medium
Sector Focus: None
Click to visit the BrightPay website
BrightPay Reviews From Other Websites
BrightPay Prices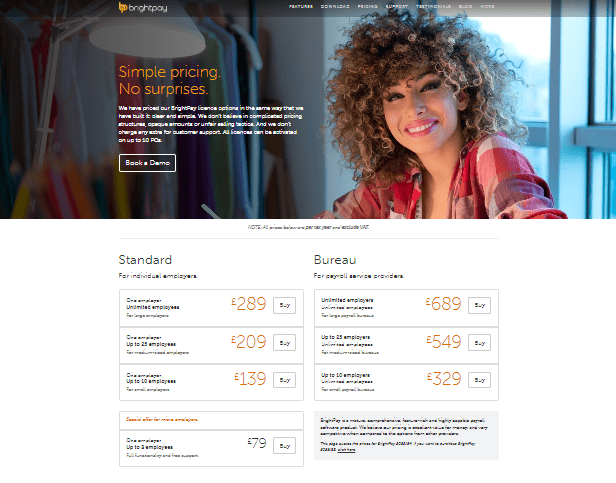 How much does BrightPay cost? Here is what they publish on their website:
BrightPay Free Plan / Free Trial
Offers A Free Plan? No
Offers A Free Trial? Yes
How Long Does The Free Trial Last? 60 days
Paid Plan Costs
Here are the names for for the various plans BrightPay offers and how much they cost per month:
Special offer: £289
Standard: £289
Bureau: £689
BrightPay Features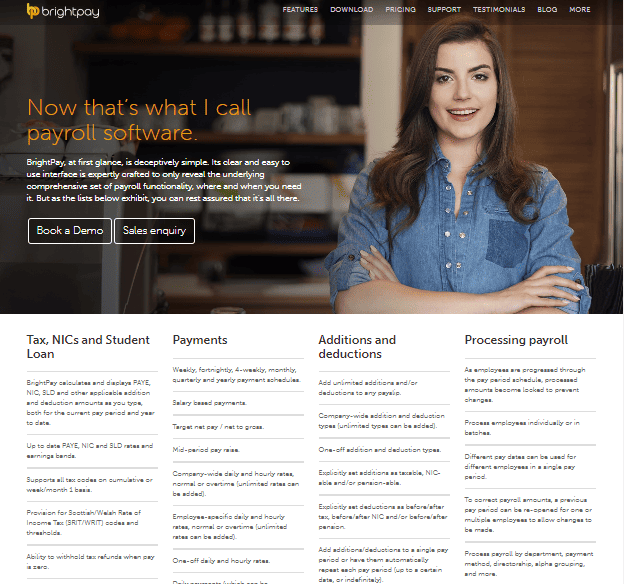 Special offer Features
One employer
Up to 3 employees
Full functionality and free support.
Standard Features
One employer
Unlimited employees
For large employers
Bureau Features
Unlimited employers
Unlimited employees
For large payroll bureaus
Other Software Integrations
Exact
Sage
Quickbooks
Xero
Popular Features List:
Run Unlimited Payrolls: No
Automatic Tax Filing & Payments: No
Live Customer Support: No
Ability To Manage Employee Benefits: Yes
Employee Access to Platform: No
Direct Deposits: No
Expense Reimbursements: No
Time Off Tracking: £689
Handle Deductions From Pay: Yes
Debt Repayment From Pay: BrightPay
Background Checks: No
Offers An API: Yes
Create Payslips: Yes
Create P45: Yes
Create P60: Yes
Bonus Incentive Pay: No
Pension Filing: Yes
Statutory Payments (E.g. Sick Pay, Maternity Pay, etc.): Yes
Direct HMRC Submissions: Yes
RTI Compliant: Yes
Pros & Cons
The following pros and cons come from Trustpilot and other third-party review sites from around the web.
Pros
Very easy to use, much easier than Sage payroll. Had the free version before and even the support then was second to none. You write an email and in less than a day they get back to you whether you're a paying customer or using the software for free. You see straight away when you have to submit to HMRC which is for me the most important part as I don't want to pay a fine. CIS is very easy to do. I'm in my third tear with BrightPay and never had a fault in the software whereas with sage it happens frequently.
Inexpensive and talks directly to payroll software.
The interface and usability of this product is very well done and makes it enjoyable to use on a day to day basis.
I've tried a lot of payroll software and bright pay has the easiest software to navigate its a user friendly and covers almost all of the payroll concerns
I like that's it's so easy to use. You don't need to have payroll experience. Brightpay alerts you need to send through your RTI and pension contributions. It also is free for auto enrolment. My previous payroll software were charging extra for auto enrolment. I've been using Brightpay for over 3 years. I pleased to say they have never increased their prices. It's an excellent product. The developers clearly have the end user in mind. If you get stuck their help guides are fantastic. 10/10
Cons
There is nothing I don't like, the least I would say that you have to download a new version with every tax year and not just an update.
Lacking on customisation and some of the more advanced features available in other software
The customer support is below average at times when I or my employees have had urgent questions and concerns.
what I wish brightpay must have is the capacity to trace back or correct some input of records foe example some alteration may have done but it is hard to trace back the records.
There's nothing I don't like about it. Brightpay keeps up to date. New features are being added all the time. I can't think of a single thing that I don't like about it.
Other Payroll Software Topics