Find out what actual customers of ADP payroll software think about it.
Or better yet leave your own review.
We also go over how much ADP costs, what features it offers and what other reviewers think about it.
ADP User Reviews
ADP Review Summary
0.0 out of 5 stars (based on 0 reviews)
Recent ADP Reviews
There are no reviews yet. Be the first one to write one.
Submit A Review For ADP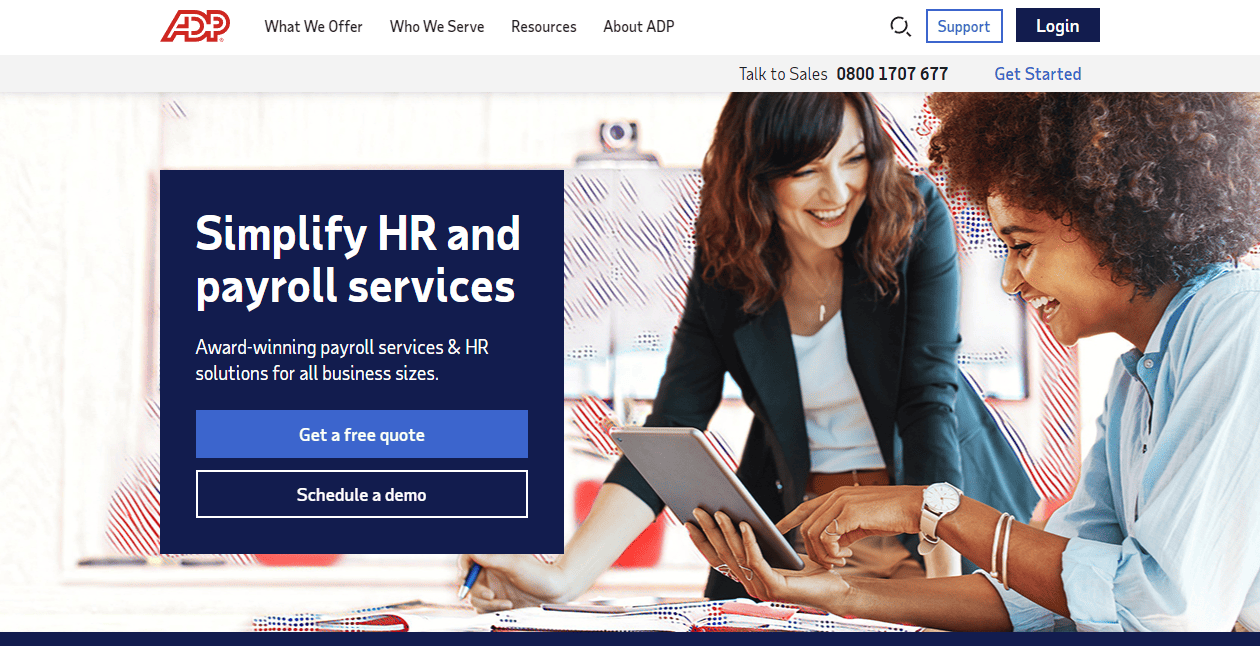 Key ADP Information
Software Name: ADP
Company Name: Automatic Data Processing
Listed On HMRC Website: Yes
Listed As Free By HMRC: No
Business Size: Enterprise
Sector Focus: None
Click to visit the ADP website
ADP Reviews From Other Websites
ADP Prices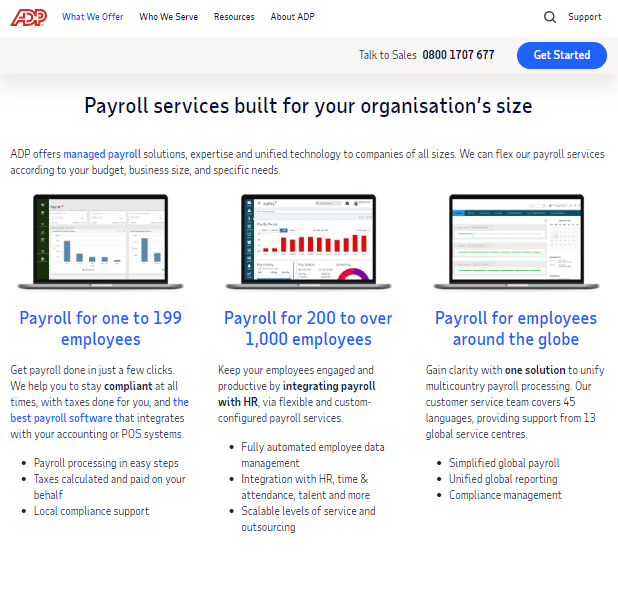 How much does ADP cost? Here is what they publish on their website:
ADP Free Plan / Free Trial
Offers A Free Plan? No
Offers A Free Trial? No
How Long Does The Free Trial Last? Not Applicable
Paid Plan Costs
Here are the names for for the various plans ADP offers and how much they cost per month:
Small Business: Not Listed
Midsized Business: Not Listed
Global Business: Not Listed
ADP Features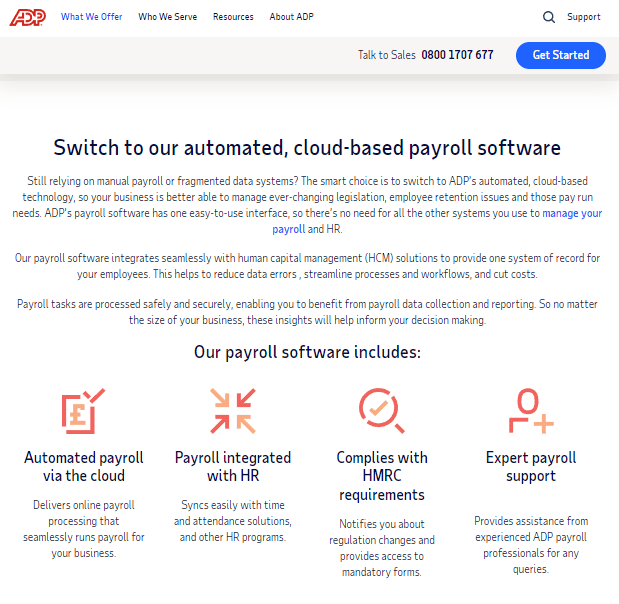 Small Business Features
Get payroll done in just a few clicks. We help you to stay compliant at all times, with taxes done for you, and the best payroll software that integrates with your accounting or POS systems.
Payroll processing in easy steps
Taxes calculated and paid on your behalf
Local compliance support
Midsized Business Features
Keep your employees engaged and productive by integrating payroll with HR, via flexible and custom-configured payroll services.
Fully automated employee data management
Integration with HR, time & attendance, talent and more
Scalable levels of service and outsourcing
Global Business Features
Gain clarity with one solution to unify multicountry payroll processing. Our customer service team covers 45 languages, providing support from 13 global service centres.
Simplified global payroll
Unified global reporting
Compliance management
Other Software Integrations
Popular Features List:
Run Unlimited Payrolls: No
Automatic Tax Filing & Payments: Yes
Live Customer Support: Yes
Ability To Manage Employee Benefits: Yes
Employee Access to Platform: Yes
Direct Deposits: Yes
Expense Reimbursements: Yes
Time Off Tracking: Not Listed
Handle Deductions From Pay: No
Debt Repayment From Pay: Automatic Data Processing
Background Checks: Yes
Offers An API: Yes
Create Payslips: Yes
Create P45: Yes
Create P60: Yes
Bonus Incentive Pay: Yes
Pension Filing: No
Statutory Payments (E.g. Sick Pay, Maternity Pay, etc.): Yes
Direct HMRC Submissions: Yes
RTI Compliant: Yes
Pros & Cons
The following pros and cons come from Trustpilot and other third-party review sites from around the web.
Pros
Makes my job easier, very efficient and saves time Would recommend for all companies, definitely worth the try
The ease to which you can manage colleagues absence and payroll at a glance i9s perfect for my needs
The best feature of this software is that, as an Employee, I can use ADP for all HR related services. It allows, holiday booking, checking pay slips, getting annual pay statements, check which team members are on holiday on a particular day, check line Managers for different departments and more. You can also check things like job titles, your work history, the different titles you have held in an organisation over the years etc.
Well it works and can get access to payroll, holiday leave etc
It can be accessed from anywhere online and clearly shows my pay, pension contributions, tax etc.
Cons
Reducing workload which is greatRequires good understanding to useBut very good app Worth the price
Can be a little bit clunky when trying to navigate round to certain features and home screen seems cluttered
Although this is a security feature, it is frustrating that you must change to a new password every three months. This means you must change your password 4 times a year, and you cannot use a password you have used in the past. This means that is very likely that you forget your passport and after 3 attempts you are logged out. You then must contact your HR team to reset your account.
Outdated UI/UX design. Slow loading and user unfriendly
To get full details you have too download the payslip as a pdf to read it properly.
ADP Comparisons
ADP vs Deel
ADP vs QuickBooks Payroll
ADP vs Sage 50 Payroll
ADP vs Sage Business Cloud Payroll
ADP vs FreeAgent
ADP vs Xero Payroll
Other Payroll Software Topics