Nationwide is the UK's largest building society, and offers business savings accounts with different levels of access. Even better interest rates are available for current account, mortgage, and personal savings account holders. There are 700 branches in the UK, and you can manage your business savings on the app 24/7.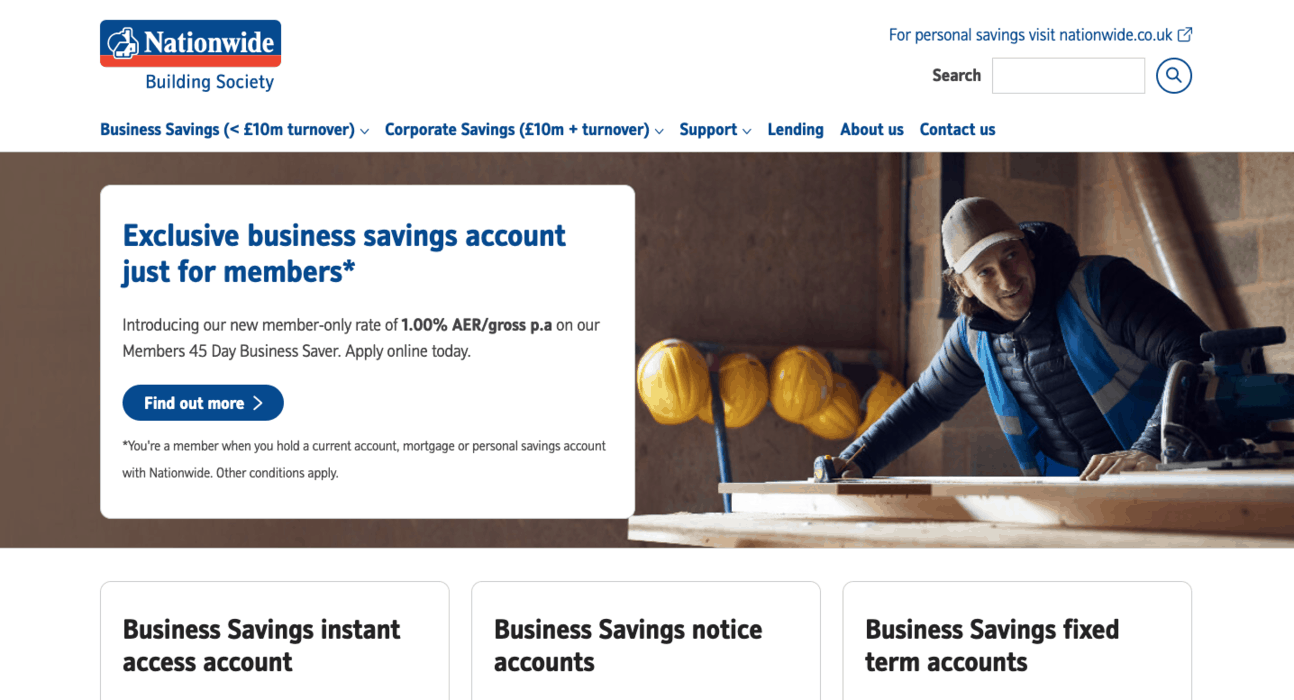 Nationwide Business Banking Services
Current account

Not available.
Savings account
There are three Nationwide business savings accounts available. If you already have a Nationwide current account, mortgage, or personal savings account, you can access higher interest rates. There are no fees.
Business Savings instant access account
Pay in and withdraw whenever you need to, and earn up to 0.05% AER/gross p.a. (variable). There's a minimum opening balance of £5,000, and you can choose to have interest paid either weekly or monthly.
Business Savings notice accounts
You can open a notice account with a minimum balance of £5,000, and access your cash within 35 or 95 days if you give notice. You'll earn 0.20% – 0.30% AER/gross p.a. (variable). 
Business Savings fixed term accounts
Save for up to 1 year with fixed interest rates and earn 0.30% AER/gross p.a. (fixed). You can't pay in gradually, your opening balance is fixed at between £5,000 and £10 million.
Overdrafts
Not available.
Business finance and loans

Not available.
Reviews and ratings
Trustpilot reviews are predominantly critical, with 73% of reviewing customers feeling strongly enough to rate them 1/5. A few are very happy with the speedy service, but others think there are too many account maintenance problems, poor customer service and communications, and perks for members are a lot less beneficial than they seem.
Reviews.co.uk has very similar reviews to Trustpilot and has a mixed score with 51% of reviewers recommending them. On the opposite end of the scale, Smart Money People reviews are very positive. The large majority of customers are pleased with the easy account management, high rates of interest, and competitive benefits.
Nationwide is 6th on the Which? list of Best & Worst Banks with a customer score of 74%. Nationwide scored 5/5 for online banking and mobile app, and 4/5 for telephone banking, customer service, communication, service in branch, transparency of charges and handling complaints.
Nationwide won Best Business Variable Rate Deposit Account Provider at the Business Moneyfacts Awards 2018.
In 2019, Nationwide won a £50 million grant from a programme funded by the Royal Bank of Scotland. The building society is planning to use the funds to launch projects and products for SMEs, including training staff in business banking, and launching a business finance product.
Trustpilot 1.8/5 (based on 2,625 reviews)
Reviews.co.uk 2.99/5 (based on 82 reviews)
Smart Money People 4.32/5 (based on 1,483 reviews)
Which? 74%
Pros
Competitive interest rates.
Good choice of different access accounts.
High rating on Smart Money People.
Cons
No current account is available. You can only save with Nationwide.
Some critical reviews on Trustpilot and Reviews.co.uk.
Website: Nationwide Business Banking