Countingup provides a small business banking and accounting app, designed for sole traders, limited companies, and their accountants. Most of the current account features you'd expect are faster and more automated, including expense management, adding up income and expenditure, and even tax calculations. You can open an account in minutes and manage it on the Countingup app.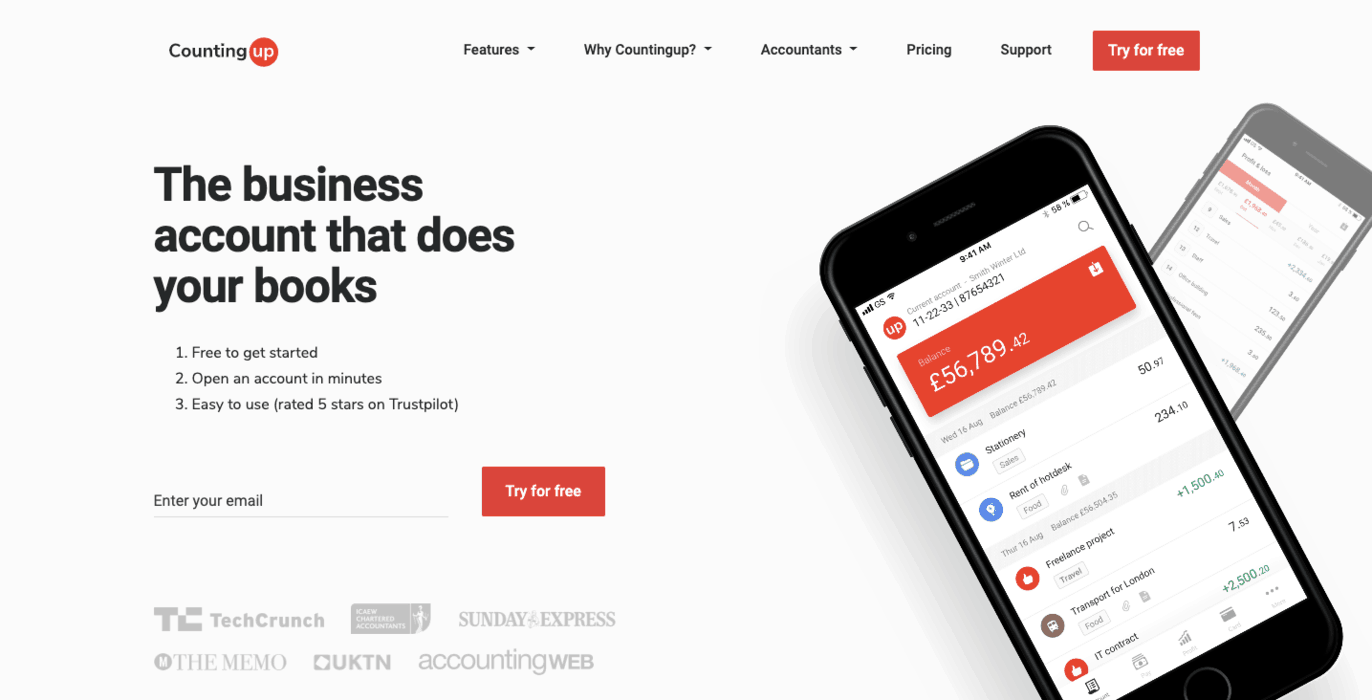 Countingup Business Banking Services
Current Accounts
The Countingup current account includes both banking and accounting features. It takes a few minutes to set up an account, and your contactless debit MasterCard will be sent out to you. Everything can be managed on the app 24/7, including Direct Debits, standing orders, and sending and receiving payments. You can freeze and unfreeze your card in case it gets lost or stolen too.
Accounting features include sending and tracking invoices, automated bookkeeping, profit and loss calculations, and expense management.
Countingup is priced based on how much you process through your business account, ranging from £4.95 to £9.95 per month. There are separate charges for ATM withdrawals, paying cash into your account (which can be done through the Post Office), bank transfers, and foreign currency exchanges are charged at 3%.
There are different daily and monthly transaction and balance limits for sole traders and limited companies.
Savings account
Not available.
Overdrafts
Not available.
Business finance and loans
Not available.
Countingup Reviews and Ratings
Trustpilot reviews for Countingup are overwhelmingly positive, with 82% rating the service as 'Excellent'. Many customers are impressed with how easy it is to manage their account, however a few comments on bank transfers taking a while. Some think Countingup is less user-friendly than other online bank accounts. Smart Money People reviews are also very positive with most people being happy with the processes they have in place.
There's just one public review on Reviews.co.uk, which is a critical 1-star comment, but there are no others to compare it to. Countingup isn't included in the Which? list of 'Best & Worst Banks'.
Countingup raised £2.3million in seed funding in September 2018. This helped the app introduce invoicing features and improve overall app functionality. In April 2019, Countingup announced they were seeking further funding after gaining many new Making Tax Digital customers.
Trustpilot –  4.6/5 (based on 1,664 reviews)
Reviews.co.uk – 1/5 (based on 1 review)
Smart Money People – 4.83/5 (based on 1,275)
Which? – not included
Pros
Low monthly fees.
Includes smart accounting features.
Excellent reviews on Trustpilot.
Cons
Extra charges for basic transactions.
Some reviewers think other online accounts are more user-friendly.
Website: Countingup Business Banking