TSB has been part of Spanish bank Banco Sabadell since 2015 and is a UK high street bank and finance provider. They have a limited branch network that is supported by over the phone and online banking services. TSB offers both personal and business products with their business range including accounts, savings, cards, loans, overdrafts and commercial mortgages.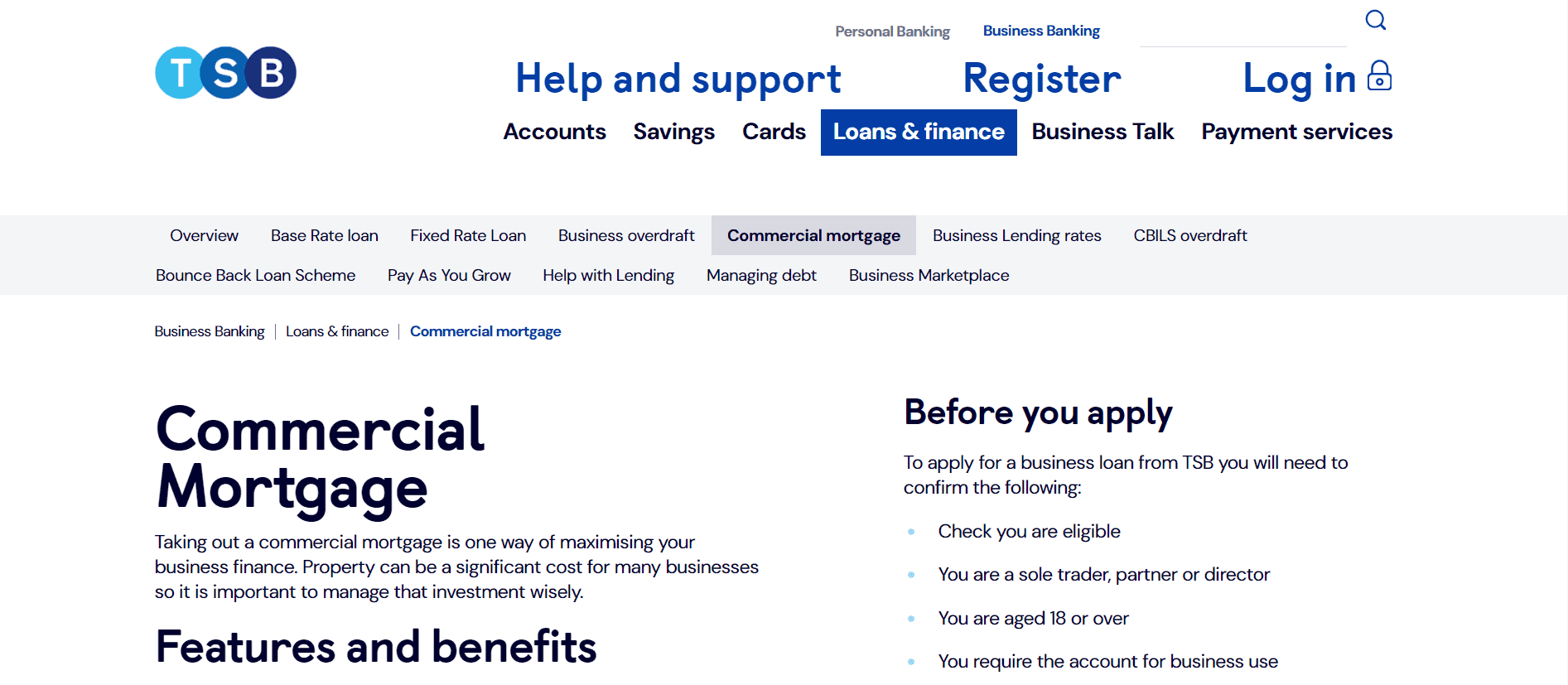 TSB Commercial Mortgage Options
TSB offers commercial mortgages that are suitable for purchasing and remortgaging commercial properties and includes:
Loans from £25,001
Terms from 25 years
Up to 70% of the property value
Choice of base rate linked or fixed rate
Capital repayment holidays are available
An arrangement fee of up to 1.5% applies
Security fees apply
TSB Commercial Mortgage Eligibility
TSB offers commercial mortgages to UK-based businesses that are sole traders, or businesses that have partners or directors that are over 18 years old. Further eligibility checks will be undertaken upon the application.
TSB Commercial Mortgage Rates
TSB doesn't disclose its mortgage rates.
TSB Commercial Mortgage Calculator
TSB doesn't have a commercial mortgage calculator.
TSB Commercial Mortgage Reviews
There are a large number of customer reviews for TSB across several review sites with the majority of them being on Trustpilot. Overall, the reviews are average with mixed feedback.
Trustpilot reviews rate TSB as 46% excellent and 34% bad. Only 30% of Review Centre customers would recommend TSB. Reviews.co.uk and Smart Money People reviews were also mixed. Positive comments include knowledgeable and friendly staff, easy to set up accounts, good online banking site and positive customer experiences. Negative comments include poor support, long phone wait times, issues with cards being blocked, problems with the complaints team and generally poor customer service.
In a Which? customer survey TSB was rated 3rd from the bottom of the table with a customer score of 59%. Service was scored out of 5 with TSB receiving 3 out of 5 for customer service, communication, handling complaints, telephone banking, online banking and mobile app. They received 2 out of 5 for transparency of charges, service in-branch and benefits.
Trustpilot – 3.4/5 (based on 14,474 reviews)
Google Reviews – no reviews
Reviews.co.uk – 2.29/5 (based on 7 reviews)
Review Centre – 2.0/5 (based on 10 reviews)
Smart Money People – 3.75/5 (based on 511 reviews)
Which? – 59% Which? customer score
How To Apply For A TSB Commercial Mortgage?
If you want to apply for a commercial mortgage from TSB you can call them on 0345 835 3858.
Pros
Offers a straightforward commercial mortgage with broad eligibility
Provides capital repayment holidays
Cons
No rate information is available
Reviews are very mixed
Website: TSB Commercial Mortgage