Eastern Credit Commercial Mortgage User Reviews
Review Summary
0.0 out of 5 stars (based on 0 reviews)
Recent Reviews
There are no reviews yet. Be the first one to write one.
Submit a Review
Eastern Credit is a specialist business finance provider that offers secure loans, asset finance and property finance products. They are based in Norfolk and were established in 2001. They provide lending solutions that can receive a same day decision. They provide property finance products designed to support buy to let landlords and experienced commercial property developers.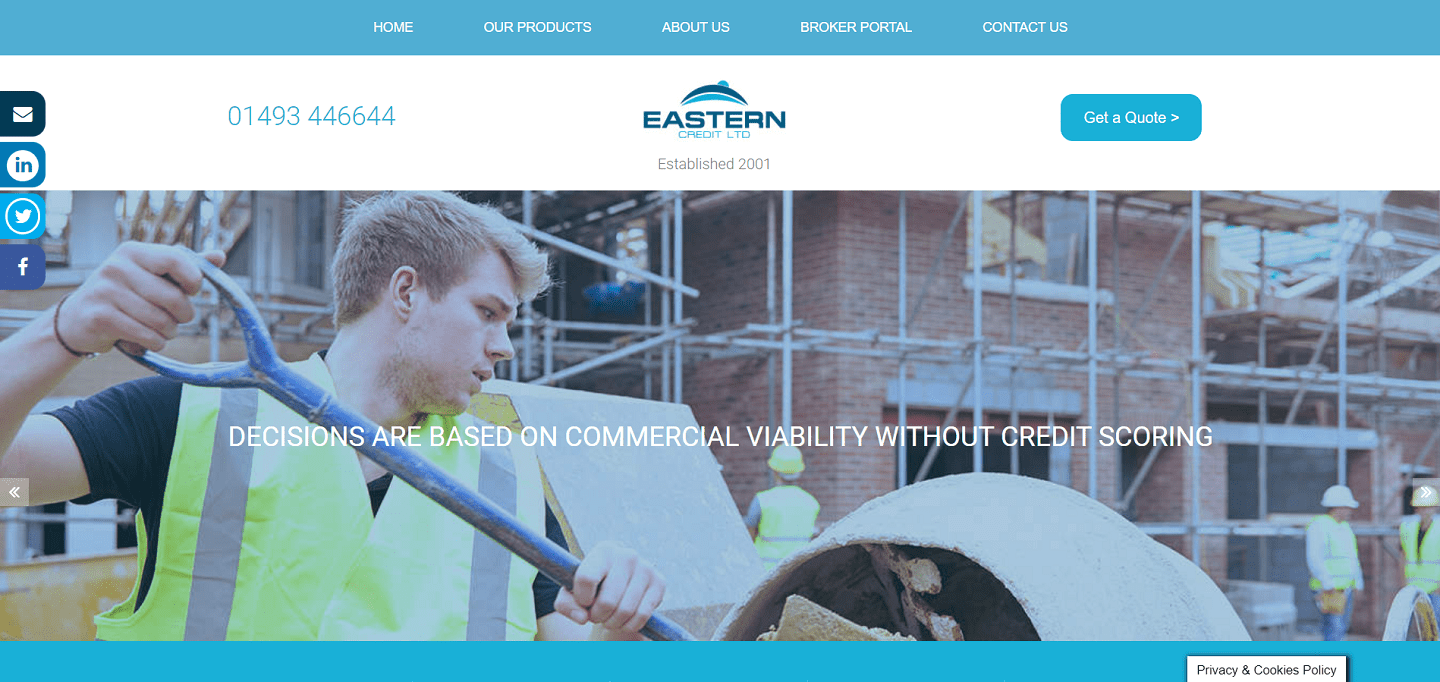 Eastern Credit Commercial Mortgage Options
Eastern Credit provides a range of property finance products which includes:
Rates from 0.99% per month
Loans from £26,000 to £850,000
Terms from 1 to 180 months
Loans up to 100% of building costs
Property finance
Eastern Credit finances a variety of commercial buildings, including retail spaces, land, warehouses, leisure parks, and more. The loans are available for the development of land, refinancing, residential and commercial property purchase, capital raising, refurbishment loans and conversions. Businesses are offered repayment terms of 1 to 180 months and loan rates start at 0.99% a month. They base their decisions on commercial viability without credit scoring.
Development finance
Finance is available for residential, commercial and industrial properties. Eastern Credit will generally lend up to 50% of the property value but will consider more in certain circumstances. The finance can be used for barn conversions, ground-up developments, converting products from commercial to residential, and refurbishments and extensions. The maximum term is 36 months.
Bridging/auction finance
A short-term finance solution for improving cash flow. Contact Eastern Credit for more details.
Eastern Credit Commercial Mortgage Eligibility
Eastern Credit doesn't detail any eligibility criteria.
Eastern Credit Commercial Mortgage Rates
Eastern Credit doesn't include any property finance rate on its website.
Eastern Credit Commercial Mortgage Calculator
Eastern Credit doesn't have any property finance product calculators.
Eastern Credit Commercial Mortgage Reviews
Eastern Credit only has 1 customer review across all of the leading customer review sites and this review is a negative one. The reviewer commented that the loan terms were unclear and that the service received was poor.
Trustpilot – no reviews
Google Reviews – 1.0/5 (based on 1 review)
Reviews.co.uk – no reviews
Review Centre – no reviews
Smart Money People – no reviews
How To Apply For A Eastern Credit Commercial Mortgage?
If you want to apply or get more information on Eastern Credit's property finance products you can request a quote on their website or call them on 01493 446644.
Pros
Offers a range of property finance products
Provides loans that offer up to 100% of building costs
Cons
Doesn't provide details of eligibility or rates charged
Doesn't offer a simple commercial mortgage for businesses
Lack of customer reviews
Website: Eastern Credit Commercial Mortgage