Based in Glasgow, Clydesdale Bank is now part of CYBG plc along with Yorkshire Bank and Virgin Money. As well as borrowing, business customers can open current accounts, savings accounts, and access 24/7 online and mobile banking. Clydesdale Bank has branches across Scotland.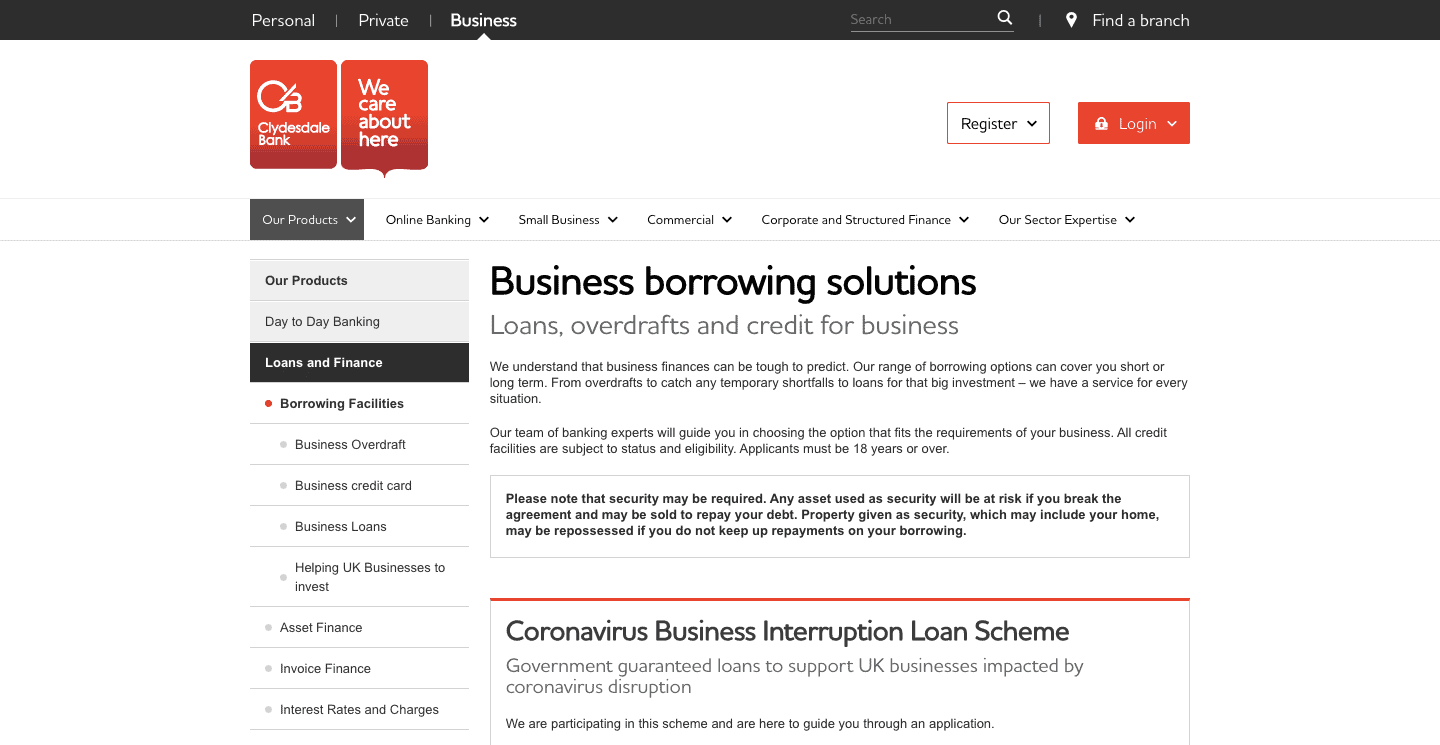 Clydesdale Bank Business Finance
Business loans
Business loans are available from £25,000 over 5 years at a fixed rate and from £500,000 to £10 million over up to 15 years at a flexible rate. Businesses borrowing can also choose a mixture of fixed and flexible repayments, choosing to overpay when their business is more profitable or choose a repayment pattern that works with their cashflow. Interest rates depend on your business' individual circumstances and will be applied either monthly or quarterly.
Business overdraft
Unsecured overdrafts up to £25,000 are available at an 8.75% interest rate p.a (variable). There's also a 2.5% establishment fee (minimum £120). Terms are up to 12 months. Interest is calculated daily and charged monthly.
Business credit card
The Clydesdale Bank Mastercard® Business Credit Card is available at representative 22.4% APR (variable). Customers get up to 59 days' interest free credit on purchases and there's no annual fee for the first year.
Commercial mortgages
Available from £25,000 and repaid over a period of up to 20 years, and you can borrow up to 70% of the property's loan-to-value (LTV). A capital repayment holiday of up to 5 years and your business will have its own relationship manager.
Asset finance
Hire purchase and lease agreements are available for equipment, machinery, and more. Depending on the agreement, your business will either own the asset at the end of the repayment period or be able to trade it in for a newer model.
Invoice finance
Invoice discounting and financing to give your business access to up to 90% of the value of its unpaid invoices upfront. Usually the only security required is your sales ledger and your invoice finance can include optional credit protection to protect against the risk of non-payment. Some fees will apply.
Clydesdale Bank Reviews and Ratings
Clydesdale Bank has fewer reviews than many similar sized business banks and most of them are critical. Trustpilot reviewers are unhappy with waiting times, fees charged, and problematic account management. Smart Money People reviews are similarly negative.
Which? scores Clydesdale Bank 63% for business account services. Clydesdale received 3/5 for communication, customer service, transparency of charges, and phone, mobile, and online banking. The bank scored 2/5 for complaints handling and service in-branch. They receive just 1/5 for benefits.
Clydesdale Bank ranked 10th in a list of the 14 largest business current account providers for SME overdraft and loan services in an independent survey. In the same survey, Clydesdale Bank ranked 7th for overall service quality, 11th for online and mobile banking services, 7th for relationship/account management, and 8th for service in-branch and in business centres.
Clydesdale Bank is part of CYBG plc and merging with Virgin Money. Six Clydesdale/Virgin overlapping branches across Scotland have recently closed in July 2020.
Trustpilot 1.3/5 (based on 106 reviews)
Reviews.co.uk n/a
Smart Money People 3.33/5 (based on 6 reviews)
Which? 63% Which? Customer Score
Pros
Fixed and flexible repayment options on business loans.
Range of finance products – invoicing, assets, mortgages etc.
5-year payment holiday available on mortgages.
Cons
Poor online reviews, particularly when it comes to customer service and fees.
Low rating for SME overdraft and loan services in an independent survey.
Website: Clydesdale Bank Business Finance