Danske Bank's UK base is in Northern Ireland where it was first established in 1824. It is a Danish Bank that was formerly called Northern Bank in the UK. They have a network of branches in Northern Ireland providing personal and business banking services. Their business services include bank accounts, overdrafts, credit cards, loan and finance products.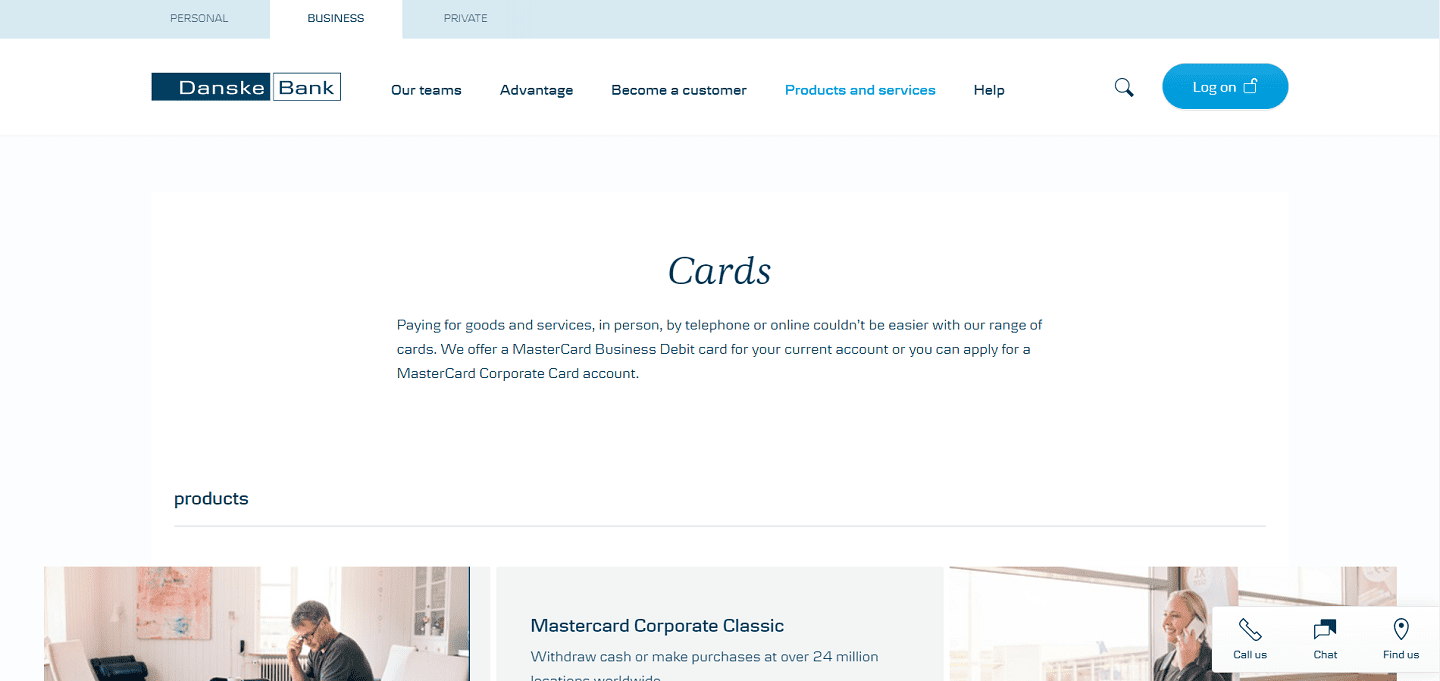 Danske Bank Credit Card Options
Danske Bank offers 2 corporate credit cards which are:
Mastercard Corporate Classic
Contactless card
Combines a charge card and cash card
£20 annual card fee
Annual representative APR 26.40%
Up to 38 days of interest-free credit
Minimum credit limit of £500 and maximum subject to your status
Can make cash machine withdrawals with a 2% fee (minimum of £2) applies
A non-Sterling transaction fee of 2.75% plus 2% cash fee (minimum £2)
Set individual spending limits
Itemised monthly statements
Online access through District
3D Secure security
Access to Priceless Cities rewards
Mastercard Corporate Platiunum
The Mastercard Corporate Platinum card has all the features of the Mastercard Corporate Classic with additional benefits which include:
£70 annual card fee
Minimum credit limit of £5,000 to a maximum that matches your status
Airport lounge access, Priority Pass
Mastercard Concierge Service
Danske Bank Credit Card Eligibility
Danske Bank doesn't detail any eligibility criteria for their credit cards on their website.
Danske Bank Credit Card Rates
Danske Bank credit card charges include:
£20 (Corporate Classic) or £70 (Corporate Platinium) annual card fee
Annual representative APR 26.40%
2% cash withdrawal fee (minimum £2)
Non-Sterling transaction fee of 2.75% plus cash withdrawal fee if using an ATM
Danske Bank Credit Card Calculator
Danske Bank doesn't have a credit card calculator.
Danske Bank Credit Card Reviews
There are not many customer reviews available for Danske Bank on the popular customer review sites and they are overall mixed. Trustpilot reviews are largely negative as 70% of reviewers gave them a bad score but as there are only 10 reviews so this skews the figures slightly. Some of the negative comments refer to high fees, dissatisfaction with the app and poor service in-branch. The positive comments made however included good experiences in-branch, helpful staff in resolving business issues and the convenience of online banking.
The reviews on Smart Money People are largely positive with reviewers' comments including easy to use app, provides good security measures, the rates are good, the staff are supportive and provide good customer service.
Trustpilot – 2.9/5 (based on 10 reviews)
Google Reviews – no reviews
Reviews.co.uk – no reviews
Review Centre – no reviews
Smart Money People – 4.23/5 (based on 30 reviews)
How To Apply For A Danske Bank Credit Card?
If you want to apply for one of Danske Bank's credit cards you can call them on 0345 850 9515.
Pros
Offers a choice of 2 Mastercard credit cards
Provides a range of benefits with their cards for reasonable annual fees
Cons
No eligibility criteria is available
The customer reviews are mixed with some very negative reviews
Some reviewers commented on the app being outdated
Website: Danske Bank Credit Cards