Based in Hampshire, Bluestar Leasing was founded over 10 years ago in 2007. Bluestar is a finance broker, specialising in asset finance and commercial loans, including software finance, fit-out finance, commercial loans, and VAT loans. This broker initially worked with high-tech businesses, but now works closely with businesses in a variety of sectors, including hospitality, retail, healthcare, media, and more.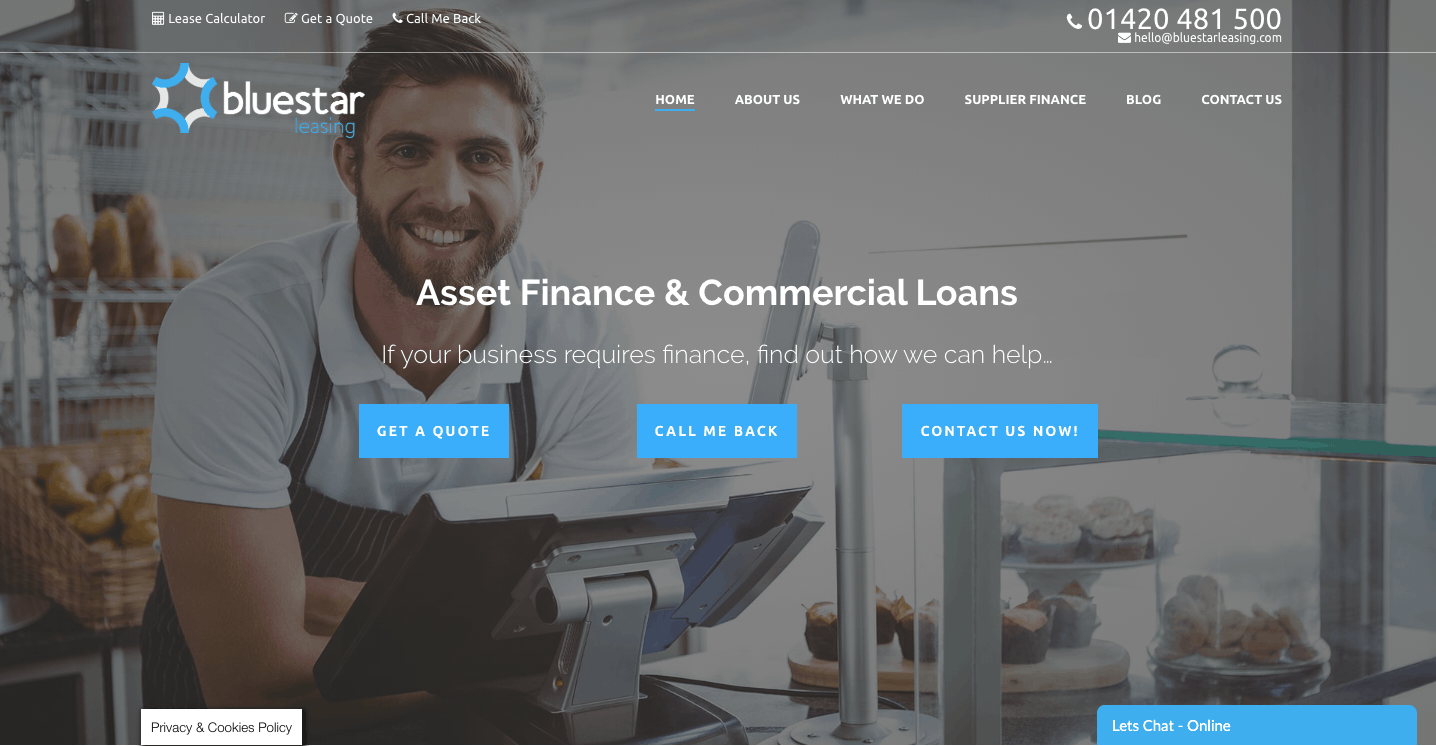 Bluestar Leasing Loans & Finance
Commercial Finance
Bluestar Leasing can connect businesses with commercial loans from £5,000 for almost any business purpose. Repayment terms are flexible over 3 months to 5 years. Your business will need a trading history of at least 2 years to be accepted, and acceptance rates are apparently quite high.
Finance Lease
This is Bluestar Leasing's most popular funding solution. Leasing from £1,000 is available for most business assets, including technology, catering equipment, vehicles, telecoms, and energy equipment. Repayment terms are typically between 1 and 5 years and there are various end of lease options.
Hire Purchase
A fixed term hire purchase agreement for vehicles, plant equipment and machinery. Hire purchase finance is available from £1,000, repaid over 1-7 years. VAT is due along with a deposit.
Operating Lease
A lease agreement for equipment that will need regular upgrades – residual value is subtracted from the cost of the equipment, which keeps the rental cost low. Operating leases are available from £5,000 and typically repaid over 1-3 years. Qualifying assets include technology like computers and tablets, scientific equipment, CCTV, and machinery.
Bluestar Leasing Reviews and Ratings
There are no live reviews on Trustpilot, Reviews.co.uk or Smart Money People. Google shows just two, which are both positive.
Bluestar Leasing recently upgraded its IT and cybersecurity, toughening up its protection against hacking and data breaches. The director said, "Cyber security is always a concern for us as we hold confidential client data and we wanted to ensure we had the best protection available."
Trustpilot –  no reviews
Google Reviews – 4.0/5 (based on 2 reviews)
Reviews.co.uk – no reviews
Smart Money People – no reviews

Pros
Range of asset-based lending available.
Can connect businesses with the best finance deals.
Cons
There are brokers fees to consider.
Repayments and costs can vary depending on what Bluestar Leasing come up with.
Not many reviews out there.
Website: Bluestar Leasing Business Finance